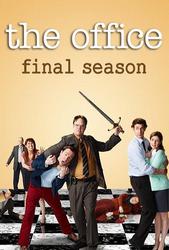 TV Info
---
Episode Premiere
September 27, 2005

Distributor
NBC

Genre
Comedy, Drama

Show Period
2005 - 2013

Production Company
Reveille, Deedle-Dee, NBC Universal


Cast and Crew
---
Director
Ken Kwapis
Screenwriter
B.J. Novak
Main Cast
Additional Cast
Shannon Cochran
R.F. Daley
Keith Valcourt
Melinda Chilton
Andrew Donnelly
Synopsis
---
Michael is the self-proclaimed "king of email forwards." He likens himself to the show "Friends" because he loves to joke around with everyone in the office.
Michael's best friend, Todd Packer, comes into the office and proceeds to offend everyone. He gossips, tells dirty jokes, and basically turns everyone off - except Michael.
Unfortunately, Toby, the human resources representative, caught wind of the gossip Todd was spreading - namely that the CFO got fired for nailing his secretary - and decides to give everyone a refresher course on the company's sexual harassment policy, thus killing Michael's funny email forwarding.
Meanwhile, Pam's mom is coming to visit. This is a slight problem for Pam because whenever they have harassment seminars, everyone in the office usually harasses her that day as a joke.
At the five-minute seminar, Michael brings in a blow-up doll - saying that email forwards and his career as an office comedian are at stake. No one really seems to mind.
After the seminar, Dwight visits Toby because he has questions. He asks Toby where the clitoris is. And what the female vagina looks like. Toby says he's sad that the public school system has failed Dwight so badly.
Corporate arrives and Michael continues to fight his battle for the sake of jokes and company camaraderiee he loses.
After the meeting, Michael tells everyone that from here on out, they can't be friends and they can only talk about work. He says to consider this his retirement from comedy.
Michael brings in his own lawyer, who specializes in free speech issues. He then realizes that Corporate brought in their lawyer to protect him.
Pam's mom finally arrives. She shows her around and Jim comes over. Just then, Pam's fiance arrives. Jim recoils, but overhears Pam's mom ask which one is Jim, so all is well.