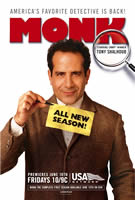 TV Info
---
Episode Premiere
October 09, 2009

Distributor
USA Cable Network

Genre
Drama, Comedy

Show Period
2002 - 2009

Production Company
Mandeville Films, ABC, NBC, UMS


Cast and Crew
---
Director
Anton Crooper
Screenwriter
Joe Ventura
Main Cast
Additional Cast
Hector Elizondo
Tim Bagley
Synopsis
---
A young woman, Barbara O'Keefe, confides in her mother about her therapy with Dr. Bell while taking a bath. Suddenly, a man attacks her! The next day, the pool cleaner finds Barbara's body floating in her pool.
A week later at Monk's apartment, Natalie finds a letter from his insurance company-they're putting a cap on Monk's therapy sessions. He only has one left! Monk goes to his last session with Dr. Bell and attempts to solve every problem he has in one go, with no success. He can't even get over his claustrophobia. Dr. Bell invites Monk to attend group therapy sessions, which the insurance will cover, but Monk refuses.
Instead, Monk and Natalie track down Dr. Bell as he bicycles through the park. From their tandem bicycle (Natalie is pedaling), Monk attempts to surprise Dr. Bell into a free therapy session. Dr. Bell sees through this and convinces Monk to try group therapy instead. Monk agrees, partially because Natalie can't pedal fast enough to keep up.
Dr. Bell is running the group therapy session when Monk comes in late. He meets the antisocial and aggressive patient Rhonda, and Augie, who is afraid of everything - but the fourth patient in the group is Monk's old nemesis, Harold Krenshaw! Nothing's changed between them, and the group therapy session turns nasty. It also turns out that Barbara O'Keefe was a part of this group before she died.
Natalie tries to help Monk look on the bright side of group therapy while they shop at the grocery store, but Harold Krenshaw shows up there too. Monk accuses Harold of following him, but Harold defends himself saying that a lot of Dr. Bell's patients come here after therapy, including Xavier Danko, who is currently shopping for cleaning supplies. Harold tells them that Xavier was obsessed with an exotic dancer, but five weeks ago was cured and left group. Harold wants to be cured next, and tries to get Monk to leave the group. To spite Harold, Monk refuses to quit.
The next day, Monk joins Stottlemeyer and Disher at a crime scene where Augie, the fearful patient from group therapy, has apparently committed suicide by jumping off a building. Monk concludes from the lack of hair on Augie's wrists that he was actually tied up and pushed off the building. This was murder. Monk realizes two people have died from his group, and after looking at Barbara O'Keefe's file, sees that her death was murder and not an accidental drowning, as the police thought. Monk can't help but be slightly pleased that the numbers in his therapy group are dropping.
At group therapy, Monk shares his theory that someone's murdering members of the group, looking pointedly at Harold. Harold goes into his own zen-Monk mode and makes the case that Monk himself is the killer. Dr. Bell dismisses the theory, but later, Monk confides in Natalie that Harold could be right. He does have a motive and the know-how to commit the murders.
Natalie convinces Monk to eliminate himself and Harold as suspects and investigate Rhonda, the one remaining member of the group. Monk and Natalie go to her workplace, a medical supply store, and find her dead! It looks like she accidentally mixed cleaning supplies to create poisonous gas, but Monk knows she'd never make such a mistake. For a moment, Monk suspects himself again, since cleaning supplies would be his ideal murder weapon, but then he remembers seeing Xavier Danko buying bleach at the grocery store after group therapy. Natalie passes out from the fumes, and Xavier emerges to get the drop on Monk and knock him out!
Monk wakes to find that Xavier has abducted him and locked him up in his car's trunk... with Harold! Both men freak out from claustrophobia until Monk has a breakthrough, and together they work to escape from the trunk. Group therapy works!
When they get out they discover that Xavier has driven to Dr. Bell's house. With no time to call the police, they'll have to save Dr. Bell themselves! However, by the time they get inside the house, Dr. Bell has already talked Xavier down. It turns out Xavier killed the dancer he was obsessed with, and was worried that her body would be discovered and the group therapy patients would finger him for her murder. That's why he started killing them off one by one. Monk and Harold take the opportunity to tell Dr. Bell about their breakthrough.
Monk goes back to group therapy, but even though there are several chairs, he and Dr. Bell are alone. Dr. Bell explains that Harold changed therapists so that Monk could have the sessions all to himself. Monk realizes that despite all the years of bickering, he has a true friend in Harold Krenshaw.