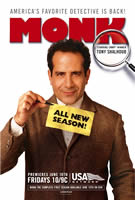 TV Info
---
Episode Premiere
August 14, 2009

Distributor
USA Cable Network

Genre
Drama, Comedy

Show Period
2002 - 2009

Production Company
Mandeville Films, ABC, NBC, UMS


Cast and Crew
---
Director
David Grossman
Screenwriter
David Breckman, Justin Brenneman
Main Cast
Additional Cast
Synopsis
---
Monk is investigating a twelve-day-old crime scene at the home of John and Carolyn Buxton, who have just returned from a vacation to find their housekeeper bludgeoned to death on their kitchen floor. Nothing is missing from the house. The victim's gold earring is in her front pocket and a first-aid book is sitting on the counter, opened to a chapter on head injuries. Strangely, there's blood spattered across the page, as if it had been opened before the attack took place.
That evening in Monk's apartment, Monk is awoken by beautiful flute music drifting up from the street below. Of course, it drives Monk nuts. Monk confronts the flute player, who explains that a hit-and-run driver killed his wife two weeks ago on that very street corner. Sensing a kindred spirit, Monk invites him in.
Monk and the musician, a Nigerian named Samuel Waingaya, become fast friends. Samuel tells Monk how his wife, Ansara, was visiting America for a teacher's conference. While walking out of a grocery store, a vehicle - possibly a van - ran a red light, struck her, and kept going. Monk tells Samuel that he's a detective and agrees to help him with the case.
The next day at police headquarters, Stottlemeyer shows Monk and Samuel a surveillance video that caught the van moments after the hit-and-run took place. Then, a few minutes later, the same van is seen on the video driving in the opposite direction. They go to interview some teenagers who saw the van on the night in question. They remember the driver talking on his cell phone, which would explain why he turned around - he didn't want his cell phone call to be cut off by the tunnel farther up the road.
After some detective work, Monk and Samuel figure out that the van belonged to an upscale restaurant, "Le Poisson Bleu." The next day, Monk and Samuel go undercover as dishwashers in the restaurant. They learn that the owner, Kenneth Nichols, was driving the van on the day Ansara was killed. Nichols is an alcoholic with a previous record of drunk driving.
Then Monk notices the Buxtons - the couple whose maid was killed - enter the restaurant and greet Nichols. Monk approaches the couple, and learns that John Buxton and Kenneth Nichols are good friends who often talk on the phone, especially after baseball games. Monk has a breakthrough. He can't prove that Nichols killed Ansara, but he can prove that he killed the Buxtons' maid on the same night - the two cases are directly related! But before he can place a call to the Captain, Nichols holds him at gunpoint and leads Monk and Samuel outside and into the back of his van, which is filled with crates of fish.
While trapped in the van, Monk explains to Samuel what took place the fateful night Ansara was killed. Kenneth Nichols was driving across town listening to a ballgame. He was too drunk to be driving. He dialed his cell phone to talk to John Buxton. Buxton was away on vacation, but his housekeeper picked up the phone. She removed her earring to speak more comfortably. While Nichols was talking to the housekeeper, Ansara crossed the street in front him. Nichols couldn't stop in time. He hit Ansara and kept driving - but the housekeeper heard the whole thing! Nichols needed to keep her on the phone so she couldn't call the police before he could get to her. He lied and told her he'd pulled over and was helping the injured woman. The maid pulled out the first aid book and opened to the chapter on head injuries. She was still reading to him when he burst into the house and viciously attacked her with a crow bar!
Monk has solved the case, but he and Samuel are still in danger, as Nichols is pulling the van onto a secluded road. Monk and Samuel know it's the end of the line unless they make a move. They break out of their ropes and wait for Nichols to open the door. When he does, they push over the crates of fish and send them crashing down on his head. In a blind fury, Samuel attacks Nichols and makes him look at a picture of Ansara. He makes him say her name. He'd like to harm his wife's killer, but Samuel knows he can go no further. Nothing will bring his wife back, but at least he has the gift of knowing who killed her.
Before he leaves to board his plane back to Africa, Samuel promises Monk that his turn will come. He will soon know what happened to Trudy. Monk promises never to give up.