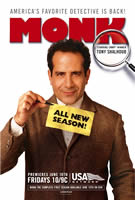 TV Info
---
Episode Premiere
January 16, 2004

Distributor
USA Cable Network

Genre
Drama, Comedy

Show Period
2002 - 2009

Production Company
Mandeville Films, ABC, NBC, UMS


Cast and Crew
---
Director
Michael Fresco
Screenwriter
David Breckman, Hy Conrad
Main Cast
Additional Cast
Joseph Sikora
Mark Totty
Endre Hules
Orlando Seale
Synopsis
---
After Nestor and Jose Alverez deliver the morning paper to their most demanding customer, Adrian Monk, they notice someone trying to steal it. While trying to stop the thief, Nestor is pushed to his death.
Monk's apartment is soon turned into a hub of disorder and distractions as the police search the crime scene. Monk's nerdy neighbor Kevin stops by to check out the commotion, and also introduces his hot new girlfriend, Vicki. With no crime scene clues and no obvious suspects or motive, Monk is convinced that there must be something in the newspaper that the killer did not want him to see.
Monk, Sharona, Stottlemeyer, and Disher toil over the newspaper, looking for anything that might lead them to the paperboy's killer. In the process, Monk amazingly solves two other, unrelated murder cases - including one that took place in France! - but still can't find anything pertaining to the murder that took place on his own doorstep.
The next morning, Monk finds himself at another crime scene in his neighborhood when Vicki's convenience store co-worker, Boz Harrelson, is found lying near an ATM, robbed and murdered. Monk suspects that the killing had nothing to do with money, and Sharona points out that the killer was probably a woman, noticing lipstick on the broken bottle used as the murder weapon.
Later, a discouraged Monk goes to throw out his newspaper when he finally makes a connection: the winning lottery numbers on the paper's front page are the same lucky numbers that his neighbor Kevin plays every day. The killer was trying to keep the paper from Kevin, not Monk! Monk realizes that Kevin's new girlfriend Vicki must have hatched a plan to seduce Kevin, marry him before he knew he was worth a fortune, and then kill him and get the money. She had her real boyfriend, Boz Harrelson, steal Monk's newspaper, and then Vicki killed Boz at the ATM so she could eventually keep all the money for herself.
Unfortunately, Monk and Sharona are too late to prevent Vicki from marrying Kevin in a hastily-arranged City Hall ceremony, but they do catch up to the couple near their honeymoon spot, where they find Kevin passed out inside a locked car parked on a railroad crossing. With a speeding train bearing down on the car, Sharona subdues Vicki in a wild struggle as Monk heroically pulls the track switch at the last second, saving Kevin from certain death.
Another case solved by Adrian Monk, and this time he figures to gain a healthy monetary reward for his trouble. Sure enough, Kevin shows up to thank Monk and Sharona and presents them with an envelope containing - four hundred dollars. Not quite what they were expecting, but then again, Monk is interested in justice, not money.