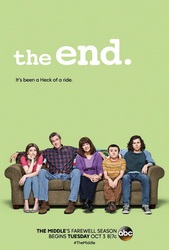 TV Info
---
Episode Premiere
September 21, 2011

Distributor
ABC

Genre
Drama, Comedy

Show Period
2009 - now

Production Company
Warner Bros. Television


Cast and Crew
---
Director
Ken Whittingham
Screenwriter
Vijal Patel
Main Cast
Additional Cast
Ray Romano as Nicky Kohlbrenner
Liz Montgomery
Sam Schuder
Beau Wirick
Synopsis
---
Back in the present, Axl and Sue are still feuding so Frankie breaks out a board game. Actually, it's remnants of many board games. Nobody really knows the rules, but it ultimately doesn't matter. It's game over once there's another big family blowup. Frankie says, "You're ruining Battle-Boggle-opoly!"
Once again, Frankie is in the midst of another horrible camping adventure. As it turns out, Nicky Kohlbrenner stayed way past dinner during that fateful honeymoon night. When the rains came down again, Mike invited him to stay in their tent. This led to Frankie and Mike's first big fight on their wedding night.
Frankie tried to make up with Mike after Nicky was gone. Unfortunately, Mike was the one who skipped out of the tent, so she nearly consummated their marriage with the former high school basketball manager. This new info leads to another present-day fight. Everyone goes to bed angry.
Sue wakes Frankie up in the middle of the night to let her know that she's officially "matured." Best not to let anyone else know though. Unfortunately, an outside visitor figures it out for himself. Frankie remembers Brick reading something about how bears may be drawn to menstruating women. Frankie screams, "Wake up! Wake up! Sue got her period! There's a bear outside!"
The family scrambles to the car to hide from the giant grizzly. Everyone is there but Brick, who had said he was going to look at the stars. Fortunately, the celestial bodies were in a book he was reading in the backseat. The bear begins shaking the car until the family starts singing "99 Bottles of Beer on the Wall." This drives the creature back into the woods. It seems nobody likes that song.
So, that's the story of how the entire Heck family came to appreciate each other on the first day of school. Frankie wonders how long it'll last. When she sees Axl drive away leaving Sue in a cloud of exhaust fumes, she suddenly has her answer.