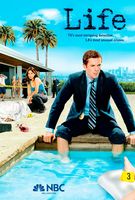 TV Info
---
Episode Premiere
October 03, 2008

Distributor
NBC

Genre
Drama

Show Period
2007 - 2009

Production Company
NBC


Cast and Crew
---
Director
David Straiton
Screenwriter
Rand Ravich
Main Cast
Additional Cast
Victor Rivers
Lily Tinoco
Cecelia Specht
Jeff Soskin
Patricia MacRae
McKenna Jones
Adam Hendershott
Eileen Boylan
Cecelia Specht
Synopsis
---
A giant outdoor swimming pool, partially drained, is a crime scene. The victim, 36-year-old Max Horta, slumps in an office chair, bound, beaten, dead - an apparent gang victim. As Detectives Charlie Crews and Dani Reese investigate, Captain Tidwell's men round up gang suspects en masse. "Round 'em all up, toss 'em in cells, see who squawks," explains the boss.
Crews and Reese interview the victim's daughters. The younger daughter, Elsa, explains that her father was very angry with someone on the phone the night he was killed, yelling something about "the Bankley Building." The older daughter screams when she hears this - she had been at a party the night before at the building. She doesn't really remember anything about her father coming there, explaining that her drink was spiked with drugs.
The medical examiner explains that the victim was beaten to death by someone with incredible strength using their bare hands, "an animal." The detectives suspect the murderer might be a steroid user.
Crews goes undercover in an LAPD holding cell full of gang members and overhears two prisoners describing a guy who "chews bottles and drinks blood - he's a monster." Charlie reveals himself and explains that they're looking for a monster. He and Reese take the prisoners upstairs and confront them about the steroids they were holding when they were picked up.
The steroids are traced back to a high-end health club in Beverly Hills. Crews and Reese question Dr. Bridger, the medical doctor who owns the gym, but he refuses to give up the names of any of the "patients" who work out there and are sometimes prescribed steroids.
The detectives stake out the gym and notice Benny Bankley (of the Bankley Building real estate family) enter the gym. They follow him later to a restaurant where he's joined by his group of beautiful friends: Patrick Bridger (the son of the gym's owner), his beautiful girlfriend Annabelle Shore, and Marty Hawkins, who appears to be a steroid user. They're a band of well-off twentysomethings, "spoiled rich kids," Reese calls them.
Back at the station, the two gangbangers make a deal for freedom with Reese and Crews. They identify Patrick Bridger as the one who supplied them with steroids in exchange for their giving him the phone numbers of pretty girls - including the victim's elder daughter Carla.
The next day, Dani and Charlie stake out an upscale restaurant where Patrick Bridger and his friends are having brunch. The detectives size up Marty Hawkins, the muscular one, as a probable suspect. Reese wants him brought in for questioning, but laments that they have no cause. Charlie tells her they will - assaulting a police officer. Charlie approaches their table and provokes Marty, who flies into a rage, knocking Crews to the ground before Reese draws her service pistol and takes him into custody.
Jack Reese pays an unwelcome visit to Ted Early, Charlie's roommate and confidant. Reese insinuates that Crews has stolen his official police file, clearly in an attempt to uncover Reese's involvement in the Seyboldt murders frameup that put Charlie in prison for 12 years. Ted is not intimidated.
During interrogation, Marty Hawkins reveals that he has a solid alibi: he spent the night of the murder at his therapist's house. The therapist confirms this but is otherwise uncooperative and tells the detectives that her conversations with Marty are privileged. He's released.
Reese and Crews return to the gym to question Patrick Bridger and his friends. The friends (Marty, Benny and Annabelle) are all tight-lipped; Patrick is out riding his motorcycle around L.A. ("charging" as his friend Benny Bankley puts it).
Back at the police station, Reese and Crews get word that Max Horta's cell phone records reveal that he received a call from his daughter Carla's phone from the party the night he was killed. Carla is mortified thinking that, in her drugged stupor, she might have called her dad from the party - a call which led to him coming to the party and ultimately being beaten to death.
Rachel Seybolt, recovering in a private clinic, is visited by Charlie and his ex-wife, Jennifer Conover. The couple was close to the Seyboldt family when Rachel was little and Charlie has brought his ex-wife to the clinic in the hopes of getting Rachel to open up. Rachel remains scarred and unable to talk about her ordeal. Afterwards, Charlie and Jennifer share a long kiss that leads to them scrambling passionately into the backseat of Jennifer's car. As Charlie starts to undress her, Jennifer pulls back. "I can't," she says, "This is my husband's car." She takes off, leaving Charlie standing alone. "I really gotta get a car," he says aloud to himself.
Dr. James, Marty Hawkin's psychiatrist, is summoned to police headquarters where she's left alone at the crime board to contemplate photos depicting the horrible murder of Max Horta. Crews and Reese arrive and explain to her that they know Marty Hawkins is tied to the murder. They let her know that if she lies for him on the stand, she will lose everything: her license, her freedom. She agrees to wire a hidden radiomicrophone and attempt to implicate Patrick Bridger in the murder.
With the detectives listening in nearby, Dr. James meets Patrick Bridger. It's clear they're intimate with each other. But Bridger is onto the ruse and mocks Crews and Reese as he rips the microphone off James and races off into the night on his motorcycle.
Crews questions the victim's younger daughter once again, asking her if perhaps she followed her father on the night of the murder. She admits she did and that she saw him murdered. She identifies Marty Hawkins as the killer. Crews receives a desperate phone call from Dr. James who explains that something's wrong with Marty, that he's in a psychotic rage.
Crews and Reese arrive at Dr. James' office to find Marty out of control, tearing up the office. Guns drawn, they try to subdue him. Marty fights for Charlie's gun but suddenly dies, blood rushing from his eye sockets - an overdose victim of a supercharged steroid shot.
Crews and Reese bring Patrick's pal Benny Blankley to the morgue to see Marty's body. Benny is horrified and explains that it's Patrick who tells them all what to do and that it was Patrick who had arranged for the older Horta daughter to come to the party that night as a favor to him. He explains that when Benny discovered her drugged, he called Max Horta on her cell phone. After Max arrived, a steroid-fueled Marty beat him to death and dumped the body. Benny agrees to help capture Patrick.
Crews confronts Patrick at the health club, telling him that he's spoken with Marty who said that Patrick tried to kill him. He also implicates Patrick in Max Horta's murder. Patrick explains that it was Marty who killed Max. As a squad car rolls by with what appears to be a just-jailed Marty in the back, Patrick admits that he gave Marty a supercharged shot of steroids but that it obviously didn't kill him. He's wrong about that. Crews takes him into custody.
Charlie buys a new car (a Maserati Quatroporte) fitted with police lights and siren. He enjoys his first official act in it - pulling over Jack Reese. He tells Reese he knows that the convicted murderer Hollis (killer of the Seyboldts) worked for him as an informant. He also warns him to stay away from Ted Earley. As he leaves he attaches a listening device to Jack Reese's car. Reese drives off and Charlie smiles as he listens in on Reese's phone call.