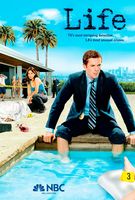 TV Info
---
Episode Premiere
October 03, 2007

Distributor
NBC

Genre
Drama

Show Period
2007 - 2009

Production Company
NBC


Cast and Crew
---
Director
Daniel Sackheim
Screenwriter
Rand Ravich
Main Cast
Additional Cast
Amanda Musso
Liz Montgomery
Caroline Macey
Leena Huff
Synopsis
---
Since Ted ran over his Bentley with a tractor, Crews is riding the bus to work. Last night's conquest offers to put her pants on and take him to the Taft Hotel on her motorcycle. Dani and Crews arrive at today's murder scene; Anna Turner was murdered last night, her wedding night. Crews notices the groom's shoes, which contain his wallet and keys. Jake Silvers is probably somewhere in the hotel, so Dani and Crews begin a floor-by-floor search.
Dani and Crews find Jake bloody and crying into a bottle of tequila by the pool. Pulling out handcuffs, Crews offers to take Jake to see Anna, but Jake gets violent and attacks Crews. The guys tumble into the pool, continuing to fight. Dani sticks a stun baton in the water, delivering 900,000 volts, and then orders Stark to fish the guys out of the water.
Now retired, Carl Ames, the lead detective on the case that sent Crews to jail, remains convinced that Crews is a murderer. Tom Seyboldt was Crews' friend from boyhood and his partner in a bar business. He was skimming, so Ames believes that Crews killed him, his wife and his young son out of revenge. Back at the Taft, Jake is arrested for the murder of Anna.
Young bridesmaid Tiffany visits the murder scene to hand over a bag of disposable cameras from the wedding. When she catches a glimpse of Anna, she collapses and has to be collected by her brother Bradley, one of Jake's pals and a member of the wedding party. Bradley admits that Tiffany's not used to drinking so much. Down at the station, Jake admits that he passed out when he returned to his hotel room and woke up to find Anna dead. He has a history of assault, but Anna turned his life around.
Eddie, a member of the wedding party who is also Jake's lawyer, shows up at the interrogation to tell Jake to stop talking. Afterwards, Crews muses over an exotic piece of fruit about his near death experience. Karen checks in, and Crews tells her that there's no way that Jake killed Anna - he can see it in Jake's eyes. Dani, convinced Jake is the culprit, is less than please by his claim. Karen reminds Crews that Jake is the LAPD's lead suspect, which means it's Crews's job to prove that Jake is the murderer.
Back at the house, Ted answers the door to meet flirty Olivia, who's looking for Crews. She doesn't know them yet, but hopes to be friends with both Charlie and Ted. Silent and furious at Crews, Dani leaves the station. Stark commiserates - it's tough to have a female partner. Stark's wife Leslie has insisted that Crews come to a barbecue over the weekend. The next day, Dani asks Crews if seeing every suspect as falsely accused is going to be "a thing" with him. Crews wonders: shouldn't innocent until proven guilty be "a thing" for every cop?
Back at the Taft, Dani and Crews interview groomsmen Brad and Mason, who have been drinking heavily. They both used to date Anna, but it was just hook-ups, nothing serious. Eddie enters to scold the drinkers. Crews and Dani move on to question the bridesmaids. With the exception of Tiffany, they all dated Jake, just hook-ups, nothing serious. Anna had a tough life, and used to do way more drugs and guys then them.. Still, she cleaned up when she met Jake - they were totally in love. Anna's story seems to strike a chord in Dani.
Karen calls Dani to ask about Crews. Dani refuses to be a rat. Karen insists that removing Crews from duty will be the best thing for all, and Dani shouldn't use him as an excuse to backslide. Dani claims she is just going to a meeting, but enters a club to get drunk and pick up a married man instead. Meanwhile, Crews visits the former Seyboldt home, claiming to be a potential buyer. Looking at crime scene photos, he realizes the only survivor, Seyboldt's daughter Rachel, must have witnessed the murders, and was not at a sleepover, as Ames wrote in the police report.
Anna's parents begged her not to marry Jake, thinking he was bad news. Anna's mother always hoped that Anna would marry Eddie, who loved Anna and was always there for her. Dani and Crews visit Eddie's room at the Taft, noticing a pile of tissues by the bed. Crews finds a folder full of lingerie ads with Anna's face taped on them, so they bring Eddie down to the station. Eddie has an alibi - he hired a prostitute that night, who explains that he asked her to dress up like Anna.
Crews gets off the bus with two hotties. Ted is waiting to pick him up, and introduces Olivia - Crews' father's wife-to-be. At the same time, Dani calls Crews tol tell him jake tried to commit suicide in jail. Crews claims he has to go charge a man with murder and gets back on the bus. That weekend, Crews goes to Stark's barbecue, only to have Sheila tell him to leave. She asks if he knows that no one would ride with Stark for four years after the murders. Stark takes Crews into the garage where he's stashed Crews's old badge and gun, then asks him to stay and have a burger.
Crews lays out the wedding photos all over the precinct floor, pissing off Dani. They proceed to the Taft, where Bradley and Tiffany, who's wearing big sunglasses, are getting on an airport van. Crews apologizes to Tiffany for not listening to her. He knows that Tiffany turned in all the cameras except her own. Pulling off her glasses to display a shiner, Tiffany admits that Bradley smashed her camera.
After loading everyone out of the van, the questioning continues. Though Bradley violently tells her to shut up, Tiffany admits that she drank too much on the night of the wedding, and passed out in the bridal suite bathroom. When she woke up, she saw Bradley murder Anna. Bradley attacks, but Crews subdues and handcuffs him. Later Crews takes his old gun to the pistol range for target practice, while listening to a zen reading on the perils of revenge.