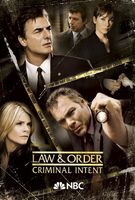 TV Info
---
Episode Premiere
April 06, 2010

Distributor
NBC, USA Network

Genre
Drama, Crime

Show Period
2001 - 2011

Production Company
NBC Universal, Studios USA TV, Universal Network


Cast and Crew
---
Director
Jean de Segonzac
Screenwriter
Barbara Hall
Main Cast
Synopsis
---
HASSAN, the power-hungry son of a Somali sheikh, orchestrates the murder of his father on the seas off the coast of Africa. To bolster his image as an avenging son, he orders the death of LOFTIN and BROIDY, the men he had earlier directed to kill his father. With an illegal arms deal and a hunt for Somali terrorists hanging in the balance, Detectives Goren, Eames, Nichols and newcomer Stevens combine resources. The heart of their investigation aims to bring to justice the murderer of Captain Ross.
The sole remaining tie to Ross's death is Van Dekker, the lone survivor of Hassan's brutal take-down. The cops want to bring him in for questioning, but he is under the protection of the FBI. Van Dekker is their link to a Somali arms deal. The U.S. government orchestrated the transfer of illegal arms to Hassan, which are covertly equipped with GPS devices. Hassan will likely provide the weapons to terrorist camps throughout Somalia, and the U.S. government will target and destroy the camps. AGENT WENDY STAHL has no intention of turning Van Dekker over to the detectives. Goren, aware of the constraints of pursuing Ross's murder from inside the force, throws a punch at Van Dekker and gets himself suspended from the Major Case Squad. New Major Case detective, Serena Stevens, witnesses the decisive moment.
Van Dekker dutifully reports to Hassan and swears he gave nothing to the FBI. Unwilling to trust anyone, Hassan orders hitman, TRISTAN, to kill him. Learning that Hassan ordered the murder of his partners, his sister, Kadra, swears that his actions have brought a curse on them. Furious, she pressures Hassan to end his relationship with American-born JILL PEAK.
Upon learning of Van Dekker's death, Agent Stahl suspects Goren of vigilante justice for Ross's murder. Eames is forced to ask Goren for his alibi; he has none. He tells her he has uncovered a money trail from Loftin to a venture capitalist, MILGRAM. Goren is convinced he is the money-man behind the arms deal.
Goren shakes down Milgram, a weak-kneed money-man. Milgram tells that the arms are stored at one of his warehouses, which leads Goren to R.J. PATEL. When Goren confronts Patel, he is blindfolded and taken hosage. When the blindfold is removed, Goren stares into the face of Agent Stahl. She reluctantly allows Goren to help with their investigation, but warns she can't protect him or re-instate him on the force.
Detectives Nichols, Eames and Stevens get a search warrant for Hassan's place. The evidence they uncover there leads them to suspect a planned coup attempt. The Chief of Detectives taps Eames as Captain Ross's replacement. The caveat is she must fire Goren from the Major Case Squad.
Jill, returning home one evening, is shot and killed. At the crime scene, the detectives realize that this murder differs from the previous murders.
Nichols interrogates Hassan and Kadra. Nichols provides evidence suggesting Hassan ordered the death of their father. The information is powerful enough to turn Kadra against Hassan. She admits to killing Jill in order to remove a threat to Hassan's rule, but she cannot abide the murder of their parents. She agrees to provide a statement linking Hassan to Ross's murder, and that of the other men.
Just as Nichols is about to nail Hassan, Goren intervenes. He tells of the FBI's investigation and the covert weapons deal to wipe out terrorist cells in Somalia. Goren argues that they can best honor Ross's death by allowing the deal to go through: the deal for which Ross gave his life. It could wind up saving millions of lives. Nichols objects. It means letting Hassan walk away, become a despot, and get away with murder. It's tough to swallow.
In the final moments of the episode, we say goodbye to Captain Ross at his funeral. Eames carries out her duty, and fires Goren. Immediately following, she submits her resignation. Detectives Nichols and Stevens now carry the responsibility of pursuing investigations in the Major Case Squad.