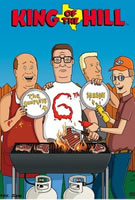 TV Info
---
Episode Premiere
May 21, 2000

Distributor
Fox TV

Genre
Animation, Comedy

Show Period
1997 - 2009

Production Company
Deedle-Dee, Judgmental, 3 Art, Film Roman, Fox TV


Cast and Crew
---
Director
Jeff Myers
Screenwriter
Alan R. Cohen, Greg Daniels
Main Cast
Mike Judge
Kathy Najimy
Pamela Adlon as Bobby Hill (voice)
Brittany Murphy as Luanne Platter/Joseph Gribble (Age 12)
Johnny Hardwick
Stephen Root
Toby Huss
Additional Cast
Synopsis
---
Peggy accuses country star Randy Travis of stealing her song lyrics!
Peggy excitedly shows Hank her letter from Randy Travis--or at least his lawyers-- regarding some song lyrics she sent to the country superstar. While he did not accept them, he did refer to Peggy as a songwriter and wished her luck with "her songwriting career." Later, at church, Assistant Pastor Larry (guest voice Vince Gill) announces that there will be a field trip to the Country Music Fan Fair in Nashville, Tennessee. Peggy soon commandeers the church bus for the 14-hour trip to Nashville--much to the dismay of all on board. At a pit stop, Bobby tries to call Connie but Mr. Souphanousinphone tells him that Connie is out with another boy. Bobby is crushed.
At the Fan Fair, Bobby and Luanne reach the Brooks & Dunn booth for autographs. Dunn notices Bobby's sorry state and closes the booth to counsel him. Both Brooks and Dunn think Kahn is just "yanking Bobby's chain" about Connie. Bobby feels much better now that he and Connie are "back together."
In line at the Randy Travis booth Hank and Peggy are excited to meet Peggy's "close, personal friend." However, their excitement is short-lived when Peggy recognizes the song, "This Is Just the Way God Made Me," as hers! She marches right up to Randy and punches him, shouting, "You stole my song!" Rather than press charges, Randy meets with Peggy and Hank in his trailer to sort out the situation. Peggy tells Randy that her Montana upbringing and extra-large feet inspired her to write the song. When kids would tease young Peggy, her grandma told her to say, "That's just the way God made me." Randy assures her that this isn't the first time two songwriters have used similar themes. Peggy is not satisfied, but she and Hank return to the concert.
Hank goes to get a few beers and runs into Charlie Daniels in line! While he's gone, Randy Travis takes the stage and takes credit for Peggy's big feet story! Peggy is livid, but Hank thinks she's just taking credit for things that aren't hers. Meanwhile, Bobby is bringing Brooks and Dunn his mom's Apple Brown Betty pie as a thank-you, but splatters it onto the grass. Luanne convinces him to just scoop it back into the pan and deliver it anyway. Hank consults Pastor Larry about Peggy's claims, and the pastor turns Peggy in to the police!
Together with Dale, Bill and Boomhauer, Peggy toilet papers Randy's trailer in revenge. When the trailer accidentally slides into the lake, they realize Randy was asleep inside! Quick-thinking Hank dives in and rescues the soaked superstar. Later that afternoon, while Hank waits backstage, Peggy arrives to present Randy with a peace offering--her Apple Brown Betty pie. She is promptly arrested, not only for plotting against Randy Travis, but for poisoning Kix Brooks--who is in the hospital! In a show of support, Hank takes a big bite of Peggy's dessert and she is absolved. Meanwhile, on stage, Randy Travis tells the audience how earlier he saved a drowning fan...Hank Hill.