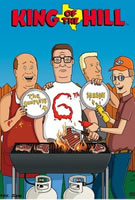 TV Info
---
Episode Premiere
May 07, 2000

Distributor
Fox TV

Genre
Animation, Comedy

Show Period
1997 - 2009

Production Company
Deedle-Dee, Judgmental, 3 Art, Film Roman, Fox TV


Cast and Crew
---
Director
Allan Jacobsen
Screenwriter
Greg Daniels, Alex Gregory
Main Cast
Mike Judge
Kathy Najimy
Pamela Adlon as Bobby Hill (voice)
Brittany Murphy as Luanne Platter/Joseph Gribble (Age 12)
Johnny Hardwick
Stephen Root
Toby Huss
Additional Cast
Synopsis
---
A drought whets Hank's appetite for politics
When a local drought reaches Stage 3 of water conservation, Hank reluctantly installs low-flow toilets. He's already forbidden Bobby from taking baths and has watched his beloved lawn turn from green to brown. Kahn's lawn, meanwhile, is lush and green due to his "secret Asian watering technique."
Once the toilets are installed, Hank realizes that it takes 5 or 6 flushes to accomplish what the "high-flow" toilets did in one flush. In fact, the Hills are now wasting more water than they're conserving! Hank tries to get his high-flow toilets back, but an old zoning law makes installing them illegal. When Hank brings this before the Zoning Board, the head of the board, Mr. Hashaway, tells Hank the only way to get on the agenda, is to get on the board. So Hank becomes Arlen's newest board member. He tells his friends, "Grass can't vote, but I can sure speak for it. I tell you what."
Meanwhile, Bobby is sneaking out of Connie's room when he sees Kahn bribing the DWP meter reader. Kahn's "secret Asian watering technique" is to ignore the drought and use a lot of water! Bobby later bribes Kahn into letting him take baths at his house, and letting him use the front door."
At his first board meeting, Hank tries to get the installation ordinance repealed, but Hashaway immediately kills his proposal - along with Dale's bid for a 12-foot, electrified fence around his property. Desperate to save his lawn, Hank scrapes ice of the side of the freezer and sprinkles it outside. Bobby decides to help. In the middle of the night, he uses Kahn's hose to soak the front lawn. The next morning, Hank is overjoyed, but thinks his freezer scrapings are responsible. The next night, Kahn catches Bobby and revokes both his bath and front door privileges in exchange for hose usage.
Later, Hashaway tries to blackmail Hank into dropping the toilet issue by showing him photos of Bobby's late night water wasting. Hank punishes Bobby and re-kills the lawn using a blowtorch! When he sees Dale plotting his new fence, he discovers that Hashaway hired Dale to take the pictures. That afternoon, Bobby slips while sneaking into Connie's house and winds up eye-level with the low-flow commode. He notices the manufacturer's name: Hashaway.
Armed with this new knowledge, Hank tries to get the board to reconsider. However, they are loyal to Hashaway, regardless of his intentions. Hank filibusters by reading Peggy's musings, which eventually forces the board members to use the insufficient low-flow toilets down the hall. One by one, they become frustrated with having to flush 6 times and rescind their "nay" votes. With the toilet victory under his belt, Hank resigns from politics.