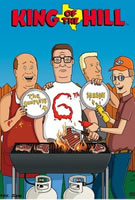 TV Info
---
Episode Premiere
April 16, 2000

Distributor
Fox TV

Genre
Animation, Comedy

Show Period
1997 - 2009

Production Company
Deedle-Dee, Judgmental, 3 Art, Film Roman, Fox TV


Cast and Crew
---
Director
Shaun Cashman
Screenwriter
Kit Boss, Greg Daniels
Main Cast
Mike Judge
Kathy Najimy
Pamela Adlon as Bobby Hill (voice)
Brittany Murphy as Luanne Platter/Joseph Gribble (Age 12)
Johnny Hardwick
Stephen Root
Toby Huss
Additional Cast
Synopsis
---
Bobby hits the road with his propane comedy troupe
Bobby wants to spend his summer at theater camp, but Hank insists he intern at Strickland Propane. At Strickland's annual "Grill-stravaganza," there is a near riot when Strickland sells out of its most popular grill. Bobby saves the day by launching into a comedy routine and distracting customers until the new shipment arrives. The top brass is so impressed with Bobby's schtick, they want him to put together an act and visit each Strickland dealership to boost morale. Hank is impressed with Bobby's natural comedic talent, and helps him with his routine by sharing his extensive propane knowledge.
The comedy troupe, named "The Propaniacs," hits the road with a few key members: Bobby, Dale, Luanne and Joe Jack. They are a smashing success with gags like "Gas Cop," "Haz-Mat the Magnificent," and "Big Baby." Their hard work pays off when they get invited to perform at the Southwest Propane Gas Trade Show and Conference in Arlington. Hank is especially thrilled because Strickland's President, Mr. Fortner, will be in the audience. He suggests that the "Gas Cop" arrest Fortner as part of the gag. Joe Jack--who plays the Gas Cop--is a little uneasy about arresting the head of the company. The night of the performance, Joe Jack disappears and Hank steps in as a last minute replacement. Just after Hank "arrests" Mr. Fortner and drags him onstage, a drunken Joe Jack shows up in his "Big Baby" outfit of oversized diapers and nothing else. Hank and Bobby keep the gag going, but as Hank "frisks" Fortner he makes an embarrassing discovery: Mr. Fortner wears adult diapers! Needless to say, that is the end of "The Propaniacs."
Later, Hank tries to keep the bond between him and Bobby alive by staging a Propaniacs Reunion at the Arlen Mall. Bobby's worried that the Arlen crowd won't get many of the propane jokes, but wants to please his dad. Sure enough, the comedy is a flop with the crowd. But when Bobby sees Hank cracking up over his gas act, he just keeps on going.