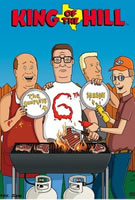 TV Info
---
Episode Premiere
April 09, 2000

Distributor
Fox TV

Genre
Animation, Comedy

Show Period
1997 - 2009

Production Company
Deedle-Dee, Judgmental, 3 Art, Film Roman, Fox TV


Cast and Crew
---
Director
Gary McCarver
Screenwriter
Greg Daniels, Mike Judge
Main Cast
Mike Judge
Kathy Najimy
Pamela Adlon as Bobby Hill (voice)
Brittany Murphy as Luanne Platter/Joseph Gribble (Age 12)
Johnny Hardwick
Stephen Root
Toby Huss
Additional Cast
Brian Doyle-Murray
Mike Judge
Eloy Casados
Synopsis
---
Hank refuses to pay his hair dues
Hank decides it's time for Bobby to stop letting Peggy cut his hair and go to a real barber. Hank's been going to the same guy, Jack, for twenty years and he's ready to share the tradition with his only son. At the barbershop, Hank starts to realize Jack is getting a little senile. He spends twenty minutes on Hank's Roger Staubach cut, but doesn't actually cut any of his hair. Hank is worried because the company Christmas card photo is coming up and he wants to look good. (They take the photo eight months early to accommodate the elves' vacation schedule.) He returns to Jack's and demands a free touch-up. To Hank's horror, he emerges from the barber's chair a bleached blonde!
Hank is despondent and doesn't know what to do. Bill promises to fix him up, and pesters Hank to come over to the army base. Hank resists, telling Bill that things won't be the same in the alley if Bill screws up. However, with the Christmas card deadline looming and no alternatives, Hank agrees to go. Bill does a wonderful job and restores Hank to his regular-guy look. Bill doesn't want to charge him, but Hank insists on paying. Having never had a paying customer before, Bill tells Hank he'll have the government send him a bill. When the bill arrives, Hank is shocked to discover that his army issue haircut cost $900!
Outraged, Hank writes his local congressman, claiming that "wasting all that money is like buying a haircut for Saddam Hussein." Weeks later, his hair now shaggy, Hank gets a form letter from the congressman, thanking him for his concern. But after a few days, some official-looking guys present Hank with a check for $3,900--his reward for putting a stop to wasteful government spending. Not until Dale calls Hank the "Billinator" does Hank realize that he put Bill out of business. And with Bill out of action, Hank is forced to go to Peggy's stylist, Ernst. His "modern" cut, complete with Caesar bangs, gets Hank banned from the Christmas card photo. To remedy the situation, Hank uses his reward money to buy Bill's equipment at a government auction and donate it back to Bill's commander. The commander--also desperate for a good haircut--reassigns Bill to his new, top secret post as army barber.