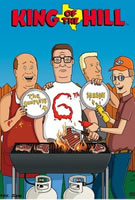 TV Info
---
Episode Premiere
December 12, 1999

Distributor
Fox TV

Genre
Animation, Comedy

Show Period
1997 - 2009

Production Company
Deedle-Dee, Judgmental, 3 Art, Film Roman, Fox TV


Cast and Crew
---
Director
Wesley Archer
Screenwriter
Greg Daniels, Norm Hiscock
Main Cast
Mike Judge
Kathy Najimy
Pamela Adlon as Bobby Hill (voice)
Brittany Murphy as Luanne Platter/Joseph Gribble (Age 12)
Johnny Hardwick
Stephen Root
Toby Huss
Additional Cast
Jonathan Joss
David Herman
Ashley Gardner
Synopsis
---
Against Hank's wishes, Bobby befriends a raccoon that promptly attacks Ladybird and Dale, creating a neighborhood rabies scare
Good ol' Ladybird may be the family pet, but she's 91 in dog years and not as much fun as she used to be. So Bobby turns to a frisky raccoon for companionship, naming his new pal Bandit and feeding it from the trash. But when Bandit wreaks havoc on Hank's workbench, the secret's out and Hank brings in the big guns: Dale, the exterminator.
Dale crawls under the house to go "mano e mano" with Bandit, but Bandit escapes and lunges at Hank. Old Ladybird steps up to the challenge and follows the raccoon as it races into the neighborhood. Dale, covered in scratches, is convinced he's got rabies. He quarantines himself until Hank, Bill and Boomhauer stage a "kidnapping" and take him to the hospital. Dale escapes at a stoplight and he too disappears into the woods. Hank quickly organizes a neighborhood search party to locate Ladybird, Dale and Bandit (in that order of priority).
Out in the woods, Hank and Bobby stumble upon Dale. He's stripped to his underwear, covered in mud and has been eating wild mushrooms for sustenance. The mushrooms have made Dale a little crazy, and he ties Hank and Bobby to a tree. His plan: to replace his rabies-infected blood with Hank's healthy blood. Just as Dale is about to carry out his design, Ladybird emerges from the woods, limping and growling. She distracts Dale long enough for Hank and Bobby to free themselves. As Hank and his beloved dog reunite, Bobby picks up the shotgun, aims at them and fires! He hits Bandit, who had also come out of the woods and was potentially rabid. After a brief burial ceremony, Hank promises Bobby that when the time comes Bobby can pick the next family pet. As long as it's not a raccoon, or an ostrich, or a poodle or...