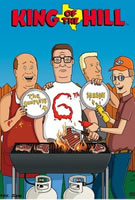 TV Info
---
Episode Premiere
November 07, 1999

Distributor
Fox TV

Genre
Animation, Comedy

Show Period
1997 - 2009

Production Company
Deedle-Dee, Judgmental, 3 Art, Film Roman, Fox TV


Cast and Crew
---
Director
Allan Jacobsen
Screenwriter
Greg Daniels, Mike Judge
Main Cast
Mike Judge
Kathy Najimy
Pamela Adlon as Bobby Hill (voice)
Brittany Murphy as Luanne Platter/Joseph Gribble (Age 12)
Johnny Hardwick
Stephen Root
Toby Huss
Additional Cast
Synopsis
---
Kahn and Minh go to Hawaii on a business trip, leaving Connie with the Hills...and leaving Hank with major angst when Connie "becomes a woman."
After much trepidation, and lacking any other options, Kahn agrees to let Connie stay with the Hills during his important business trip to Hawaii. Hank and Peggy are more than happy to have Connie as a houseguest, but Bobby starts getting anxious about having his girlfriend under the same roof. First of all, he doesn't have the appropriate pajamas!
Everything seems fine during their first night of "camping out" in the living room. But Bobby is too nervous to "bust a move." The next day, Connie seems a little moody and Bobby's convinced she hates him. Peggy takes Bobby to school, leaving Hank to bring Connie, who is taking an unusually long time in the bathroom. When Connie finally emerges, she shocks Hank with the news that she's just gotten her first period. Unable to reach Connie's parents or Peggy, Hank does what any guy would do; he rushes Connie to the hospital. Unfortunately, that doesn't get him off the hook. He must still face the demon known as Aisle 8A--that mysterious aisle brimming with feminine hygiene products.
Once back in the safety of his own home, Hank breaks the news to Peggy, who thankfully takes charge. Kahn and Minh rush back, while Peggy tries to explain the situation to a very confused Bobby. He's convinced it's his fault. If his hormones hadn't been so close to Connie's in the living room, none of this would've happened. Hank consoles his son by explaining that if he can hold on during the next few days, everything will eventually return to normal. So, Connie and Bobby decide to remain boyfriend and girlfriend--except for the four days a month when the sight of Bobby will make Connie want to kill him.