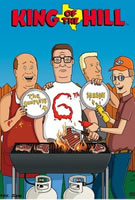 TV Info
---
Episode Premiere
October 24, 1999

Distributor
Fox TV

Genre
Animation, Comedy

Show Period
1997 - 2009

Production Company
Deedle-Dee, Judgmental, 3 Art, Film Roman, Fox TV


Cast and Crew
---
Director
Jeff Myers
Screenwriter
John Altschuler, Greg Daniels
Main Cast
Mike Judge
Kathy Najimy
Pamela Adlon as Bobby Hill (voice)
Brittany Murphy as Luanne Platter/Joseph Gribble (Age 12)
Johnny Hardwick
Stephen Root
Toby Huss
Additional Cast
Jill Parker
Phil LaMarr
Mike Judge
Synopsis
---
Bill's high school football record--and local hero status--are threatened by a hotshot senior at Arlen High
In 1974, Bill Dauterive was known simply as "The Bulldozer." Arlen High School had never seen such a force on the football field. But now that Ricky Suggs has suited up, Bill may lose some of his glory. With Ricky only two scores away from tying Bill's career touchdown record, everyone in town catches football fever.
When Ricky ties the record to the cheers of a sold-out crowd, he goes down hard during the play, landing him on the disabled list. Hank, Dale and Boomhauer worry that Bill's a little too okay with the possibility of losing his record, but Bill reassures them that Ricky is earning his place in Arlen history fair and square. Plus, with Ricky on the D.L., the record seems pretty safe. Then comes the big game with Arlen's cross-town rival. In the last moments of play, the coach puts in Ricky, who is still in a full leg brace. Hank and the guys marvel at the boy's bravery and sportsmanship. But when the whistle blows, the opposing team parts like the Red Sea and allows Ricky to limp into the end zone, and into the record books.
Disgusted by this cowardly victory, Hank becomes determined to set the record straight. He discovers a loophole that will allow Bill to play one more game for Arlen High. Even though his team rejects him, and the opposing team offers no mercy, Bill wears his too-tight jersey with pride. And sure enough, "The Bulldozer" proves his worth by bulldozing his way past several tackles and dragging four opponents, the ball and himself into the end zone--re-tying the record and reaffirming his hero status.