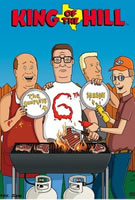 TV Info
---
Episode Premiere
February 02, 1999

Distributor
Fox TV

Genre
Animation, Comedy

Show Period
1997 - 2009

Production Company
Deedle-Dee, Judgmental, 3 Art, Film Roman, Fox TV


Cast and Crew
---
Director
Klay Hall
Screenwriter
Greg Daniels, Mike Judge
Main Cast
Mike Judge
Kathy Najimy
Pamela Adlon as Bobby Hill (voice)
Brittany Murphy as Luanne Platter/Joseph Gribble (Age 12)
Johnny Hardwick
Stephen Root
Toby Huss
Additional Cast
Maurice LaMarche
Glenn L. Lucas
Chuck Mangione
Synopsis
---
Hank inadvertently causes Kahn to lose his job.
Kahn slowly drives his car down the common alley, creeping up on Hank and his buddies as they sip their beers. Suddenly, he honks his horn, startling the men. After trading barbs with Hank, Kahn proudly announces that he received a new promotion. The following day, Kahn drops by Strickland Propane, where he announces that he in now a systems manager. He invites Hank to join him for a tour of his workplace, Composite Analysis Incorporated, and hints about a large propane contract. Hank accepts the offer. Once inside the building, Kahn warns Hank that anything he sees inside the company is strictly confidential in nature. He then steers Hank towards a giant hangar. He opens a glass display cabinet and removes a golf driver. After placing a ball on a range tee, Kahn hits an endless drive. Hank is greatly impressed. Kahn explains that the club is made of a resilient ceramic composite, once sought after by the U.S. Army. Hank then sets up a ball and takes a swing. An ecstatic look crosses his face as the ball disappears on the horizon. Moments later, Kahn admits that his company has no need for propane. Later, in the common alley, Hank tells his friends about the club. Bill mentions the club to an Army general. A short time later, Kahn is fired from his job.
Kahn tells Hank he lost his job because he leaked company secrets. Hank tells Kahn that he is at fault. Kahn claims that a severance package will take care of his family for quite some time. But at the unemployment office, Kahn discovers that the company does not have to make such payments, as Kahn violated his contract when he broke their confidentiality agreement. Humiliated, Kahn ends up taking a position at a photocopying store. But his belligerent attitude costs him his job. Desperate for cash, Kahn holds a lawn sale, placing many of his belongings on display. When Connie begins tutoring Bobby in Laotian, Hank walks over to the Souphanousinphone residence to confront Kahn. But when he enters the kitchen, he realizes that Minh has been crying. Minh tells him that her husband has no severance pay, and breaks into tears. Feeling sorry for the family, Hank decides to purchase ten Laotian lessons in advance. Insulted and humiliated, Kahn storms out of the house.
Peggy blames Hank's "loose lips" for her neighbor's predicament. When she notices Minh struggling with some bags of trash, she sends Hank to help her out. Minh gratefully accepts his help--then takes advantage of Hank's generosity by asking him to perform chores around the house. When Peggy notices Hank at work, she becomes jealous and reminds her husband that they don't like the Souphanousinphones very much. One day, Hank sets off to the hardware store to pick up a compressor cable for Minh's refrigerator. During the trip, Hank notices Kahn's minivan parked outside Luly's. He discovers Kahn living out of the establishment's bathroom. Kahn vows not to return home until he has found a new job that will make his family proud. A few days later, Kahn pulls up in front of his house driving a brand new car. He proudly announces that he found a new job in Houston. He tells Minh and Connie to pack their belongings, as they are moving at once. But Minh quashes the idea. She insists that Kahn make the three-hour commute.