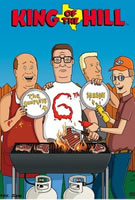 TV Info
---
Episode Premiere
November 10, 1998

Distributor
Fox TV

Genre
Animation, Comedy

Show Period
1997 - 2009

Production Company
Deedle-Dee, Judgmental, 3 Art, Film Roman, Fox TV


Cast and Crew
---
Director
Tricia Garcia
Screenwriter
Greg Daniels, Norm Hiscock
Main Cast
Mike Judge
Kathy Najimy
Pamela Adlon as Bobby Hill (voice)
Brittany Murphy as Luanne Platter/Joseph Gribble (Age 12)
Johnny Hardwick
Stephen Root
Toby Huss
Additional Cast
Synopsis
---
Peggy enters a beauty contest in the hopes of winning a pickup truck. But she soon discovers that her competition is more formidable than she ever imagined.
Nancy Gribble informs Peggy that officials from the "Mrs. Heimlich County" beauty pageant have asked her to act as a celebrity judge. At first, Peggy wonders aloud if any mature women would really participate in such an event. But her skepticism evaporates when she realizes the grand prize is a brand new pickup truck with a 5.4 liter V8 engine. That night, Peggy asks Hank if he thinks she could win the beauty contest. Hank delicately explains that he doesn't think his wife is the "pageant type." Peggy, however, is not to be dissuaded, and she fills out the entry form. The next morning, Luanne screams with delight when she realizes she will be styling a beauty pageant contestant. The pair travel to the Arlen Hotel, where contestants mingle with their competition. It doesn't take long for Peggy to realize that many of the other women look unbeatable.
Peggy approaches Nancy and compliments her on her looks. Peggy digs herself a deep hole when she states that women should be judged by their brain size, not their bra size. Nancy takes this as an insult and walks off. The next morning, Peggy and Luanne visit Mr. Strickland in hopes of convincing him to sponsor Peggy in the contest. Strickland, believing that Luanne is the contestant, quickly agrees to write a check for $2000. By the time Strickland realizes his mistake, the check has already been drafted. Later, Peggy tells Luanne she would like some highlights in her hair. Luanne is somewhat hesitant, as she missed both parts of the highlights class. She forges ahead nonetheless. When Peggy emerges from the house the next morning, her hair sports hideous orange tiger stripes. That night, Peggy tells Hank that her relations with Nancy have hit an all-time low. Hank reluctantly brings Dale a plate full of brownies in hopes of making amends. As the contest draws near, Luanne discovers a woman named Marci teasing Peggy's hair in front of a vanity table. Luanne concludes that a mistake has been made. But Peggy explains that she needs Marci's professional skills if she hopes to win. Peggy arrives home sporting a complete makeover. Hank and Bobby stare at the results, their mouths agape. Ladybird does not recognize Peggy and begins barking at her.
Hank dislikes his wife's new appearance, but is careful not to say anything that might offend her. Later, Peggy is interviewed by three contest judges: Nancy Gribble, a Spanish man and an uptight older woman. The Spanish judge reads Peggy's application, and notes that she speaks fluent Spanish. Speaking quickly, he asks her a complex question regarding the information superhighway. After a long pause, Peggy responds by saying "si." As Peggy prepares to join her fellow contestants in the pageant, she suddenly worries about her hind end looking too big. With some help from Marci and Mr. Strickland, Peggy uses duct tape to fix the problem. As a stage manager directs the contestants to cross a street, the duct tape gives way, causing Peggy's buttocks to droop one at a time. A furious Peggy berates Strickland for purchasing cheap tape. At that moment, Hank pulls up in a sparkling white truck. He tells his wife that since she entered the contest to win a truck, he thought he would save her the trouble. As it turns out, the vehicle is actually his old truck, now sporting a new paint job.