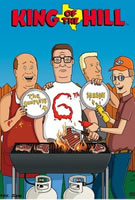 TV Info
---
Episode Premiere
December 21, 1997

Distributor
Fox TV

Genre
Animation, Comedy

Show Period
1997 - 2009

Production Company
Deedle-Dee, Judgmental, 3 Art, Film Roman, Fox TV


Cast and Crew
---
Director
Cyndi Tang-Loveland
Screenwriter
Greg Daniels, Mike Judge
Main Cast
Mike Judge
Kathy Najimy
Pamela Adlon as Bobby Hill (voice)
Brittany Murphy as Luanne Platter/Joseph Gribble (Age 12)
Johnny Hardwick
Stephen Root
Toby Huss
Additional Cast
Chuck Mangione
Carl Reiner
Tammy Wynette
Synopsis
---
As Christmas approaches, Hank experiences temporary blindness after he accidentally catches his mother and boyfriend in the throes of passion.
As the Christmas holiday approaches, Hank and Peggy travel to the airport to pick up Hank's mother, Tilly, and her new boyfriend, a Jewish man named Gary Kasner. When the group returns home, Hank cannot hide his discomfort with the idea of his mother sleeping with another man inside his home. He arranges for his mother to sleep in the den with Luanne, while Gary is confined to Bobby's room. That night, a sleepless Hank walks into the living room, where he finds Gary eating a plate of food. When Gary broaches the subject of his feelings for Tilly, Hank suddenly grabs the remote and watches television, explaining that a late-night televangelist show is his favorite. The next morning, Hank, Peggy, Luanne and Bobby pile into the car and head off for a basketball game. Peggy turns the car around when her husband realizes he forgot his favorite Styrofoam finger. When Hank enters the house, he inadvertently catches a glimpse of his mother and Gary making love on the kitchen table. The psychological shock causes Hank to go blind.
Peggy takes her husband to an opthamologist. Hank queries the doctor if it is possible for a person to go blind after witnessing a horrific event. He is told the condition is called hysterical blindness. Later, during the ride home, Hank tells his wife he saw his mother and Gary making love. Peggy cannot fathom her husband's reaction...until he mentions they were doing it on the kitchen table. On Christmas morning, Peggy tells Hank he will never get his sight back if he doesn't confront the trauma that triggered the blindness. Instead, Hank asks Peggy to drive him to his father's house.
As the ride gets under way, Hank suddenly realizes Gary is at the wheel. He asks Gary to turn the truck around and take him home. Instead, Gary takes him to Cotton's house. During the short visit, Cotton talks despairingly about his ex-wife. Offended, Gary leaves the house and waits for Hank outside. Hank leaves the house shortly thereafter...and now sports a far friendlier attitude towards Gary. Unexpectedly, Gary drives Hank to the cathedral where the televangelist holds his services. As the sermon gets underway, Hank thanks Gary for the gesture. Gary tells him his attitude stems from his love of Tilly. Shortly thereafter, Hank regains his sight. Later, during dinner, Hank declares the day has been the best Christmas ever.