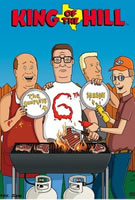 TV Info
---
Episode Premiere
December 14, 1997

Distributor
Fox TV

Genre
Animation, Comedy

Show Period
1997 - 2009

Production Company
Deedle-Dee, Judgmental, 3 Art, Film Roman, Fox TV


Cast and Crew
---
Director
Chris Moeller
Screenwriter
Greg Daniels, Gina Fattore
Main Cast
Mike Judge
Kathy Najimy
Pamela Adlon as Bobby Hill (voice)
Brittany Murphy as Luanne Platter/Joseph Gribble (Age 12)
Johnny Hardwick
Stephen Root
Toby Huss
Additional Cast
Synopsis
---
Bobby and Connie are a match made in Hell.
Peggy insists that Connie be allowed to play on the school's all-boy wrestling team. Hank becomes elated when Bobby announces he has joined the wrestling team at school. Meanwhile, Peggy is asked to substitute teach the Middle School girl's gym class. Her experience is a frustrating one; when she requests new basketballs for the girls, she is informed the money was earmarked to place holograms on football game tickets. The discrimination continues when the girls are denied uniforms. Peggy loses her cool when Coach Kleehammer asks the girls to move so the boys can have extra room to scrimmage, but with no one on her side, she is forced to comply. Connie tells Bobby she made a mistake when she signed up for sports. Peggy promises Connie she can play whatever sport she choices. Connie tells her she wants to join the wrestling team.
Peggy tells Kleehammer about Connie's wish, but the coach attempts to dissuade her, claiming it is a "boy's sport." When Minh and Kahn learn about their daughter's new passion, they fear she might get hurt. But they realize it might be enough to set her apart from others when she applies to college. The Souphanousinphones threaten the principal with a lawsuit unless their daughter is allowed to participate, and later, a reluctant Kleehammer informs the boys a girl will be joining them. He then warns that, as a result, some of the boys may not make the team. Later, Bobby tells his parents that Kleehammer looked directly at him when he made the announcement. At school, Kleehammer announces that tryouts will be held to determine ability. To his horror, Bobby learns he will face Connie on the mat.
Peggy is mortified when she hears the news. Meanwhile, Minh enlists Luanne's assistance to help coach her daughter, while Hank tries his hand at prepping Bobby for the match. The day of the tryout finally arrives. Taking their cues from a video game, Bobby and Connie make wild, "pro wrestling" moves that dazzle the crowd. Ultimately, both children emerge as winners.