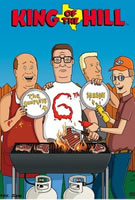 TV Info
---
Episode Premiere
November 02, 1997

Distributor
Fox TV

Genre
Animation, Comedy

Show Period
1997 - 2009

Production Company
Deedle-Dee, Judgmental, 3 Art, Film Roman, Fox TV


Cast and Crew
---
Director
Gary McCarver
Screenwriter
Alan R. Cohen, Greg Daniels
Main Cast
Mike Judge
Kathy Najimy
Pamela Adlon as Bobby Hill (voice)
Brittany Murphy as Luanne Platter/Joseph Gribble (Age 12)
Johnny Hardwick
Stephen Root
Toby Huss
Additional Cast
Dan Butler
James Carville
Brent Forrester
Stephen Root
Synopsis
---
Hank finally cracks when he discovers a fishy secret.
A thief attempts to break into Hank's truck as Hank and his son search for worms in Arlen City Park. Hank makes a citizen's arrest, and later, a good ol' boy judge known for creative sentencing orders the teenager to spend three months inside the cab of a pickup. When Hank attempts to retrieve his own truck from the impound lot, he discovers it has been completely dismantled (as police believed the teenager may have attempted to hide drugs inside the vehicle). Hank decides that the only cure for his mounting stress is a nice quiet fishing trip with his buddies. Employing exotic lures, Dale, Boomhauer and Bill all catch sizable bass. Hank labels the lures "cheaterbait" and sticks to worms. But as the day wears on, and having reeled in empty time and again, Hank realizes he must get with the times. He visits a bait and tackle shop looking for a scented lure. The owner recommends a special homemade bait concocted by a man who works out of his truck on a street corner. Hank drives to the neighborhood where the man works, but instead of buying bait, he inadvertently purchases crack from a drug dealer.
Back at Lake Arlen, Hank pierces his hook with the drug (believing it is the homemade bait) and tosses his line into the water. Suddenly, the fish begin biting. And biting. And biting. Dale, Boomhauer and Bill also try the "miracle bait," and they, too, have resounding success. As the bass become "hooked" on the bait, the anglers become hooked on catching multitudes of fish; Dale even breaks into Hank's garage in a desperate effort to find the bait. Shortly thereafter, Hank discovers that the bass have tired of the drug and crave something stronger. Hank returns to the dealer, only to discover he was followed by Dale. Suddenly, two police cars pull up to the corner. Hank and Dale are placed under arrest for attempting to purchase drugs.
Hank faces the same judge who sentenced the car thief. Telling Hank he has "the haircut of an honest man," the judge, himself a bit of an angler, offers a deal: If Hank and Dale are able to show him how to catch a fish using a rock of crack as bait, he will set them free. Otherwise, they'll face 24 months in jail. After spending six hours on Lake Arlen, the men fail to catch even one bass. As the sun begins to set, the judge gives Hank and Dale five more minutes to prove their claim. When the judge isn't looking, Hank baits his own line with a good old fashioned worm. The ploy works, and Hank reels in a fish. True to his word, the judge sets the men free.