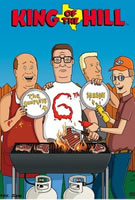 TV Info
---
Episode Premiere
April 13, 1997

Distributor
Fox TV

Genre
Animation, Comedy

Show Period
1997 - 2009

Production Company
Deedle-Dee, Judgmental, 3 Art, Film Roman, Fox TV


Cast and Crew
---
Director
Chuck Sheetz
Screenwriter
Jonathan Aibel, Glenn Berger
Main Cast
Mike Judge
Kathy Najimy
Pamela Adlon as Bobby Hill (voice)
Brittany Murphy as Luanne Platter/Joseph Gribble (Age 12)
Johnny Hardwick
Stephen Root
Toby Huss
Additional Cast
Synopsis
---
Hank must choose between attending the Dallas Mower Expo or coaching his wife at the state Boggle championships.
Pegy, Minh, Luanne and Nancy play a Scrabble-like game in the Hill dining room. When Peggy easily beats her opponents, Nancy suggests she sign up for the Boggle tournament at the Elks club. Meanwhile, Hank, Dale, Bill and Boomhauer are mesmerized when a television commercial announces the Ninth Annual Dallas Mower Expo. Peggy enters the Elks club competition and, after easily breezing past the other players, wins a coveted trophy. But to Peggy, the biggest honor is getting to represent Arlen in the state Boggle championships. Hank agrees to act as his wife's coach after he learns it takes place in Dallas the very same weekend as the Mower Expo. He tells his friends that the Boggle tournament will keep Peggy busy while they sneak off for some real fun.
Peggy and Hank say goodbye to Bobby and Luanne and head off for Dallas. Despite their best intentions, and their promise not to throw any parties, Bobby and Luanne accidentally ruin the family coffee table, drip varnish on the carpet, and scorch a section of wall. Meanwhile, Peggy is introduced to Cissy Cobb, Boggle champion of Dallas for seven non-consecutive years. Cissy easily intimidates Peggy by criticizing a jacket given to her by the Arlen Boggle Boosters. Shortly before the tournament begins, Hank tells his wife about the Mower Expo. Peggy makes an impassioned plea for Hank not to run off in her hour of need. He agrees to stay and act as her coach. When the tournament begins, Peggy gets off to a shaky start, and Cissy Cobb takes a commanding lead.
Peggy is ranked 255 out of 256...one step ahead of a Boggle-playing chicken. But she valiantly continues to play. Meanwhile, Hank's buddies show up at the tournament. At first, Hank chooses to help coach his wife. But some sharp words from Dale and the others change his mind, and the men head for the Mower Expo. Slowly but surely, Peggy regains her confidence and rises through the ranks until she makes it into the finals. She is horrified, however, when she realizes her opponent is none other than Cissy Cobb. Hank realizes he cannot enjoy himself at the expo knowing his wife needs him. He races back to the Boggle tournament just in time to give his wife the extra boost she needs. Brimming with confidence, Peggy beats Cissy and is declared the new Texas State Boggle Champion.