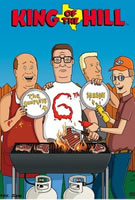 TV Info
---
Episode Premiere
February 02, 1997

Distributor
Fox TV

Genre
Animation, Comedy

Show Period
1997 - 2009

Production Company
Deedle-Dee, Judgmental, 3 Art, Film Roman, Fox TV


Cast and Crew
---
Director
Klay Hall
Screenwriter
Cheryl Holliday
Main Cast
Mike Judge
Kathy Najimy
Pamela Adlon as Bobby Hill (voice)
Brittany Murphy as Luanne Platter/Joseph Gribble (Age 12)
Johnny Hardwick
Stephen Root
Toby Huss
Additional Cast
Victor Aaron
Cheryl Holliday
Synopsis
---
Hank and his friends take Bobby's scout troop on a rite of passage journey in the wilderness.
Hank, Boomhauer, Bill and Dale decide to take Bobby's scout troop, the Order of the Straight Arrow, into the wilderness in an effort to "make men out of them." The foursome, who were members of the same scout group when they were children, approach John Redcorn for "Indian stuff" for an initiation ceremony. Redcorn tells them of a ritual involving the sacred Wematanye. The men love the idea and decide they will use it. Later, Hank and his friends load Bobby, Joseph and Randy into their cars and begin the journey. The moment her family leaves, Peggy hops in Hank's pickup truck and heads out for points unknown. As the journey continues, Hank tires of the boys' incessant talking. He orders a twenty-four hour oath of silence, using Slim Jims as "silence sticks." Unfortunately, Bobby forgets he is to remain silent throughout the test, and his Slim Jim is nibbled away to almost nothing. Concerned, Hank warns his son that he will not make Straight Arrow if he loses one more bite of Slim Jim.
The group pulls into a campground populated by environmental activists led by a woman named Mona. That night, Hank and his friends gather the boys around a campfire. Hank tells the boys of the spirit Wematanye, and how it respects all of God's creatures. As a final test, Hank sends the boys out into the wilderness to hunt down the dreaded snipe (a fictitious creature). Taking the assignment very seriously, Bobby accidentally wallops a Whooping Crane, a rare and protected bird on the endangered species list.
Hank hides the animal's carcass inside a beer cooler. Afterward, Joseph tells Bobby that his father invented the story about the snipe. But Bobby maintains his father is the Arrow leader, and would never lie. In the morning, a park ranger enters the campground. He explains that a Whooping Crane tagged with a transmitter has disappeared. Hank covers as best he can and the ranger leaves the camp. Meanwhile, Peggy meets up with Brock, a handsome Texan...and owner of a shoe store for the "largefooted lady." Peggy purchases Italian loafers. Back at the camp, Hank assembles the boys and speedily drives towards the park exit. As the ranger closes in, Hank makes a desperate attempt to bury the crane. But before he does, Hank admits to Bobby that he lied about the snipe hunt, explaining it is part of the experience of becoming a scout. Suddenly, the ranger arrives. As he prepares to arrest the group for killing an endangered species, the bird suddenly springs to life. Realizing that the bird was only knocked unconscious, the ranger lets everyone go.