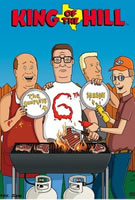 TV Info
---
Episode Premiere
January 12, 1997

Distributor
Fox TV

Genre
Animation, Comedy

Show Period
1997 - 2009

Production Company
Deedle-Dee, Judgmental, 3 Art, Film Roman, Fox TV


Cast and Crew
---
Director
Wesley Archer
Screenwriter
Greg Daniels, Mike Judge
Main Cast
Mike Judge
Kathy Najimy
Pamela Adlon as Bobby Hill (voice)
Brittany Murphy as Luanne Platter/Joseph Gribble (Age 12)
Johnny Hardwick
Stephen Root
Toby Huss
Additional Cast
Gailard Sartain
Toby Huss
Ashley Gardner
Synopsis
---
A social worker mistakenly believes that Hank is physically abusing his son.
Hank Hill, his wife, Peggy, and son, Bobby, drive to a Little League baseball game. Along the way, Hank gives his son a pep talk, emphasizing the importance of winning. As the game gets under way, Bobby, who shows little athletic prowess, manages to get on first base. But he becomes distracted when his father offers coaching advice from the bleachers. A ball roars down the first base line and strikes Bobby in the face, leaving him with a black eye. After the game, Bobby accompanies Hank to the local department store. Two older women spot the pair from twenty yards away. Hank throws a temper tantrum when he is unable to find the hardware department, and the elderly women erroneously conclude that Bobby is being abused. Word spreads throughout the community, and eventually, a social worker named Anthony Page is dispatched to investigate the incident.
Page arrives at the Hill home just as Hank erupts in a temper tantrum (after banging his head on the hood of his car). But Peggy assures Page that her husband is as gentle as a lamb. Later, Hank tells the social worker that his son received the black eye during a baseball game. He also emphatically denies ever hitting his son. But Page remains unconvinced, and begins interviewing neighbors and friends of the family, hoping to uncover the "truth." Hank finally loses his patience and kicks the social worker off his property.
Back at the Child Protective Services Office, the social worker discusses his findings with the case manager. He is later removed from the investigation. Bobby tells Hank that if he continues to lose his temper, the government will take him away. The boy then intercepts a phone call from the Protective Services Office, in which a social worker apologizes for the misunderstanding. Unaware that he is no longer under investigation, Hank heeds Bobby's warning and attempts to control his temper no matter how much his son misbehaves. Eventually, Peggy learns that the investigation was halted a week earlier and that Bobby deliberately neglected to tell anyone the truth. Later, Hank tells Bobby, in his own unique way, how much he loves him.