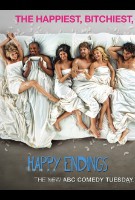 TV Info
---
Episode Premiere
September 28, 2011

Distributor
ABC

Genre
Comedy

Show Period
2011 - 2013

Production Company
Sony Pictures Television, FanFare Productions


Cast and Crew
---
Director
Anthony Russo
Screenwriter
Josh Bycel
Main Cast
Synopsis
---
Dave and Alex finally make use of their free honeymoon suite on the one-year anniversary of the wedding that never was. They bring along a quartet of their closest friends to help commemorate the worst day of Dave's life. Sounds like a party!
The celebration goes south fast when Max accidentally stabs Brad with an oyster-shucking knife and Jane gets covered in shellfish. She's highly allergic. Penny saves the day by yanking out Brad's blade, injecting Jane with an epi and dousing a hysterical Max with a bucket of ice water. Now they can watch The Lincoln Lawyer on pay-per-view in peace. Penny loves the opening credits to that flick.
Speaking of Penny, she buys an "ahmah-zing" new condo. Check your calendars, friends. This is going to be the Year of Penny! She meets a new guy who is immediately intimidated by her slick new pad. Penny gets more bad news when she discovers that the last two ladies who lived in her place died alone in a possibly-cursed condo that turns people into spinsters. More on that later.
The brouhaha at the hotel revealed that Dave is not allergic to shellfish. It was always his way of getting out of eating Alex's disgusting jambalaya. This leads to a Jane-induced discussion about all the little lies they told each other in the past. Apparently, Dave was always afraid of what would happen to a dog if Alex ever owned one and Alex never cared for the 12-minute long song Dave wrote called "Love to the Power of Love." Sounds just so darn exponentially romantic, doesn't it?
Dave buys a pair of the odd running socks (that Alex always hated) for Jane as a "thank you" for freeing them from their lies. They go running and play some Frolf (Frisbee-golf) with Dave's old friend, Glaze, who has been out of the picture for years thanks to Alex's lies. These two old chums also lay down some tracks for Dave's old song. Jane then joins Alex to buy a dog. It doesn't happen. Apparently, Alex is only qualified to care for a snake. Of course, all the sugary Peeps she feeds her slithery pet may not be the best diet for a legless reptile.
Brad blows off Max during movie night to hang with a few of his black friends. One of the men in this other group is like a black Max. Just call him Blax, a guy who quickly realizes that Max is the friend Brad refers to as White Daryl. This leads to a heart-to-heart where Brad admits that he didn't tell Max about this other crew because he gets all crazy whenever he feels excluded from something.
Penny is totally buying into the cursed condo theory when she comes home to find her place crawling with cats. Lots of episodes of The Good Wife and The View have also started mysteriously appearing on her DVR. She's also getting flyers delivered that boast deals for "single meals for one."
Penny's spinster fears cast a pall over her Roaring '20s housewarming party. The fact that Max brings a group of gay guys to the bash just to show up Brad also leads to some awkward moments. The two friends eventually have a chat where Brad assures Max that he'll always be the Riggs to his Murtaugh. Yes, the answers to all of life's little issues can surely be found in the Lethal Weapon movie series.
Jane interrupts Dave and Glaze's impromptu concert to say that his song is truly terrible. She also lays the brutal truth on Alex regarding all of her recent lame activities. As for Penny, the cats came from a neighbor's place, Max is responsible for the DVR overload and the meal deal she received is actually a really good offer for a personal pizza. Guess her place isn't cursed after all.
Penny is thrilled to have a new roommate in Alex. This is happening because Alex nearly burned down her building trying to use the fireplace and there's an angry diabetic snake loose somewhere in her apartment. Looks like the Year of Penny is back on track!