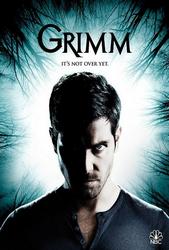 TV Info
---
Episode Premiere
October 12, 2012

Distributor
NBC

Genre
Drama, Fantasy

Show Period
2011 - Now

Production Company
Hazy Mills Productions, Universal Media Studios


Cast and Crew
---
Director
Darnell Martin
Screenwriter
Alan DiFiore
Main Cast
David Giuntoli as Nick Burkhardt
Russell Hornsby as Hank Green
Reggie Lee
Silas Weir Mitchell
Sasha Roiz
Bitsie Tulloch
Bree Turner
Claire Coffee
Kate Burton
Additional Cast
Synopsis
---
With Rosalee still out of town, Monroe gives her a helping hand in the Spice Shop. Rosalee calls to let him know that a patient, Leroy, will be stopping by for a medication to address his inner ear problem that results in some serious balance issues. Monroe gets distracted when a clearly distraught Leroy arrives, adding in the wrong final ingredient and sending Leroy on his way with a botched formula.
Meanwhile, an agitated father, Bill Granger, picks up his daughter, April, in his old truck. They pull into a gas station, and Bill grows increasingly agitated when both of his credit cards are declined. As he walks out of the store, we see him briefly morph into a Drang-Zorn, a badger-like creature. Shortly after, the gas station attendant is viciously attacked in the garage, leaving him bloody and dead. Nick and Hank arrive on the scene, and the security camera footage spots Granger's car with a young girl in the passenger's seat. Granger and his wife are separated: this could be a kidnapping tied to a custody battle.
A visibly anxious Granger pulls off at a rest stop further down the highway. He tells April that they have no choice but to ditch their car; the cops will be looking for him. He asks a stranger for a lift, who is tentative at first, but warms at the sight of young April. After they're on the road, an Amber Alert comes on over the radio for April, and the driver realizes the truth. But before he gets a chance to react, Robert attacks the driver, beats him up and hijacks the truck.
Nick and Hank find the mother alive at home, but barely: it appears as though she's been viciously attacked by her husband. Nick sees her briefly morph into a Drang-Zorn before she passes out. After taking a look at Granger's credit card statements, it becomes clear that he was building something - likely a shelter of sorts. Wu finds photos on Granger's computer indicating that he was possibly building a hideout up in the mountains in Oregon.
Hank and Nick go to Aunt Marie's trailer to try to track down the identity of this creature. They discover that it's a Drang-Zorn, a badger-like creature that's nasty, short-tempered and prone to violent outbursts. Additionally, they have a habit of seeking refuge underground when threatened. Hank puts the pieces together; maybe Granger's using shipping containers as underground dens. If he thinks those mountains are a place to hide, that's probably where he's taking April. Wu is able to triangulate the GPS coordinates on one of Granger's photos to a two-mile area in the mountains.
Meanwhile, Granger and April are already settled into the underground shelter. Granger still needs to get into town to get a few things, and he makes April swear to stay put in the meantime. The police manage to track down the location and find a very scared April inside. The question is: where is her father?
After a call from Rosalee to check in on the shop, Monroe has a horrible realization: he mixed the wrong ingredient for Leroy's medicine. And according to Rosalee this is bad... very bad. Monroe tracks Leroy down at his house and finds that's he's fallen completely off the rocker and torn his house to shreds. Monroe finally gets the medication to Leroy, but only after knocking him unconscious.
The police track down Granger to the hospital, where he's visiting his wife. She claims that the police have the wrong information: it wasn't her husband that brutally murdered the gas station attendant; it was their daughter. Recognizing that Nick's a Grimm, they explain that the change happened too early for her, and she hasn't learned how to control herself. So much so that she even attacked her own mother.
If her own Wesen parents can't handle her, social services definitely can't either. April arrives at her new temporary home and is enraged when she gets into a scuffle with another child and is put in a timeout. She bubbles over, attacking her foster father and leaving a giant gash in his arm. Nick and Hank arrive just in time to subdue April and take her into the station. April will be in juvenile hall until she's 18, but luckily she has a Lowen guard watching her block to make sure she's kept in line.
After a very long day, Juliette surprises Nick with a romantic dinner. She's clearly putting in the effort, and Nick cheesily suggests that they share a dance (it's something that they used to do on nights like this.) The moment gets intimate, and Juliette and Nick share a kiss, only for Juliette to hurriedly pull away when she looks at Nick and sees the face of Renard. She tells Nick that nothing's wrong with him - it's her that's the problem.