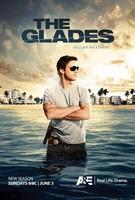 TV Info
---
Episode Premiere
July 01, 2013

Distributor
A&E

Genre
Drama, Crime

Show Period
2010 - 2013

Production Company
Fox TV Studios


Cast and Crew
---
Director
Martha Coolidge
Screenwriter
John J. Sakmar, Kerry Lenhart
Main Cast
Synopsis
---
Callie cancels her lunch plans with Jim when she gets a text from Dr. Hardy, asking her to make a house call. Jim gets a call about his next victim: a dead woman found in the safe-deposit area of a bank vault.
At the bank, Manus reports the victim is bank VP Diana Cabrera. Carlos says Diana has a subtle arching of the back, called opisthotonos, suggesting possible head trauma and cranial bleeding. He sees a lot of old and new bruising all over her legs, which is consistent with long-term abuse. A bruise over the bridge of her nose could have been from a death blow or from a fall. Jim notices a key sticking out of one of the safe deposit boxes, but the banker who found the body says that two keys are needed to open the box - the customer's key and the bank's key. Jim easily finds the other key underneath the body and reaches to open the box, but the banker says he will need permission from Diana's next of kin to access it.
Manus tells Jim that the box belonged to someone named Bob Butler, not Diana. She left him a message so they can get access. Jim spots someone rifling through Diana's desk. It's Randy Dillard, a loan officer at the bank; he needed some files from Diana. Randy says he and Diana just worked together, but Jim shows him photos on Diana's phone of the two half-naked. Randy says he lied because the bank has a strict non-fraternization policy. Randy denies abusing Diana. Jim spots a photo of Diana wearing a roller derby outfit. Randy says she led a double life: by day, a bank president, by night, The Termi-Gator, star jammer for the roller derby team, the Glade-iators. Carlos spots a tattoo of the team's logo on Diana's back. After watching some game footage, Jim sees how rough the sport is. That explains the bruises on Diana's body, but Diana had a recent concussion. Daniel, a Glade-iators enthusiast, says the last bout was a week ago. It's unlikely she got the concussion then.
Callie's house call takes her to the home of pro basketball player Darius Locke, who's in the middle of a party. She was told by Dr. Hardy that he needed a consultation for a cortisone injection. Callie is concerned about giving him the injection outside of the hospital, where she doesn't have access to a fluoroscopy. But Darius argues that Hardy was fine with making house calls for the injections. Hardy saved his career five years ago with a spinal fusion. He trusts him with his life and if Hardy trusted Callie to make the house call in his absence, Darius isn't going to question his judgment. Callie notices Darius's blood pressure is a bit high, which can sometimes be from excessive amounts of cortisol in the system, but she gives him the shot anyway when Darius says his last one was about a year ago. He knows he can get no more than three injections a year and nine in a lifetime.
At the roller derby rink, Jim meets Josie "The Cuban Missile" Cruz, and informs her that Diana, her teammate and coach, is dead. Josie says she saw Diana the night before at practice and that the team is close, like a family. They fight opponents, not each other. Jim informs the entire team that Diana is dead and notices that one of the women, Liz "Beach on Wheels" Macee, sneaks out while everyone else participates in a moment of silence for their dead teammate. Jim confronts her and she says she had to leave because of a knee injury. Liz admits her glory days are over; she's an old lady in the derby world. She's just a mother who likes getting away for a bit and having a cool alter ego.
Jim and Daniel go over game footage and see Diana beating up Josie. The referee is Diana's boyfriend, Randy, a.k.a. Arthur Ref-erelli. Diana also punches Randy. It looks like Josie is his new girlfriend.
Jim visits Josie at her tattoo shop. Jim suspects she had something to do with Diana's murder, since she never brought up that Diana was upset with her for being with Randy. Josie says tattoos tell the story of who we are. Some people want to cover up their mistakes, but she doesn't believe in that; her story is front and center for all to see through the tattoos all over her body. Jim notices a portrait on Josie's arm. Josie says it's her kid sister who died six years ago. Jim also sees an "RD" tattoo on her other arm, for Randy Dillard. Josie denies stealing Randy from Diana; he left her because she was crazy. Josie says Diana was a poseur who would "pretend" to be a roller derby girl, but afterwards would leave in her Mercedes and go back to her fancy condo. Josie and Diana fought, but that was it.
Carlos says Diana didn't die from a subdural hematoma; there was no blood in her skull. He investigated other causes of death and found out the arched back Diana had is a sign of strychnine poisoning; strychnine is often used as rat poison. There was no poison found in Diana's bloodstream or her stomach and it wasn't inhaled. She must have rubbed it on. Any person on the team could have laced muscle balm with the poison. Carlos will check the lotion found in Diana's gym bag.
At dinner Callie vents to Jim about how she was swindled into giving Darius a cortisone shot - he lied about how many shots he's had over the past year. Callie is going to talk to his team doctor.
Manus tells Jim that Randy has worked with the bank for five years and Diana, for two. They were both loan officers until Diana got promoted to VP six months ago, a position that Randy was also up for. Randy says he was disappointed he didn't get the promotion, but was fine working under Diana. But Jim brings up all the bad reviews Diana had given him over the past few months where she accused him of having poor judgment regarding loan applicants and raised concerns about misconduct. Randy says she was just jealous that he was with Josie. But Jim suspects the derby is the one place Randy was in charge, as his alter ego Arthur, and that Arthur/Randy killed Diana. Manus reveals that Diana was involved in a nasty civil lawsuit that didn't end well for the plaintiff, Liz.
Jim goes to the roller rink and sees Liz fall to the floor, clutching her knee in pain. Jim tells her he thinks she killed Diana over the $1 million personal injury lawsuit she filed against Diana for injuring her knee, which was thrown out of court. Liz claims Diana hurt her on purpose and she deserved money for her injury, but she wouldn't kill her over that.
Carlos reports the official cause of death is asphyxiation due to strychnine poisoning. The poison was delivered via her skin, but it wasn't through the lotion from the bag. Jim wants Daniel to get every lotion Diana has and to check her financials to see if she has something of great value that Liz would sue her for. Manus says there's been no response from Butler, so she is trying to get a warrant to open the box.
Callie pays Darius a surprise visit at practice. She is upset that Darius specifically told his team doctor not to talk to her. Callie warns him about the dangers of abusing too many cortisone shots. She wants him to sign a consent form so she can talk to the team doctor.
Daniel discovers most of Diana's money was tied up in real estate, including a strip mall. He found an eviction notice for one of her tenants, Josie. Daniel says that the night before a championship bout, the Glade-iators have a tradition of going out with the other teams and partying, so they'll find Josie there. Jim and Daniel visit a bar filled with roller derby girls. Jim gives Daniel handcuffs to bring Josie in. Jim spots a team photo of the Glade-iators on the wall. Diana is flanked by Josie and Liz. Daniel comes back with Josie, who has him cuffed.
Jim says Josie was filled with rage when she got evicted. But Josie says that Diana actually encouraged her to open up her own shop and believed in her when no one else did. She was grateful and Diana evicting her wasn't personal. Jim disagrees: she was the only person who got an eviction notice. When Jim asks Josie why everyone on the team has a Glade-iators tattoo on their arm except for Diana, she says it was because Diana worked in a bank and didn't want it showing. She finally got one recently. She wanted to make a statement and come off as bad ass, so she got one across her back - tattooing on bone across the spine is more painful.
Jim and Carlos compare a photo of Josie's tattoo with a photo of Diana's. Diana's is black and it looks like she may have covered up an old tattoo with the new one. Carlos might be able to tell what is underneath it using forensic imaging.
At Callie's house, Jeff tells Jim that Darius sent over tickets (floor seats!) to his next home game. Callie is not happy, but Jim and Jeff are thrilled. Callie says she can't accept the tickets; they are a bribe. Darius is doctor shopping for cortisone injections.
Carlos doesn't find poison in any of Diana's lotions. Daniel says that according to bank records, there were six loans approved by Randy but killed by Diana. One of them was for Liz.
At the hardware store where Liz works, Jim approaches her with some rat poison in his hand. He knows the bank took away her parent's house after they were denied a loan. Although Randy approved a refinance, Diana killed it, so Liz must have killed her. Liz denies it.
Manus tells Jim that she sent Daniel to Bob Butler's house, where he found Mr. and Mrs. Lopez living there. The man doesn't exist. It was just a fake name used on one of Randy's fraudulent loans.
Jim looks for Randy at a bout between the Glade-iators and the Her-icanes. When Randy spots Jim and his back up, he skates off. Jim elbows Randy in the face to stop him. At the station Jim shows Randy the fraudulent loans he approved. All of the money, three quarters of a million dollars, went into an escrow account, which was a P.O. Box with Randy listed as one of its officers. Jim thinks Diana found out about Randy's scam and the fake safe deposit boxes he created to help add to the illusion and so he killed her. Randy rubs his arm. He got a new tattoo and it itches because he didn't put moisturizer on it. It used to say "Diana Forever," but he got it covered up to read "The Ref" after they broke up.
Carlos reports that underneath Diana's Glade-iators tattoo was a gang tattoo for "6 Bang Chicks," a violent girl gang. It says "Recruit" on it. The banker was a former gang member?
Jim visits Josie at her shop and says he knows she covered up Diana's old gang tattoo and gave her rat poison-laced lotion to moisturize it. When she said "family comes first," she wasn't referring to her team, she was talking about her dead sister, the unintended victim of a drive-by shooting by the Six Bang Chicks. Police arrested the shooter, but witnesses told of another girl in the car. No one gave up the new recruit, so her identity remained a mystery - until Diana asked Josie to cover up her old gang tattoo. Josie says she couldn't let Diana get away with being involved in her sister's murder. She's led away by cops.
Callie watches the basketball game from home and is surprised by Jim, who never went to the game. Jim dropped off Jeff at Tina's and he and Callie watch the game together.