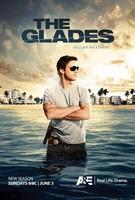 TV Info
---
Episode Premiere
May 27, 2013

Distributor
A&E

Genre
Drama, Crime

Show Period
2010 - 2013

Production Company
Fox TV Studios


Cast and Crew
---
Director
Emile Levisetti
Screenwriter
Dailyn Rodriguez
Main Cast
Additional Cast
Kayla Mae Maloney
Brad Beyer
Chay Santini
Synopsis
---
While Callie takes some time to decide if she's ready to get married, Jim takes on his latest case: Chelsea Baker, the owner of the rumored haunted Cooley Plantation, is found dead with an axe in her back. The couple who found her body was led to it by a woman who vanished into thin air. She is identified as Martha Cooley, the original owner of the plantation, who died 150 years ago. Her husband, known as "Yankee Dan," was viciously murdered inside the house, presumably by one of his slaves, in the same manner as his great-great granddaughter, Chelsea.
Jim discovers that Chelsea's husband, Ryan, was angry with her for spending so much money. Before she died, they were selling off all of the antiques from the plantation and making plans to sell the house itself, which he now inherits, making him a suspect.
Carlos reports that Chelsea had blood on her finger, but not on her hand or arm. Jim goes to the house where he finds a letter - an "R" or a "J" - written in blood. While there, Jim catches Ed Ross, a "renowned" ghost hunter hiding at the plantation. He was hired by Chelsea's sister, Jackie, to prove that Martha's ghost is real. He says she's the strongest paranormal presence he's ever felt. Jackie was trying to get the house designated as a historical landmark so her sister couldn't sell it. Another suspect!
Back in Atlanta, Callie continues to struggle with her decision, weighing her love for Jim against all the years she's worked to build her career and make a life for herself.
When Jim learns that someone dug up Yankee Dan's grave and stole his valuable pocket watch, he arrests Ed for Chelsea's murder. Ed had caught Chelsea robbing Dan's grave. Unapologetic, she told him she was going to bulldoze the house. Furious, Ed strangled Chelsea and put an ax in her back as an homage to the original murder, then tried pinning the murder on Ryan by using Chelsea's right hand to spell out his name (in blood) on a drawer. What he didn't know was that Chelsea was left-handed. Case closed.
Later, Callie surprises Jim at home where she accepts his proposal.