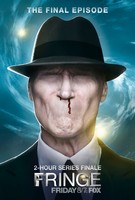 TV Info
---
Episode Premiere
April 01, 2010

Distributor
Fox TV

Genre
Sci-Fi, Mystery, Drama

Show Period
2008 - 2013

Production Company
Bad Robot


Cast and Crew
---
Director
David Straiton
Screenwriter
Jeff Pinkner, J.H. Wyman, Josh Singer
Main Cast
Additional Cast
Quinn Lord
Jennie Blong
Orla Brady
Michael Cerveris
Eugene Lipinski
Peter Woodward
James L. Watkins
Serge Houde
Synopsis
---
After Olivia discovers that Peter is not from this universe, Walter visits her to explain what happened. The story flashes back to 1985:
Walter built a window to see another universe. That universe is more advanced then the one he is in. He wanted to be able to learn from the alternate universe in order to help advance his own. Young Peter became deathly sick, and Walter had been desperately trying to save Peter's life from this terminal illness. Walter then uses the window to watch his alternate self (nicknamed "Walternate") develop a cure for the illness, as alternate-Peter is also sick.
Walter's wife Elizabeth calls him at the lab with news that Peter's sickness has taken a turn for the worse. Walter leaves his study of the more advanced Walternate to rush home and console Peter during his last moments of life. Peter tells his father that he is not afraid, and he gives Walter his lucky silver dollar. Peter dies.
The night after the funeral, Walter wakes Elizabeth and brings her into Peter's bedroom. He has brought home the window he built, and Walter shows her that the alternate Peter is still living, somewhere.
Back at the lab, Walter watches through the window as Walternate continues his hunt for the cure. Just as Walternate mixes the correct solution, an Observer enters the room and distracts him. Walternate's incredible discovery goes unnoticed... except by Walter through the window.
In the alternate universe, a group of Observers meet outside a movie theater. One of them explains that he made a mistake by distracting Walternate. He is told that this is a significant moment in history, and he must somehow correct his error.
With the right recipe, Walter mixes a vial of the cure. He tells Carla Warren, his lab assistant, about his plan to take it to the other side to cure alternate Peter. Carla warns Walter that his actions will have dire consequences. Walter ignores her advice.
Walter travels to Reiden Lake and sets up a doorway he built to crossover to the alternate universe. Carla and Nina Sharp arrive and try to stop him, but their efforts are futile. Walter jumps through the portal and the door shuts immediately behind him. Unfortunately, the vial holding the cure is destroyed in this action. Trying to grab him before he makes the journey, Nina's hand is caught in the door closing and she is injured.
On the other side, Alternate Elizabeth kisses her son Alternate Peter goodnight. He gives her his lucky silver dollar. Walter, posing as Walternate, enters the bedroom and tells them that he has found a cure. He says he needs to take Alternate Peter back to his lab, and convinces Alternate Elizabeth to stay behind. She gives Alternate Peter his silver dollar back.
Walter absconds with Alternate Peter, and they cross back through the portal. Yet when they get to the other side, they fall through thin ice on Reiden Lake. An Observer jumps in to save them. He tells Walter that Alternate Peter is important and must live.
Walter takes Alternate Peter back to the lab and cures him of the illness. When Elizabeth arrives, Walter assures her of his intention to return Alternate Peter. However, neither of them can cope with the pain of losing their son a second time. They decide to keep Alternate Peter in their universe as their own child.