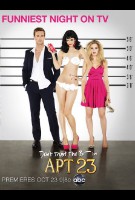 TV Info
---
Episode Premiere
April 18, 2012

Distributor
ABC

Genre
Comedy

Show Period
2012 - 2013

Production Company
20th Century Fox Television


Cast and Crew
---
Director
Michael Spiller
Screenwriter
Nahnatchka Khan
Main Cast
Additional Cast
Eve Gordon
Peter MacKenzie
Ray Ford
Michael Landes
Synopsis
---
Have you ever heard Lionel Richie singing "Hello, is me you're looking for?" in your head when you see something you want? No? Well, June hears this 1984 hit when she sees a baby passing by in a stroller. Of course, it's hard to start a family when you can't get a date. That's cool. Chloe has the perfect guy for her new roomie. Too bad June doesn't trust her when it comes to men. Okay, she doesn't trust her when it comes to anything.
Chloe throws a party in order to get June together with her perfect match, Scott. The plan works to perfection. The two of them hit it off immediately. They have a lot in common. They both like biking and they've both just gotten out of a long relationship. It doesn't take long before June is making out with Scott on the sofa. This passionate moment comes to a screeching halt once she realizes the guy she's macking with is Chloe's dad.
Chloe explains that her parents are separated. She believes her dad deserves so much better than her mom, a woman who never took her ice skating or horseback riding. Still, June can't possibly date her roommate's dad. She does an about-face when Scott presents her with a stuffed McGruff crime dog. It's not long after that that they end up in bed together. McGruff's there, too.
James is teaching an acting class at NYU. With a little help from his tailor/assistant, Luther, he sports a look that's akin to Indiana Jones when he's a professor. It's all part of his attempt to shed his Dawson persona. Too bad his students are only interested in hearing monologues from the Creek. James tries to recite some Shakespeare at the coffeehouse, but everyone still has Dawson on their minds. Yes, he's adored for all the wrong reasons. Mark finds it hard to feel sympathy for him since he has days when he only makes four dollars.
June lets Chloe know how grateful she is for getting her together with Scott. This warm and fuzzy moment lasts about two seconds once June meet's Chloe's mom, who happens to be in a wheelchair. That's probably why she never took her daughter ice skating. Anyway, Chloe's mom is upset because she thinks Scott may be cheating on her. It's a twisted situation that's cleared up by perverted neighbor Eli. He makes Chloe realize that she probably doesn't want June as her new mom. June needs to dump Scott. Chloe's coming with her.
Scott tries to explain that he has nothing in common with his wife. For example, she doesn't like biking. Again, the wheelchair may have something to do with that. June lets Scott know that their relationship is over. The guy then launches into a fatherly rant on both ladies. His speech ends abruptly when Chloe pushes her dad into the street where he's leveled by an oncoming biker. Later, she helps June realize that just because her life plan is history; it doesn't mean they can't still have fun.