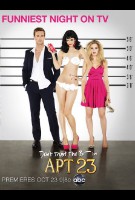 TV Info
---
Episode Premiere
April 11, 2012

Distributor
ABC

Genre
Comedy

Show Period
2012 - 2013

Production Company
20th Century Fox Television


Cast and Crew
---
Director
Jason Winer
Screenwriter
Nahnatchka Khan
Main Cast
Additional Cast
Peter MacKenzie
Eve Gordon
Tate Ellington
Adrian Kali Turner
Synopsis
---
June (Dreama Walker) catches her new roommate, Chloe (Krysten Ritter), having sex with her fiance atop her birthday cake. Believe it or not, that's a good thing! Here's why:
June moved to New York City a week ago from her home state of Indiana. She scored an amazing apartment after landing a dream job at Buchwald Mortgage. One her first day of work, a nice guy named Mark (Eric Andre) lets her know that their boss is wanted by the feds for embezzling billions. The company is shut down. That means June's apartment is history, too. Her life plan has changed big time.
While seated at coffeehouse surrounded by all her earthly belongings, June is surprised to see that Mark is the new manager. The fact that he found a job in four hours inspires her to get back in the game. After a string of bad roommate interviews, she strikes gold in Chloe. June is warned by new neighbor Robin (Liza Lapira) that this girl is too good to be true. She says, "Don't trust the bitch in Apartment 23." Too late!
June meets Eli (Michael Blaiklock), the playful/perverted voyeur in the building across the way, as a naked Chloe helps herself to her yogurt. Later, June is in no mood to join her roomie in the living room when she brings home two strange guys. Through a phone call to her friend James Van Der Beek (yes, that James Van Der Beek), we learn that Chloe is intentionally trying to drive June out of the apartment as part of a master con job.
When June realizes her new roommate overcharged her for rent, she sells her furniture to Robin. Chloe is surprised by this girl's pluck. She's also upset that the sentimental ottoman her mom gave her is gone. Robin sold it to someone else. Chloe tries to get it back, but June's the one who comes through in the end. Yes, that ottoman has a lot of sentimental value along with about a thousand bucks worth of black market ADD pills stitched inside the lining.
James uses his considerable charm to get the rest of Chloe's furniture back from Robin. A short time later, June's fiance, Steven, shows up unexpectedly. He brought with him his young psychology subject, Jeremy, as well as the kid's pretty nurse, Nicole. Chloe plies Jeremy with alcohol to confirm her suspicions that Steven is sleeping with Nicole. The kid spills his guts. By that, we mean he pukes from all the liquor.
Chloe warns her roomie about Steven's infidelity, but June (who is now working at the coffeehouse) isn't buying it. James says that Chloe has the morals of a pirate, but she'd do anything for her friends. This includes having sex with her new roommate's fiance on top of a birthday cake to prove the guy's a bad dude. Mission accomplished. The two ladies down some kamikaze shots in a better-late-than-never birthday celebration. It's a sweet little scene right up until the moment Chloe shuffles June outside to skip out on the bill.