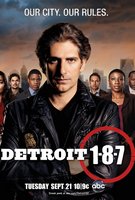 TV Info
---
Episode Premiere
December 07, 2010

Distributor
ABC

Genre
Drama

Show Period
2010 - 2011

Production Company
ABC Studios


Cast and Crew
---
Director
David Straiton
Screenwriter
David Zabel
Main Cast
Additional Cast
Della Reese
Giancarlo Esposito
Glynn Turman
Albert Hall
Jude Ciccolella
Synopsis
---
Longford and Mahajan investigate two skeletal remains that had been down in an old fallout shelter for decades. Folks thought the African-American boy and the Caucasian teen girl left the city to elope when the riots broke out. Lieutenant Mason calls them "Detroit's answer to Romeo and Juliet." Mahajan notes that they suffered the same bad ending, as they were beaten and left for dead as the building, and the city, burned above.
Lorraine Henderson (guest star and Detroit native Della Reese) is the mother of Richard, one of the murder victims. She's informed of the situation along with her other son, Eddie. Roy Darrow is a former cop who offers assistance on the case. Darrow worked with Longford's dad and gives them the name of another boy who had a crush on Heather, which didn't make Richard happy.
Former activist and current reverend Clinton Huey also had issues with Richard the pacifist. Reverend Huey suggests they take a look within their own garden for answers regarding this young couple's death. But Longford thinks it might be a better idea to look within his own family.
Longford finds his dad, Brent, hanging at his usual watering hole. The elder Longford is reluctant to talk about the possibility that cops may be responsible for his son's current cold case. Painful memories return as Longford remembers seeing his dad acting like an enforcer, shooing people away from a store in the neighborhood. He was always surprised his old man stooped to that level. Their meeting doesn't end well.
Things get even more depressing when Eddie Henderson says he killed his brother and Heather. It wasn't murder though. Eddie was just a scared kid who told the cops where to find Richard after they tried to blame him for looting a store. All he could do is watch as the place was engulfed in flames.
Richard made some numeric markings on the wall of the shelter before he died. It could be a police badge number. Longford says, "My old man said these guys used to turn their badges upside down when they were gonna crack some heads." They find a match when they flip the number. Guess which previously helpful, but actually racist, former cop pops up in the database?
When Roy Darrow starts talking trash about Brent Longford, Detective Jesse Longford has to be restrained from teaching him a lesson. Longford knows Darrow will never give it up to him. He asks Fitch to get a confession, which he does by acting as if he shares the ex-cop's racist views. It isn't pretty, but it works.
Fitch, Washington, Sanchez and Stone investigate the death of an undocumented immigrant. Amparo Lopez was found with her belly sliced open. The woman was 32 weeks pregnant which means the detectives aren't just looking for a killer. They're also looking for a baby.
Stone sticks his foot in his mouth when he suggests that Amparo may have been better off where she came from. This has Sanchez furious. She says, "You think this country would be a better place if I was working at a mill in Cardenas instead of being your partner?" Hope that's not what he meant.
As far as the case is concerned, the victim actually died while under medical care. Sanchez makes an undercover visit to the doctor who illegally treated Amparo. The doc panicked when she couldn't save her patient. She ditched the body and left the baby on the father's porch step. Later, Stone apologizes to Sanchez. She lets him off the hook because that's what partners do.
The squad has a new intern-Wendy Chapin-Lomeister. She looks like a lightweight, but surprises everyone with her curious ways. She even gives Washington a little love advice. Of course, this is after almost everyone else in the squad has done the same. Apparently, it's been months since he and his wife have...you know.
Longford's dad shows up at the precinct to say that the reason he stood outside that store during the riots is because it belonged to the parents of his son's best friend, Joey. The family moved away during the "white flight" that occurred after the unrest. Brent Longford didn't have the heart to tell his son that's what happened regarding Joey.
It's a different Detroit now, but some things don't change. Longford puts his detective skills to some good off-duty use when he tracks down his old pal Joey. Obviously, both are older now. But that doesn't stop them from enjoying a little one-on-one basketball game in Joey's driveway. Like we said, some things don't change.