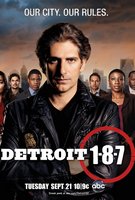 TV Info
---
Episode Premiere
November 09, 2010

Distributor
ABC

Genre
Drama

Show Period
2010 - 2011

Production Company
ABC Studios


Cast and Crew
---
Director
Ed Bianchi
Screenwriter
Rob Hanning
Main Cast
Additional Cast
Rochelle Aytes
Mo McRae
Kenneth Mitchell
Arjay Smith
Gwen McGee
Synopsis
---
Case: Broken Engagement

Fitch notices a little awkwardness between Sanchez and Stone. This comes the morning after Fitch bailed on a late night drink with Sanchez. It appears as though she opted to go home with Stone instead. The three of them team up on homicide case involving Carol James, a successful executive from Detroit's "Tech Town."
The victim's fiancé, Daniel Park, says Carol was having dinner with his former business partner, Serge Bostic. The disgruntled Serge has an alibi and paints Daniel as an unscrupulous businessman. Jeffery Cage, Carol's coworker/close friend, says she was going to break things off with Daniel because he was cheating on her.
Daniel Park is nowhere to be found. An email sweep leads to the name of the alleged other woman who lives in Texas. Daniel just bought a bus ticket to Dallas. Surveillance video from the bus station shows Daniel parking his car and then heading toward a cab. He wanted the police to think he was leaving town. Taxi records show he actually returned to his office where he's likely hiding out. When the team arrives, they find Daniel Park dead.
The killer in this case used one murder to cover the other. The team realizes there was no other woman. Jeffrey Cage was lying and may have been the person on the surveillance video. A parking lot pursuit boxes in Jeffery. He steps out of the car holding a gun to his head. Sanchez takes the lead talking to Jeffery about how hard it can be dealing with a broken heart. Stone is affected by her words. Fortunately, Jeffrey is, too. He lowers the gun.
Back at the station, Sanchez and Stone break through the tension that's been there all day. They agree that what happened between them the night before was amazing. But Sanchez says it can't happen again. We're not quite sure how much of their conversation was overheard by Fitch, but he knows something is up.
Case: Trashman

With Mahajan in court, Fitch volunteers Washington to partner with Longford. A drug dealer called "Toucan" is found dead in a trash bin. The guy who called in the crime is Pooch, the kid Washington collared his first day in homicide. He's been under house arrest ever since. In exchange for a little freedom from his demanding grandma, Pooch tells the detectives a rival dealer named Dutch may have killed Toucan as part of a turf war.
Washington and Longford use the trash bin ID number to determine that it belonged to Dutch's mother, Marybeth Ellis. This woman is a fine cook, not that Longford would know. See, Marybeth likes younger men, which is why she only offers Washington some of her homemade pie. Mmm.
When the detectives bring in Dutch, he says he was with his buddy, JB, who backs up the claim. Washington is upset because he thinks he tipped their hand during the questioning of JB. This amuses Longford, who thinks Washington is a lot like Fitch. Maybe, just maybe, Fitch sees a little bit of himself in his partner and that's why he's so rough on him.
The autopsy reveals the victim may have been beaten to death with a meat tenderizer. There were traces of coconut on the skull. Lieutenant Mason says a meat tenderizer can also be used for baking if, say, you had to crush pecans or crack open a coconut. Say, isn't Dutch's mom a pretty good baker? Washington discovers coconut shells under Marybeth's sink and Longford finds a mallet which happens to have JB's prints on it.
Neither Dutch nor JB will talk, so Longford sends Washington in to question Marybeth. She likes the young guys. That's probably why she was "entertaining" JB when Toucan burst in on them. JB confesses to the murder so Dutch doesn't ever find out what he was doing with his mama. Case closed.
Regarding Detective Mahajan, the key witness in a trial involving a murderous skinhead goes MIA just before he's to testify. The witness is scared. When Mahajan tracks him down, he tells the witness that we have to stand up to anyone who tries to tear down Detroit. This gives the witness the courage to stand up in court. Looks like another bad guy is going to jail thanks to the tireless efforts of one of Detroit's finest.