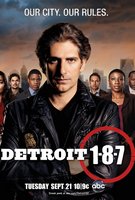 TV Info
---
Episode Premiere
October 19, 2010

Distributor
ABC

Genre
Drama

Show Period
2010 - 2011

Production Company
ABC Studios


Cast and Crew
---
Director
Nick Gomez
Screenwriter
Denitria Harris-Lawrence
Main Cast
Additional Cast
Cyrus Farmer
Kevin Christy
Jamai Fisher
Synopsis
---
Case: High School Confidential

Fitch and Washington investigate the murder of a teenage girl found at Oakland Park Academy, which happens to be the school Lieutenant Maureen Mason's daughter attends. 15-year-old Candace Monroe had some interaction with a construction worker/registered sex offender who alibis out. Construction guy claims he saw the girl making out with someone behind a dumpster. This mystery kid is Lance Brown, the father of the baby the victim was carrying when she was killed.
Candace was not the perfect girl her teachers made her out to be. She posted some nasty comments on her social network pages to anyone she disliked. When the victim's boyfriend is brought in, Lieutenant Mason's daughter, Simone, insists that Lance couldn't kill anyone. Sanchez believes Simone may know more than she's letting on. This sends Fitch into Mason's office to say, "Your daughter's impeding an investigation." The guy certainly knows how to smooth talk his boss, doesn't he?
After Mason has a little chat with her daughter, Simone skips out of the station house. Fitch follows her to the home of Leila Stevens, a young girl who had been bullied by Candace Monroe because she thought Leila was seeing her boyfriend. She was actually just tutoring him. Candace kept pushing Leila until she fatally pushed back.
Simone feels guilty because Leila had asked to walk to school with her this morning but she blew her off. She feels like she could have stopped any of this from happening. Lieutenant Maureen Mason downshifts from cop to mom to assure her little girl that there's no way she could have known this would happen.
Case: Murder in Greektown

Longford and Mahajan investigate the homicide of a man shot to death after hours at a restaurant in the section of Detroit known as Greektown. The restaurant owner and his daughter, Amara Petros, claim that someone always sets the alarm. The bullets found in the victim would match the missing gun that was kept at the place.
The victim is Percy Edmondson, the 21-year-old son of prominent defense attorney, Leon Edmondson. Longford and Mahajan track down Percy's girlfriend, Zoe Freemont, at a church. The frightened girl pulls a gun, but Longford is able to diffuse the situation by quoting a few Bible verses. Amen to that!
Zoe is an ex-employee at the Greek restaurant where Percy was killed. She'd been sneaking in there to sleep during the night. She didn't see the face of the person who shot Percy, but she did see his uniform. Zoe claims Percy was shot by a cop.
The victim's father says he accused a cop of lying under oath in court during a drug bust trial. The officer sent some threatening emails to the elder Edmondson. Patrol cop Willie Holland says that if he was going to kill anybody, he's go after the lawyer not his son. Holland was on duty answering a home invasion at the time of the murder. He's not their guy.
A private security patrol guard says a coworker paid him a hundred bucks to trade shifts. This new suspect, who wears a uniform, speeds off in his car when Mahajan and Longford go to question him. CRASH! The suspect smashes into an oncoming car which causes his own vehicle to burst into flames. That's because the trunk held 10 containers of gasoline. That's something an arsonist might use. As it turns out, this guard's girlfriend is Amara Petros, the daughter of the man who owns the Greek restaurant.
Longford and Mahajan think Amara and her boyfriend planned to burn down the restaurant to collect the insurance money. But her father is actually the one who looked to cash in with a fire. He had no idea Percy and Zoe would be there. When the father breaks down his daughter's arms, we know the case is officially closed.