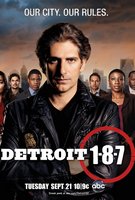 TV Info
---
Episode Premiere
October 12, 2010

Distributor
ABC

Genre
Drama

Show Period
2010 - 2011

Production Company
ABC Studios


Cast and Crew
---
Director
Dean White
Screenwriter
Byron Balasco
Main Cast
Additional Cast
Synopsis
---
Case: ROYAL BUBBLES

Fitch, Washington, Sanchez and Stone investigate the murder of Thomas Jackson, the owner of Royal Bubbles Car Wash, who was found dead at his place of business. The office has been ransacked and the victim was tortured. The killer left a trail of his own blood during his getaway. Jackson, a family man with a wife and a young son, had some past drug issues. He called his currently MIA wife, Brooke, shortly before getting shot.
Fitch questions Brooke's sister, Keri, while Washington babysits her nephew, Kevin. The young boy wonders if his parents are in trouble for the arguments they had over his mom's book. The book he's referring to is a diary. Our favorite homicide cops have no idea what's inside. Whatever it is, it's to die for.
The detectives find a dead man at a hotel where Brooke Jackson had been hiding. Previous wounds indicate it was the same guy who killed Thomas Jackson. The team realizes someone was using Royal Bubbles as a cover to launder drug money. Before he was killed, Jackson was able to warn his wife that the bad guys were coming for her. But they still have no idea where she is.
Stone arranges a meeting with Pup Clemens, a drug-running acquaintance from his undercover days. Pup says the man they're looking for is a dope runner named Luther Daniels, who got the victim hooked on drugs so he could launder his money. Brooke kept a ledger of Luther's transactions to use as leverage in an attempt to save her family. Now Luther is after her. Fitch believes it won't be long before he comes after her boy, too.
Fitch knows Keri is trying to protect her sister by keeping mum about Brooke's whereabouts. He can relate, as evidenced by the story he shares about how he once took a beating to protect his brother when they were kids. Fitch convinces Keri to set up a meeting with Brooke at a diner. But Luther Daniels finds out about it.
SHOTS FIRED! SHOTS FIRED! A hail of gunfire erupts from the parking lot. Luther's men are firing with automatic weapons. Washington and Sanchez take down several of the gunman outside, but Luther makes his way into the restaurant. He gets the drop on Fitch. BANG! Stone shoots and kills Luther Daniels, saving Fitch's life.
Sanchez commends Stone for a job well done. As for Fitch, he's a bit rattled because he never saw Daniels coming. Washington points out that the reason they do this job is taking place right before their eyes. Brooke Jackson is hugging her son like there's no tomorrow. But there will be a tomorrow thanks to Detroit's finest.
Case: NEEDLE DROP

Mahajan and Longford investigate the death of Christopher Roberts, a 25-year-old producer/rapper who was about to become a breakout star. The victim took a fatal nosedive off a roof near a vintage record store and landed next to his $80,000 car. Records are strewn about the ground and the word "fraud" was painted on the side door of Roberts' ride. Guess somebody didn't care for his music.
Longford breaks the news of Christopher's death to his mother. He says, "Ma'am, I work for you now." He assures the distraught woman they'll do their best to catch whoever killed her son. Longford and Mahajan's first visit is to hip-hop manager Russell Pitts, who was slated to sign the victim to a record deal.
They also visit an artist named Josh, who did cover designs for the victim. Josh says a hip-hop artist named Shredder B thought Chris was ripping off his sound and threatened his life. But Shredder says Russell Pitts was ticked because Chris was trying to back out of their record deal. In truth, Pitts only wanted his client to ditch the secret life he'd been leading. He could never market a rapper who was romantically involved with another man.
The paint on Josh's artwork is a match for the "fraud" markings on Christopher's car. Josh only intended to trash the car, but emotions escalated and tragedy followed. As for Longford, he also gets a bit emotional after Mahajan gives him an old 45 that reminds him of his wife. The song is "My Girl." Longford lets out a big smile once he realizes this particular version isn't in English. He doesn't seem to mind at all.