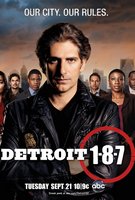 TV Info
---
Episode Premiere
October 05, 2010

Distributor
ABC

Genre
Drama

Show Period
2010 - 2011

Production Company
ABC Studios


Cast and Crew
---
Director
Stephen Cragg
Screenwriter
Jason Richman, David Zabel
Main Cast
Additional Cast
Rochelle Aytes
Evan Jones
Todd Stashwick
David Aaron Baker
Synopsis
---
Detective Damon Washington returns to active duty. He received a commendation for heroism in the line of duty to go along with a brand new baby boy at home. Now he's back on the job. But is he ready?
Case: NOBODY'S HOME

Sally Ellison was shot and killed in the broken-down home she was restoring. Sally was trying to rebuild her community to make it great again. A reporter for the Detroit Post was doing a profile on Sally, who believed corporate developers were using gangs to drive locals out of the area. The story seems plausible after Mahajan and Longford discover a shady realtor named Curtis Bregman paid a tagger to deface the entire neighborhood.
Real estate tycoon Henry Malloy has made millions by buying out troubled neighborhoods and developing commercial ventures. His realtor is Curtis Bregman and Malloy owns the Detroit Post. Fitch gives the Post reporter a fictional report in which Bregman fingers Malloy in the conspiracy. The hope is that this bluff will make Malloy nervous.
Fitch's plan works all too well when a hit man makes a move to eliminate the reporter. Washington chases the bad guy into an abandoned building while clutching the still-tender bullet wound in his belly. He's scared and alone. He's also one of Detroit's finest who single-handedly takes down the hit man.
Fitch interrogates the hired killer, who is most robotic in his responses. Fitch knows why. His eight-year-old sister was kidnapped and killed when he was a kid. He had so many feelings after that day that the only way he could cope was to feel nothing at all. That's how this guy became a cold-blooded killer. He confesses to eight unsolved murder cases but won't name Malloy as the man who hired him for this most recent one.
There's no direct evidence to connect Malloy to Sally Ellison's murder. Fitch visits to the real estate developer as he dines with friends at a high-end restaurant. He wants Malloy to know that he won't stop digging until he brings him down. Malloy tells Fitch that he knows who he is and he knows what happened in New York. Fitch responds, "If you really knew what happened in New York, you'd be crappin' in your pants right now." So what did happen in New York?
Case: UNKNOWN SOLDIER

Stone and Sanchez investigate the murder of Eric Saunders. The victim's body was found in a remote area containing multiple tire tracks. Eric's dad, a military vet named Daniel, is also discovered at the scene clinging to life. When Daniel regains consciousness, he has posttraumatic memory loss. Stone volunteers to break the bad news about his son. He feels it should come from him since he lost his brother in combat back in '05.
Daniel and his son were assaulted during a bogus car deal to buy a Firebird. Daniel's truck was stolen and later found on the street. A recently purchased lottery ticket leads Sanchez to believe that whoever is now driving the truck plans to return. She's right. They take down a lowlife suspect who is a bit of a loudmouth. That's fine because Sanchez manages to shut him up by smashing her elbow into his face. Must be a nervous tick.
Sanchez and Stone track down the loudmouth's partner, who takes off in the Firebird Daniel and his son were supposed to buy. Firebirds can't take turns when being pursued by cops on the streets of Detroit. CRASH! The second suspect is caught and reunited with his loudmouth partner at the station. They are shocked to see that Daniel is still alive.
Both suspects sign confessions to avoid the death penalty that would be imposed if Daniel fingered them in a lineup. What Stone and Sanchez neglected to mention is that their star witness still suffers from memory loss. Oh well.