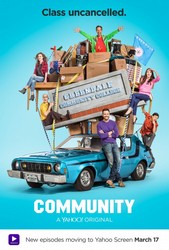 TV Info
---
Episode Premiere
December 01, 2011

Distributor
Yahoo, NBC

Genre
Comedy, Drama

Show Period
2009 - 2015

Production Company
Krasnoff Foster, Sony Pictures Television


Cast and Crew
---
Director
Anthony Russo
Screenwriter
Chris Kula
Main Cast
Synopsis
---
It's Friday and the gang details their weekend plans. Britta's taking her one-eyed cat Daniel to the animal hospital. Meanwhile, Troy and Abed got their hands on a limited edition "Dark Knight" DVD and can't wait to watch it. Jeff notices three bullies abusing an innocent nerd at the foosball table. Angry, Jeff challenges the thugs and their rude behavior.
While dusting, Annie accidentally steps on Abed's beloved "Dark Knight" DVD. When Troy sees the broken DVD, he tells Annie she must confess to Abed. Later, Shirley sees Jeff practicing foosball alone. He reveals that as a child he loved foosball. He says Shirley wouldn't understand. To prove him wrong, Shirley shows off some amazing foosball moves and says, "You don't know me," before walking away.
Abed and Troy return home and find the place in disarray. Annie claims they've been robbed. Troy keeps quiet; he knows Annie's staging the whole thing so Abed won't realize she broke his DVD. Later Jeff asks Shirley to tutor him at foosball. She says it's an evil game, but ultimately, out of sympathy for Jeff, she offers to help him beat those foosball bullies.
Shirley let's her evil side out when she counsels Jeff on how to dominate at foosball. "It's kill or be killed," she yells. A cop arrives to investigate Troy and Abed's "robbery." The cop notes there was no forced entry. Abed theorizes that the landlord broke in to the apartment. "Something's gotta be done," Abed says before storming out. Troy tells Annie she's got to come clean. Later, the foosball bullies catch Jeff practicing with Shirley. The thugs challenge them to a game on Monday: whoever loses is banned from foosball.
Abed charges into landlord Rick's apartment, trailed by Annie and Troy. Abed searches the apartment and finds that Rick has a closet full of women's shoes. Thinking fast, Annie pretends to find the broken Batman DVD amid the pile of footwear. She brilliantly frames Rick! Meanwhile, Jeff and Shirley play a heated game of foosball against each other. Midway through their argument, the two make amends. They're adults now, not vengeful children.
With the case of the missing DVD closed, "Batman" wonders why Rick confessed to stealing the shoes, but didn't confess to taking the DVD or breaking it. Annie apologizes again and says she's responsible for the broken DVD. "Batman" accepts her apology but tells her not to tell Abed the truth. Later, Shirley and Jeff challenge the bullies to foosball. They skillfully kick the ball into the very center, where neither player can kick the ball. There will be no more foosball bullying at GCC.