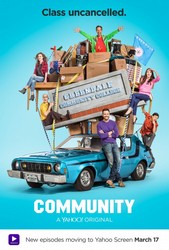 TV Info
---
Episode Premiere
March 17, 2011

Distributor
Yahoo, NBC

Genre
Comedy, Drama

Show Period
2009 - 2015

Production Company
Krasnoff Foster, Sony Pictures Television


Cast and Crew
---
Director
Anthony Russo
Screenwriter
Andy Bobrow
Main Cast
Additional Cast
Enver Gjokaj
Malcolm Jamal Warner
Synopsis
---
It's time for Shirley's baby shower but the identity of the baby daddy is still up in the air. Is it Chang or Andre? Since nobody knows, Annie tries to make the themes and gifts race-neutral. Shirley lets everyone know that regardless of the baby's parentage, she and Andre will raise it as their own; Chang can play the role of the creepy uncle if he wants to be involved.
Troy and Abed play video games with their new hot friend, Lukka. Britta's clearly interested in the new hunk and stops by to visit. In no time, Lukka and Britta schedule a date. Troy and Abed aren't thrilled about the love connection. They're sick of Britta dating their friends, and then badmouthing her ex once things inevitably go awry. Shirley asks Jeff to help her get Chang to sign a forfeiture of parental rights. Jeff objects to tricking his friend and in any case, it's not like Chang would be a hands-on father. Shirley won't give up, so eventually Jeff agrees to force Chang to sign the document.
Britta interrupts a steamy makeout session to ask Lukka not to tell Troy and Abed that they're dating. Lukka agrees, saying he knows about secrets; he's had a rough past living in the Balkans. When Lukka says he actually misses the warfare and bloodshed, Britta wonders if this guy's a sociopath. Jeff makes a halfhearted attempt to get Chang to sign the forfeiture of parental rights document. When Chang expresses that he actually wanted to be a father figure to a child, Jeff tells him to get a job and start acting like an adult. Then maybe Shirley will reconsider.
Britta approaches Troy and Abed in the cafeteria, still reeling from the realization that Lukka is a psycho with some major bloodlust. She decides not to share her thoughts about Lukka because she knows Troy and Abed will be irritated by her complaints. Chang approaches Jeff, Shirley and Andre but he's acting strange. He carries a pipe and talks about the stock market. It's as if he's actually an adult. Shirley glares at Jeff: his job was to make Chang give up his parental rights. Instead Chang seems more excited than ever to be a father!
Britta visits Lukka, Troy and Abed while they play a violent video game. She's concerned about Lukka's talent for simulated violence, but Troy and Abed seem unconcerned. Meanwhile Andre confronts Chang. Andre thinks Chang needs to relax a little about all this father figure nonsense. Andre says being a father isn't just an act; it's about the fatherly things you do. Troy and Abed tell Britta some troubling news: someone stole Abed's copy of "Kickpuncher 3." Britta tries to frame Lukka, but the guys have footage of her stealing the DVD. Britta says she tried to frame Lukka because she thinks the guys should stop hanging out with him. He's some kind of war criminal!
Jeff sees that Chang has kidnapped Shirley's kids and is helping them with their homework. Jeff blows up at Chang and says he'll never be good father material. Suddenly the kidnapped kids tell Chang that Shirley isn't really their mother. When Jeff leaves with the children, Chang decides to phone the police and report a kidnapping. Jeff goes to prison for the alleged kidnapping. When Shirley and Andre arrive to bail him out, Jeff apologizes for exacerbating the situation with Chang. Shirley accepts his apology and says that Chang's going to serve time for child endangerment instead, so it all worked out for the best. Andre objects to Shirley's actions and encourages her to let Chang free.
Troy and Abed tell Britta that Lukka's gruesome stories of his homeland have traumatized them. Britta says she wanted to warn them but they gave her a hard time about always dating and then badmouthing their friends. Troy and Abed apologize for shaming her into silence.