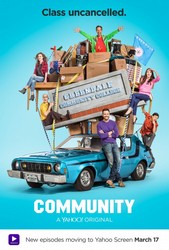 TV Info
---
Episode Premiere
November 19, 2009

Distributor
Yahoo, NBC

Genre
Comedy, Drama

Show Period
2009 - 2015

Production Company
Krasnoff Foster, Sony Pictures Television


Cast and Crew
---
Director
Seth Gordon
Screenwriter
Zach Paez
Main Cast
Synopsis
---
Dean Pelton announces Greendale's adoption of Green Week and in honor of that, is changing their name to Enviro-Dale - despite the fact that the name of their college is already Greendale.
In Spanish Class, Senor Chang proctors a quiz. When he calls time and asks for "hands up," Annie doesn't hear him and continues to write. When Senor Chang notices, he takes her, still sitting in her desk, and pushes her into the hallway. He then asks the class to write a paper on her mistake, but after being questioned by students, he ups the stakes to a 20-page paper.
The study group discusses the Spanish assignment and collectively decides that Jeff should be the class representative to talk to Chang about it. They beg Jeff to at least try to talk to Chang about reducing the workload.
Green Day meets with Dean Pelton about their campus concert. Only problem is that there was a slight mix-up and the real Green Day doesn't appear to be who he hired. Instead, he has hired an old Irish band.
Jeff pays Senor Chang a visit in his office to get to the bottom of the extra work he has unloaded on the class. Jeff gets straight to the center of it, asking Chang if his wife left him. Chang immediately breaks down and confides in him and immediately a friendship is born.
Abed and Troy are in their science lab working their lab rat. They must sing to the rat to see if he will respond. Troy, very afraid of rats, gets spooked when a fellow classmate walks by with her rat in her hands. Troy hits the rat cage and his and Abed's rat is set free.
Jeff decides to hang out with Senor Chang to give him a view of the single life. When Jeff tries to get Chang to drop the class essay assignment, he only agrees to let Jeff off the hook, leaving the rest to fend for themselves.
Annie, Britta and Troy approach a very hung-over Jeff in the cafeteria as he gets coffee. They ask how things went with Senor Chang. Jeff lets them know that Chang just yelled at him and no progress was made. Britta is a little suspicious of this.
In a classroom, Pierce helps Shirley with her public speaking. Pierce, a self-declared public speaking expert, gives her tips on how to improve her presentation for class.
Senor Chang teaches the class new Spanish terms but manages to offend with stereotypes along the way. He then reminds the class that their essays are due on Monday, worth of their grade, and to be followed by a big quiz. He also announces to the class that Jeff had already turned in his essay. Britta is even more suspicious now.
The study group confronts Jeff when they discover he has brokered a deal with Chang for himself. Jeff walks away from the group, threatening to quit.
Jeff joins Chang in his office to smoke cigars and read through homework assignments. After a moment, Senor Chang loses it and breaks down to Jeff about his wife leaving him.
Since Jeff has left the study group, Pierce decides to sit in his chair. Abed confronts Troy about helping to find their lab rat before the exterminator comes to get him.
At the Green Day concert for Green Week, Jeff secretly invites Chang's wife. Both drawn to each other, they begin to dance and eventually rekindle their love. Chang eventually drops the essays and Jeff is welcomed back into the group.
Abed roams the halls of Greendale to find the lab rat. He finds the rat and starts to sing "Somewhere Out There" and eventually Troy comes through and helps him. The rat responds to the song and eventually crawls up Troy's leg, but he grabs him and gets him back into the cage.