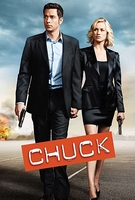 TV Info
---
Episode Premiere
February 28, 2011

Distributor
NBC

Genre
Comedy, Action

Show Period
2007 - 2012

Production Company
College Hill, The WB, Wonderland Sound & Vision


Cast and Crew
---
Director
Frederick E.O. Toye
Screenwriter
Henry Alonso Myers, Craig DiGregorio
Main Cast
Additional Cast
Synopsis
---
Vivian Volkoff explores the inner sanctum of her father's office and discovers a clear data card. As she ponders it, her father's lawyer Riley emerges. He reads a letter from Volkoff to Vivian, encouraging her to pick up the mantle and continue his evil work. But Vivian wants none of it. Riley explains that no one says no to Volkoff - and produces a pistol to underscore the point. Vivian stabs him with a letter opener, then smashes his head with a vase, grabs the cards, and runs off.
Ellie's helping Sarah get the wedding planning underway. A million decisions confront Sarah; even something as simple as orchids or roses seems to leave her paralyzed. Ellie recognizes that Sarah may not be embracing her role as bride yet. But soon you will be, she tells Sarah.
Chuck checks in with Morgan to learn how his house hunting is going. Morgan's found an apartment but will need a roommate to be able to afford to move in. In the meantime, he tells Chuck that he's enjoying living at his mom's house. But it's a facade; he's miserable having to listen to his mom and Big Mike's romantic escapades every night.
Vivian Volkoff appears at Castle to tell Sarah and Chuck what's happened at her father's office. She shows the clear data card to Chuck, who immediately flashes. His flash reveals that Volkoff has stashed his money in a bank in Macau. Beckman tells Sarah and Chuck that the bank is very dangerous; they've lost agents there in the past. But they need to infiltrate it; Vivian will go in as a customer. Chuck counters that Vivian has no interest in following after her father. Beckman insists. You need to turn that girl into an asset, she tells them.
As Morgan's drafting a Craig's List ad for a roommate, Jeff and Lester barge into his office, wondering whether a renaissance fair or a methadone clinic is the better place to meet women. Morgan's got no time for them; he's called out onto the floor. But he's made a tactical error: leaving his computer unattended. Lester swoops in and rewrites Morgan's roommate ad, altering it to solicit women of the renaissance fair to come to Buy More for interviews.
Chuck tries to convince Vivian of the importance of the mission to Macau. She demurs. But Chuck drives a hard bargain, bringing the story of his own father into the discussion. They begin planning tactics. The first step is to outfit her with a disguise, courtesy of Castle's amazing scanning and modeling computer. After Vivian exits, Chuck uses the computer to show Sarah some ideas for his wedding day attire; she's clearly still uncomfortable considering it all. Chuck reassures her that she'll get emotionally engaged with the big day soon enough. As they walk through Castle, they run into Casey, who tells them he won't be joining them in Macau; he's on a separate, special assignment for Beckman.
The Craig's List add is bearing fruit: a slew people dressed in Elizabethan-era costumes file into Morgan's office. He's baffled. Casey comes in and tells Morgan he needs to shut the interviews down - it's threatening Buy More's cover. Then the idea hits Morgan: he could move in with Casey. Casey quickly quashes the idea.
In Macau, Chuck and Vivian enter the bank. The card provides Vivian entree to her father's account, but Chuck, posing as her bodyguard, is held back. To Chuck's terror, Vivian's on her own. Sarah provides intel via Chuck's earpiece and directs him to an accessway. Chuck tricks a guard with a minor struggle and lifts his access card from him. Chuck then infiltrates the secured back hallways of the bank. He flashes on a bank of computers; they're military grade, indicating they're probably being used for nefarious purposes.
Vivian is given additional screening before gaining access to her father's accounts. Her finger is pricked to provide a DNA sample. She undergoes a laser scanning and a voice scan. She checks out okay on all of them. The bank manager brings out father's safe deposit box, telling her it contains all Volkoff's most prized possessions. Vivian looks inside the box: it's filled with family photos and clippings of her as a child.
Chuck is caught in the bank's secured area and captured. Brought to the manager and confronted by Vivian, Chuck looks guilty. Vivian grabs a gun and threatens to shoot Chuck. The manager tells her to take him away to mete out her justice. They leave the bank and return to Castle, where they ponder the personal effects and try to figure out where Volkoff's money is. Chuck offers to try to set up a meeting with Vivian and her father. She's elated.
Ellie continues to pester Sarah about the wedding plans. She explains that they've been going at it all wrong: they need to start with the dress first. Sarah agrees. Sarah then heads back to Castle's modeling computer and begins playing with a number of different looks for her wedding. She finds the perfect dress for her; instantly she's become an excited bride to be.
Thwarted in his attempts at finding a roommate, Morgan approaches Jeff and Lester and asks to stay with them in their van. But the duo has already accepted a "king" from the renaissance fair crowd; they're convinced he's the perfect entree to some "ren-tang."
Back at Castle, Beckman explains the analysis on the Bank of Macau computers. They're being used as a part of a money-laundering scheme for criminals, terrorists and rogue nations. They need to access the servers themselves to download the info contained on them. Chuck tells the general that it's possible he could convince Vivian to return to the bank, but they'll need to set up a meeting for her with her father as a reward. Beckman agrees. Beckman also tells them that they'll need to create a diversion by robbing the bank.
Morgan decides to spend the night in the home theatre room. Some mysterious agents who are mobilizing for a mission wake him. Morgan follows them - and discovers that Casey's working with them. Casey catches him and wants to know what he's seen. Morgan says he's seen nothing and walks away.
As Vivian re-enters the bank's inner vault, Chuck and Sarah storm the lobby, guns a-blazing. It's a huge shootout. Chuck flashes and Sarah acrobatically flips through the mayhem, creating total chaos. Vivian gets to work, downloading the information off the servers. As she's completing the transfer, the mysterious lawyer Riley reappears. He tells her that the CIA is using her.
As Vivian re-enters the bank's inner vault, Chuck and Sarah storm the lobby, guns a-blazing. It's a huge shootout. Chuck flashes and Sarah acrobatically flips through the mayhem, creating total chaos. Vivian gets to work, downloading the information off the servers. As she's completing the transfer, the mysterious lawyer Riley reappears. He tells her that the CIA is using her.
Vivian returns to the lobby with the data and heads out with Chuck and Sarah. Their mission is accomplished, but Vivian's shaken with doubt. Back at Castle, Beckman congratulates Chuck and Sarah. Chuck presses the general on the offer to set up a meeting for Vivian and her father. But Beckman reneges - it's too big a security risk. Chuck's aghast and apologizes to Vivian, still determined to make a rendezvous happen. But Vivian's shaken even further. Later, she refuses Chuck's phone call and tells her father's lawyer that she's ready to know the truth about her dad.
Back home, Sarah's completely bitten by the bride-to-be bug. She dives in whole-hog on planning every small detail, much to Ellie's chagrin.
At Buy More, Morgan confronts Casey about their run-in last night. Casey clams up, but Morgan presses on. Knowing he's in a precarious position, Casey agrees to let Morgan be his roommate for a while - in exchange for his silence about seeing him with the other agents. It's a roommate marriage of convenience.