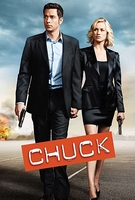 TV Info
---
Episode Premiere
February 16, 2009

Distributor
NBC

Genre
Comedy, Action

Show Period
2007 - 2012

Production Company
College Hill, The WB, Wonderland Sound & Vision


Cast and Crew
---
Director
Jay Chandrasekhar
Screenwriter
Phil Klemmer
Main Cast
Additional Cast
Synopsis
---
It's Valentine's Day, and at the Buy More, Big Mike is in an especially foul mood. Chuck learns that Big Mike's wife served him divorce papers...yes, on Valentine's Day. Wanting a distraction from his failed love life, Big Mike says it's going to be a whole new Buy More. One where he expects people to actually work. At home, Chuck and Sarah sit and wonder if anyone is having as lame a Valentine's Day as they are. Meanwhile, their answer sits in the form of Casey, alone in the bunker with a stiff drink, watching military history show on TV.
General Beckman tells Casey that LAPD has busted their operative, Jim Yeager. Yeager, whose mission isn't on record, has been missing a year and is in too fragile a mental state to divulge what his mission was. Beckman shows him Yeager's address in the valley. They think he chose the location in the suburbs to be near a sleeper cell. Beckman shows Casey a video of Yeager strapped to a hospital bed repeating "Salamander." She wants Chuck and Sarah to pose as a "normal couple" to resume Yeager's work, infiltrate his network and identify his terrorist contact. Casey tells Chuck and Sarah their mission and hands them wedding rings.
Chuck drives a station wagon to Yeager's house in the suburbs. Inside, it's now decorated with photos of Chuck and Sarah's fictitious married life. They even have a dog. Casey is inside posing as the cable guy while Sarah prepares a cookout for the neighbors. Chuck converses awkwardly among the husbands, especially when Brad jokes he'd like to wife swap with him. Meanwhile at the Buy More, the guys try to help Big Mike mend his love life through internet dating. They create a profile for him and explain the "internet hotness conversion factor" when they slightly lie about his job and physical attributes.
At the party, sexy cougar Sylvia hits on Chuck, but he rebuffs her, saying he's married. She points out her husband, whom Chuck notes is a big guy. She says her husband's job keeps him out of town a lot. Alone, Chuck tells Sarah that he hasn't flashed on any of the neighbors. Inside, Casey calls them in after finding a bug on one of the food platters. Chuck flashes on it, saying it was stolen from a CIA substation in 2006 and now it belongs to Fulcrum. Fred interrupts to let Chuck know that "His wieners are burning." Casey says these people creep him out.
The next morning, Chuck is pleasantly surprised to see Sarah cooking breakfast for him. She says Casey swept the house and it's clean of bugs. Chuck notices that Sarah seems to be enjoying the role of housewife. Outside, she hands him a note and waves to Sylvia's husband, who's also leaving for work. He doesn't return the gesture. At the Buy More, Casey tells Chuck he's identified Sylvia's husband as the guy who planted the bugs. And, that he's been buying technology to hack into government computers. Casey wants Chuck to pretend he wants to sleep with Sylvia to get inside the house and on her husband's computer.
Chuck goes to Sylvia's house and she makes quick work of seducing him, handcuffing him to the bed. While she's fixing him a drink, he breaks free and finds her husband's computer. He guesses the password, "Salamander" and scores. Several images flash on screen, overloading his senses and he passes out. The husband returns and asks Sylvia if she's tested Chuck yet. Chuck wakes, and as stunned neighbors watch, he escapes through a window and runs from her house in his boxers, fuzzy red handcuffs still attached to his wrist. Sylvia and her husband see Chuck ran the test and are amazed he survived. "We found our subject," she says.
Beckman is furious that they made their presence in the neighborhood so public. Thinking Chuck may have Fulcrum intelligence in his brain after being exposed to the pictures, Beckman pulls him from the investigation. At the Buy More, Big Mike is dressed in a big date, but is worried that he said he was a 185-pound shipping magnate on his profile. Chuck flashes on the stationery that Sarah gave to him and learns that the entire neighborhood is a front for Fulcrum. He tries to warn Sarah, but gets her voicemail. Soon, the neighborhood makes their move on Sarah and Casey, taking them prisoner.
Chuck races to the neighborhood and flashes on everyone he sees. Fred tasers him, and Chuck wakes in a lab to find himself strapped into a mind meld machine. His once benign neighbors are all in lab coats, preparing for a test. Sarah sits nearby, handcuffed. Brad tells Chuck he has a special brain, so they're using him to test their new computer program that implants intelligence directly into agent's brains. The CIA gave up on it, but Fulcrum hasn't. When Chuck is worried about Sarah, Sylvia mocks him for having feelings for her. She says they aren't real because everything Sarah's told him isn't real.
In a nearby room, Casey breaks his thumb to escape the handcuffs and sneaks out. As he makes his way toward the lab, it's lights camera action for Chuck while the Fulcrum agents and Sarah watch, wearing protective glasses. After the test, they think it might have fried Chuck's brain, but he recovers. Chuck feigns being brainwashed, and when Sylvia asks him their mission, he recites that Fulcrum wants to construct their own Intersect computer. As they put Sarah in the hot seat, Chuck manages to signal Casey in the computer room to go ahead. Chuck shields Sarah as Casey activates the program which kills or scrambles the brains of all the Fulcrum agents.
In the bunker, Beckman tells Sarah that Fulcrum is perilously close to completing their own Intersect computer. She says the honeymoon is over for Sarah and Chuck, since protecting his life has never been more crucial. In the yogurt store, Chuck wants to go back to the cul-de-sac for a romantic interlude, but Sarah has her orders, and coldly shuts him down. Chuck is crestfallen, especially when she asks for the ring back.
At the Buy More, Big Mike is glowing from a night of passion with his internet date. Because he doesn't want a relationship based on lies, he invites her to the store. When she arrives, the boys watch as he tells her the truth. She says she wasn't particularly honest either. She says she has a son...who works at the store. "Please Lord, let it be Bartowski," Mike says. They kiss, just as a horrified Morgan walks up and says to Big Mike, "You're banging my mom?"
At the apartment, Chuck tells Ellie that the trial run of playing house was disastrous for him and Sarah. He assures her they aren't breaking up, but says they aren't like her and Captain Awesome. He said that being in that house was almost perfect, but they are never going to be anything more than what they are right now. Chuck says that he's okay with that. As the house is being cleared out, Casey asks Sarah if she has everything she needs. Clearly feeling sorry that the honeymoon is over, she secretly keeps the wedding ring used in the cover.