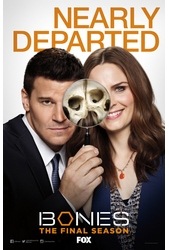 TV Info
---
Episode Premiere
March 25, 2013

Distributor
Fox TV

Genre
Drama, Crime

Show Period
2005 - now

Production Company
Far Field, Josephson Ent., Fox TV


Cast and Crew
---
Director
Francois Velle
Screenwriter
Pat Charles
Main Cast
Emily Deschanel as Dr. Temperance 'Bones' Brennan
David Boreanaz as Special Agent Seeley Booth
Michaela Conlin
T.J. Thyne
Tamara Taylor
John Francis Daley
Additional Cast
Patricia Belcher
Eugene Byrd
Dave Thomas
Sherman Augustus
Synopsis
---
ACT ONE
Booth and Brennan arrive to a vacant lot to survey the crime scene. They are faced with a twisted face victim that was stuffed into an abandoned car in a vacant lot. This fascinates Brennan but Booth doesn't understand: the victim still has skin, no bones. Cam tells them this is a case of microclimates. Brennan adds this happens when the remains decay in two different ways because it is exposed to different climates. Booth notes that the victim's clothes have been ripped and torn apart as if someone was looking for something. Booth opens the trunk to find a sawed-off shotgun, which doesn't have serial numbers. Brennan notes that the victim was shot twice but not by the shotgun. Booth notes that that the car door also has two shots to it but the slugs have been torn out.
Hodgins is fascinated with the microclimates as well when he examines the remains on the platform. Cam joins the team to introduce, Andrew Jursic, a documentarian who will be filming the case to raise money for the Jeffersonian. Brennan is not warm to Andrew but Hodgins is very excited. Cam gets back to the remains and removes the abdominal tissue. There is a balloon in the victim's stomach. Everyone thinks its drugs. However, when Brennan cuts it open diamonds spill out!
ACT TWO
Angela comes into the Autopsy Room to see Cam using diluted maceration fluid and heat to try and soften the victim's skin. Hopefully once it relaxes Angela can do a reconstruction. Clark comes in to join the case because the Jeffersonian board asked he'd help temper Brennan's abrasive manner. Hodgins comes in to tell them that the diamonds were valued at two hundred grand and stolen. The gang notices that the victim's space starts to relax-Andrew comes in just in time to get it on film.
At the FBI, Booth tells Caroline they have an ID. The victim was, Quentin Coles, a security guard from a diamond wholesaler who has a criminal record. Booth is going to go to the wholesaler.
Brennan finds Andrew and Clark examining the remains. Brennan has attached a camera to her head like Andrew. Clark and Brennan try to get back to the bones. Clark notices fractures on the ocular orbit from a punch and a wound to the sternum from a blade. Brennan is more concerned with the striations from the bullet wounds. Andrew is impressed with Clark but Brennan doesn't understand.
Brennan and Booth visit Oscar Schultz Diamond Wholesaler. They tell Oscar they aren't interested in engagement rings but his old security guard. Booth asks about Quentin Coles whom Oscar claimed "sort of" worked there. Oscar tells Booth he needs to make a call, Booth makes the call for him. It's Detective Joe Dinco. The victim was an undercover cop.
ACT THREE
Detective Dinco, Caroline, and Booth talk about the victim in Booth's office. Dinco tells them that his real name was Reuben Martin. He was working on closing a two-man crew that was hitting ATM's in the city. Dinco wants to take over the case and solve the murder. The ATM team was buying diamonds to wash the cash but Dinco lost track of Reuben six days ago. Booth mentions the diamonds found in the vicitim's stomach but Dinco swears he was clean and a good cop.
In the Bone Room, Andrew tells Brennan to come off more likable on camera. Clark takes over to tell the camera about the injuries are all on the right side and it seems that the victim was shot with two different guns. Hodgins comes in to tell them that there were traces of concrete and Falcon feces on the ulna. Andrew knows that the Falcon feces is a clue. Hodgins agrees and tells him that the only types of Falcons in the area are Peregrine near the Benjamin Banneker Memorial Bridge in Washington, D.C. Brennan goes to tell Booth.
At the FBI, Booth and Sweets notify the victim's wife, Lauren, about the news of her husband's death. She tells them that it's Dinco's fault her husband is dead-he always pushed Reuben to do more. She tells them that she doesn't have any information about Reuben's cases. Lauren gets up and cries, Booth hugs her to comfort her.
Caroline swings by the lab to give Cam files about the undercover cases. Caroline notices Andrew. She is completely smitten. Andrew comes over to introduce himself. Cam feels extremely awkward.
Booth and Brennan visit the Benjamin Banneker Memorial Bridge. Brennan asks Booth why he smells like ladies' perfume, Booth tells her that the victim's wife was extremely upset. A FBI tech finds the bullet hit. Brennan notices falcons flying from a nearby bush. She rushes over to see what they are protecting-it's a human leg!!
ACT FOUR
At the lab, Brennan examines the dead foot. It belongs to a female in her 20's. Cam adds that the local hospitals don't have anyone coming in missing a foot. They determine the foot was blown off with a shotgun most likely from the shotgun found in the victim's car. Brennan doesn't think that the wound killed the victim Brennan asks if she is not likable and Cam tells her that she is the best at what she does.
At the FBI, Caroline and Angela watch security footage from the local ATM's. The team used a remote hack to get the ATM's to upload a program and spit out the money. Angela was able to trace the root code from the ATM machines to a house on the Carlisle University, College Park campus. The team are students. Caroline goes to get a warrant.
At the lab, Andrew comes into the Autopsy Room to see Cam. Andrew wants to inquire about Caroline. Awkwardly, Cam tells him that she is single and she has a furry cover for her steering wheel in her car. Andrew is excited: he has fuzzy dice! It's meant to be.
Booth and Brennan go to the college house. No one answers so Booth breaks down the door. They smell something bad. They go into a bedroom to find Paula Byrne bloody and almost dead. She is going in and out of consciousness. Booth makes a call to get an ambulance.
ACT FIVE
The paramedics roll Paula out of the house. Booth stops her-he wants answers. He needs to know where Marcus, her roommate, is and what happened. Paula is in extreme pain. She tells him that they wanted to exchange the cash for diamonds and the police showed up. She tells him that he took the money and shot off her leg. She passes out from the pain.
Booth returns to his office at the FBI and talks about Paula with Dinco. He tells Dinco that she said that Reuben was a dirty cop and shot her leg off. Dinco doesn't believe it. Booth is starting to look at Dinco differently. Dinco wants the roommate and not to be looked at like a criminal.
In the Bone Room, Clark shares results with Caroline, which is really an excuse to see Caroline. Clark realizes what is going on. He tries to power through with the case but Caroline distracts Andrew. Clark quickly tells them that the shots were fired from a .38 caliber bullet form a DC police gun. Caroline thinks its Dinco.
Booth and Brennan talk in the car about the new developments. Brennan is sympathetic towards Booth and dealing with dirty cops. They get a call that they have found the roommate, Marcos, at a nearby parking garage. Dinco was also called. Booth and Brennan rush to the lot.
In the parking lot, Booth and Brennan find Marcus' car but not him. They hear loud noises coming from the stairwell. Dinco is beating up Marcus. Booth holds back Dinco who claims it isn't what Booth thinks.
ACT SIX
Caroline, Booth, and Dinco sit in the Interrogation Room. Caroline has a statement showing that Dinco used excessive force on a suspect. Dinco claims he was apprehending him. Dinco did it because he thinks Marcus killed Reuben. Booth thinks Dinco was in on it the whole time. Dinco wants to talk to a lawyer.
Brennan checks on Clark in the Bone Room. Clark shows Brennan a discolored section on the rib fragments. Brennan examines it-it's stippling. They notice that Andrew is gone and they enjoy the moment of science and not the camera action.
Booth questions Marcus in the Interrogation Room. Marcus admits there was a man with a shotgun that took all the money. He identifies Reuben as the man with the shotgun. Marcus says they did not kill him that they had the money and wanted the diamonds to go to Columbia and sell them. He tells Booth they were thieves and not killers.
Hodgins tells Brennan the results from the stippling while Andrew films. There were particulates of leather, aerosolized alcohol, and jasmine. Brennan knows the answer to where it all came from and rushes out the door.
Caroline and Booth bring Lauren Martin, Reuben's wife, into Interrogation. They have pulled the gun and money from the safe in her home. The gun is a match as well as the money. Booth presses her that they know she shot the gun inside her leather purse causing the perfume to break inside the purse. Lauren admits that she did it and wanted a better life...without Reuben.
That night at the diner, Andrew and Caroline have a drink. The two enjoy each other's company. They decide to go somewhere else for a nightcap.
In Brennan's office, Brennan watches Andrew's footage and realizes that she doesn't come off as likable on camera. Booth comes into her office to see her watching the footage. Brennan tells Booth she looks like a mean lady. Booth tells her that she can be empathetic at times and she is a nice person. They kiss and get ready for their dinner reservations.