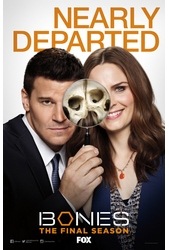 TV Info
---
Episode Premiere
October 08, 2012

Distributor
Fox TV

Genre
Drama, Crime

Show Period
2005 - now

Production Company
Far Field, Josephson Ent., Fox TV


Cast and Crew
---
Director
Dwight Little
Screenwriter
Dean Lopata
Main Cast
Emily Deschanel as Dr. Temperance 'Bones' Brennan
David Boreanaz as Special Agent Seeley Booth
Michaela Conlin
T.J. Thyne
Tamara Taylor
John Francis Daley
Additional Cast
Carla Gallo
Arturo del Puerto
Chris Butler
Heather Mazur
Synopsis
---
ACT ONE
A disgruntled couple's car is stuck in a ditch. The husband tries to push the car out of the ditch while his wife controls the wheel. While giving the car gas, it spits mud and particles back at the husband. He chokes on something and stops. His wife gets out to check on him and sees a partial face stuck to her husband's shirt, as well as other body parts sticking out from the mud.
At the Brennan/Booth residence, Booth reads the newspaper while Brennan compiles a list of pro's and con's for running for president. Booth isn't exactly supportive of Brennan's idea. Booth gets a call about the body in the ditch.
At the ditch, Booth and Brennan meet Hodgins and Cam. Hodgins uses a vacuum hose to suck up all the bugs on the body. Brennan determines that the victim is male in his 20's. An FBI tech tells Brennan that the husband swallowed something. Brennan rushes over and examines the husband's throat with a cotton swab soaked in ipecac syrup. The husband immediately vomits and Brennan picks up the tooth that the husband swallowed.
ACT TWO
On the platform, Daisy and Brennan look at the remains. Brennan believes that the victim suffered a gunshot wound. Cam examines the bullet wound on the victim's hand which tells them the bullet was from a nine-millimeter gun. Hodgins pulls off the victim's boots to reveal newspaper stuffed in the toes. Hodgins takes the boots back to the Ookey room to help determine the last place the victim walked.
At the diner, Daisy meets Sweets for lunch to get their new apartment keys. They officially live together. Sweets gets a text, he has to go. Daisy can't wait to celebrate tonight.
Angela comes into the Ookey Room frustrated about doing the reconstruction. Due to the hole in the face from the gunshot wound, she is having some trouble coming up with a face. Hodgins tells her that after testing the victim's boot, he's figured out that the victim was at some type of county fair before he was murdered. Hodgins also has found a rare venetian glass. After doing a search, he found out that hundreds of authentic venetian glass lamps were here last week at an antique show.
Sweets examines new towels in the Bone Room. Cam wonders why he has to be here to check the towels. Sweets tells her he's excited to move in with Daisy. Cam tells him that sometimes it's hard to compromise when moving in with someone new, but wishes him luck with his new towels and new apartment.
Booth and Brennan arrive at the Fairgrounds where the antique show took place. Brennan notes that the fairgrounds would be a great place for her political rally. Booth and Brennan notice a group of men begging Juan Chiquez for work. Juan picks two workers to help clean the fairgrounds. Booth asks Juan if he is missing any workers. Juan explains that there is a fluid bunch of workers he deals with every day. Brennan shows him a few of Angela's reconstructions. Juan recognizes Jared Drew. Tells them that competition for minimum wage jobs is very high, but doesn't know if it would have led to murder. In any case, he feels bad for not being able to hire all the men that need work.
ACT THREE
At the FBI, Booth and Sweets go over the case file. Jared Drew used to own a hardware store until he lost everything in the crash. Booth tells Sweets that there was a restraining order filed against Jared two days before the murder by his ex-wife. Sweets asks if Brennan has a plan for the economy if she was president, Booth tells Sweets not to support her idea.
In the Bone Room, Brennan checks in on Daisy's reconstruction. Daisy shows Brennan that the victim suffered from arthritis. Brennan examines the entry and exit wound in the skull. It does not match the nine-millimeter gunshot to the hand. Brennan realizes that they are looking for two guns and two killers.
Sweets questions Jared's ex-wife, Marcy Drew, and her boyfriend, Mike Young. Mike explains that Jared was coming around all the time and wouldn't leave them alone. Marcy explains that Jared would have never hurt them. After Jared lost the store he couldn't find work, and he would come around begging her to take him back. Sweets notes that Marcy feels guilty for leaving her ex-husband. Her boyfriend has had enough of the questions. Sweets asks him if he owns a gun, Mike and Marcy tell them they want a lawyer.
Hodgins comes into the Autopsy Room looking for excrement that was taken from his desk. Cam tells him that she took it to see if it contained epithelial cells. Angela joins them. Cam tells them that there were epithelial cells from exotic animals. Angela pulls up hidden camera footage from the Pet Expo that Jared Drew worked at. There are monkeys, cougars, and wolves. Angela tells them that exotic pets is a ten billion dollar industry. They need to speak with Eric Neibling, the owner of the expo.
Booth and Brennan question Eric in the FBI Conference Room. Eric doesn't recognize Jared Drew. Eric tells them that his expo's don't traffic illegal exotic animals. They are all legal, they are all bred in the United States. Brennan tells him that those types of animals aren't meant to be domesticated. Eric doesn't want to sit here and be attacked for complying with the law.
ACT FOUR
Daisy tells Cam that what she thought was arthritis isn't arthritis, but the beginning stages of osteonecrosis caused by blood poisoning. Daisy explains to Cam that the victim got the blood poisoning from being slashed. The scratch reached all the way down to the bone, causing the bacteria to get into his bloodstream. Cam realizes that a very poor person wouldn't be able to seek medical attention for this injury.
At the diner, Angela expresses to Hodgins her frustrations with work and feeling inadequate. Sweets comes into the diner, Hodgins leaves to go to the lab. Sweets joins Angela. Sweets admits he's a little nervous about moving in with Daisy, but this is only a minor commitment. Angela tells him that Daisy may not feel the same way.
Hodgins tells Cam that the victim was slashed by a cat. But not just any cat, a purebred Siberian tiger. Hodgins tells her that a purebred tiger is a felony and may be motive for murder. Cam also found cause of death. The hand and face injuries were not from two separate guns. The victim put his hand up to defend himself. The bullet expanded when it entered the face. One gun, one shooter.
Sweets and Booth go over the case in the Conference Room. Sweets tells Booth that the reason why Jared Drew didn't seek medical attention was because he was attacked by a purebred tiger. Booth tells Sweets the body was found on the side of the road. Sweets pulls up a map to show that there are five farms up there, meaning that the victim was delivering the tiger, and his body was dumped after the delivery. They hypothesize that the buyer saw that the victim was very ill and killed him because he couldn't risk the felony. Booth tells him that they need a warrant. Sweets tells Booth that they need to talk to the expo owner again to see if he knows any animal collectors that live in those farms.
Booth gets up to leave and Sweets follows him out. Sweets asks about Booth and Brennan living together and if it was a big step. Booth tells him that moving in together is a BIG, HUGE step. Sweets starts to panic a little...
ACT FIVE
Eric Neibling does not recognize any of the farmers' names. Sweets tells him they won't leak his name to the press if Eric agrees to ask around. He agrees.
Angela tries to find the tiger by looking at satellite photos on the internet. Angela tells Hodgins and Cam that the images haven't been updated in over a year. Hodgins has an idea...
In the car, Booth and Brennan talk about their difference in attitude toward animals. Brennan does not like the zoo and doesn't want Christine going to the zoo. Booth does not agree.
Hodgins flies a remote-controlled model of a World War II spitfire plane with a flip cam to help get a better view of the farms. Hodgins launches the plane and it gets a great signal. Hodgins finally gets a good view of a farm with lots of cages. Hodgins takes the plane lower to see camels, zebras, and a kangaroo. With this footage, they have enough to get a warrant.
Booth and Brennan go to Thomas Casey's farm. Brennan goes to look at the cages but she doesn't see a tiger. Thomas Casey runs to stop them from touching the animals. Brennan tells him that these animals should not be kept like this. Casey says that all the animals are legal and that he does not have a tiger. Brennan sees a large flock of carrion birds in the air. Brennan runs into the woods. She runs up to see the birds feeding on a decaying tiger. Brennan goes to attack Thomas Casey but Booth holds her back.
ACT SIX
Back in Booth's office, Booth tells Brennan they can get Thomas Casey for killing an endangered species. Brennan says when she is president, killing endangered animals will result in the death penalty.
In the Interrogation Room, Thomas Casey tells Booth that he shot the tiger in self-defense. Thomas tells them that Jared Drew was extremely sick when he dropped off the tiger, but he did not shoot him. Thomas said he was with another guy dropping off the tiger. Casey tells them that he bought the tiger online and the ad said to meet a guy named Juan at the fairground and give him money in an envelope.
Booth and Brennan return to the fairground to talk to Juan. Juan tells him that he gave the money to Eric Neibling. Eric told him to send him a worker and he would pay him, so Juan sent Jared Drew to help Neibling.
Back in the Interrogation Room, Booth questions Eric Neibling who is now visibly ill. Brennan tells Eric that he has nascent osteonecrotic septicimia from the gun blowback. Brennan tells Booth that Eric probably has a fragment of bone in him. Booth directs Eric to put his hands on the table. Brennan notices that his right hand is swollen and infected. Eric admits that if he had taken Jared Drew to the hospital it would have ruined his career.
Daisy waits outside for Sweets to show up at their new apartment. Sweets show up, but he tells Daisy he can't go in. Sweets tells her that he underestimated the meaning of moving in together and that he wants to break up instead.
Back at Booth and Brennan's, the couple get ready for bed. Booth shows off his "Bones for President" swag. He wants to be supportive of her ideas and of her beliefs.