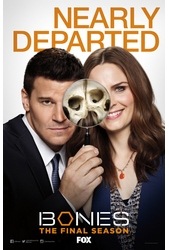 TV Info
---
Episode Premiere
October 14, 2010

Distributor
Fox TV

Genre
Drama, Crime

Show Period
2005 - now

Production Company
Far Field, Josephson Ent., Fox TV


Cast and Crew
---
Director
Dwight H. Little
Screenwriter
Michael Peterson
Main Cast
Emily Deschanel as Dr. Temperance 'Bones' Brennan
David Boreanaz as Special Agent Seeley Booth
Michaela Conlin
T.J. Thyne
Tamara Taylor
John Francis Daley
Additional Cast
David Alan Grier
Patricia Belcher
Thomas Kopache
Synopsis
---
ACT 1
Two freegans prepare to dumpster dive for their meal. They begin to indulge in a feast of bruised fruit and other slightly imperfect delicacies. Is that love in the air? Actually, it's just the scent of a decaying skull. Better take her to a real restaurant next time...
Booth and Brennan join Cam on the scene. She reports that only the victim's head and hands were found in the dumpster. Brennan believes the victim is male while Cam bags his hair. Brennan continues: the teeth are shattered and it is clear that the hands were sawed off. She doubts they will find the rest of the body nearby. Cam and Brennan notice an injury to the victim's finger that came from using a "big gun."
ACT 2
As Brennan examines the remains, Cam approaches with a visitor: Professor Bunsen Jude, The Science Dude. Professor Jude has his own science themed children's program and he wants Brennan to be a guest. Brennan is reluctant but Professor Jude will not give up: if he assists Brennan as her Squintern, will she agree to do his show? Brennan accepts the proposition. Professor Jude looks at the remains. He tells Brennan that the hair is not from the victim's head but from his beard. Brennan agrees with the finding. Jude is pleased but immediately vomits. Science can be icky.
Cam joins Angela at the Angelatron. She has constructed an image of the victim. He is a big man. Cam relays that the victim had a beard. Angela makes the necessary adjustments. Now they can send the reconstruction to Booth.
Gregory Gering of Gering Bail Bonds meets Booth at the FBI. He identifies the victim as Ray Kaminsky, also known as Wolf. Ray was one of his best bounty hunters. He had been hunting Charles Braverman, a man who murdered his coworker. Gering considers Braverman a very dangerous man.
Hodgins is extremely excited to find Bunsen Jude in the Ookey Room. He begins quoting the Professor. "Observe. Analyze. Deduce!" Hodgins shares that he found insects, mucus and mineral particulates in the beard. There was also barbeque sauce, a type commonly found in Western Virginia.
Over lunch, Booth wonders why Brennan refuses to be a guest for the Science Dude. Parker loves that show and she would have the chance to brainwash future Squints. Brennan admits that children don't like her. She would only scare them. Angela calls. Hodgins and Jude found needles from a Red Spruce, the leg of the rare emerald ash borer insect and barbeque sauce from Ollie's BBQ Shack. It all points to a half-mile stretch off the 250 highway. The victim had to be there shortly before his death.
In the woods, Booth follows Tutti the cadaver dog and her handler, Maggie Magregor. Tutti whines and lies down. Maggie tells Booth that there are human remains here. Later, Cam confirms that the skeletal remains are a good match for the victim. Caroline Julian interrupts. What are they doing? FBI Agents are surveilling the cabin of Charles Braverman and Booth is disturbing the operation. It looks like Braverman took out his bounty hunter. Caroline has more bad news. Molly Braverman was supposed to testify against her husband but she is missing. Booth agrees to help.
ACT 3
At the Lab, Hodgins, Cam and Jude examine the skeleton. There is high velocity trauma to the ribs, which Jude believes could have been caused by a gunshot.
At the FBI, Sweets explains that Molly most likely put her husband's desires before her own. She is not prepared to cope on her own. Braverman would have cut her off from friends and family. So where would she go? Sweets advises Booth to look for an employee she utilizes more often than necessary.
Brennan joins Jude on the Forensic Platform. She checks his findings and agrees that a lot of damage has been done to the ribs. However, the two sides of the fracture fail to match. Jude will have to investigate further. He uses forceps to find the small missing bone fragment but Brennan is still not pleased. There is more work to be done.
Angela creates a reenactment of the victim's death on the Angelatron. There is no indication that the weapon is a bullet. Brennan believes that the weapon, which was powerful enough to fracture the rib and dislodge a segment of bone, propelled the bone fragment into the victim's heart.
Booth drives while explaining to Brennan that Molly Braverman saw a hairdresser twice a week. Booth called ahead. Molly asked to stay with her hairdresser. However, a woman claiming to be an FBI Agent also called the hairdresser looking for Molly. Booth checked with Caroline. No one at the FBI made the call. Molly could be in danger.
Molly Braverman answers the door of Apartment 5F. She doesn't want to talk but Brennan spies Charles Braverman approaching. Booth chases after him. Braverman has a gun and he isn't going down without a fight. Booth keeps running and crashes into bounty hunter Janet Leblanc. Braverman dives through a window to make his escape.
ACT 4
At the FBI, Booth has Janet LeBlanc in handcuffs. A wanted fugitive escaped because of her interference. Janet has been chasing Braverman for 17 days. Booth decides to let Janet walk. He could use another person looking for this guy.
Hodgins and Jude set up an experiment in the Ookey Room. They hang balloons filled with red liquid, representing the heart. Paint stir sticks simulate ribs. Hodgins and Jude launch various projectiles at the "ribs" to see what might make them break and rupture the heart. Hodgins picks up an axe. Science is fun!
In the Bone Room, Angela encourages Brennan to go on the Science Dude's show. She is going to have a child and she wants her son or daughter to love Brennan. This would be a step in that direction. Brennan is distracted by a magnified image of the fractured ribs. She notices remodeling. This rib was broken about a week before the victim died. A second injury propelled the bone fragment into his heart.
Caroline presents surveillance footage to Booth. Ray Kaminsky and Gregory Gering play pool. They get into a fight. Greg jams Ray with a pool cue in the ribs. Ray is only down for a moment so Greg pulls a gun.
ACT 5
Booth and Caroline interrogate Gregory Gering. Gering was only defending himself because Ray cheated during their game of pool. He didn't kill him. Caroline mentions that Gering has cancer. He is going to die. Maybe he got careless. Gering admits he is dying but he isn't a murderer. Janet sent them the footage to distract them. She wants to find Braverman so she can collect $200,000.00. Gering plays a tape for Booth and Caroline. Molly admits to hiding her husband and makes plans to meet him.
Sweets realizes that Molly has been controlled for so long she can't live without it. Booth, Brennan and Caroline brainstorm to try and find them. If she met up with her husband, Sweets believes Braverman would drive. Molly is totally submissive. They would head west, as most escaping people do. Brennan chimes in. They won't make it far. Braverman was injured when he jumped out the window. Once he is in the car and immobile, his adrenaline will wear off and he will need to seek medical attention.
At the Lab, Hodgins reports that his experiment has not turned up any conclusive findings. Cam accompanies him to the Ookey Room where Jude has constructed a Potato Bazooka. He fires at the ribs. Hmmm. Hodgins checks the playback. The weapon gives them the results they had been looking for. Did a Potato Gun kill the victim?
Booth and Brennan are en route to catch Braverman when Jude calls. The weapon is something that approximates the speed, force and velocity of a potato. Brennan approves AND agrees to appear on his show. Everyone is excited but Booth is interrupted by Dispatch. McArthur Hospital reported a female and male with a leg injury. Booth steps on it.
ACT 6
At McArthur Hospital, Booth and Brennan begin their search while Janet slips by them. She blocks the door so Booth and Brennan have to find another way around. Meanwhile, the Braverman's try to escape. Charles Braverman limps away while Molly ineffectively fends off Janet. Booth is right behind them. Molly grabs a weapon to defend against Brennan: a syringe. Brennan bests Molly, who ends up getting stabbed with the syringe. Lights out.
Janet corners Braverman and fires! Booth aims his gun at her but she only shot Braverman with a beanbag gun. Brennan arrives. The beanbag gun could be the murder weapon. Ray and Janet were after the same guy. She took him out so she could collect the money. Booth arrests Janet.
At the Lab, Brennan enjoys her debut on the Science Dude's television show. She wears a fluffy tutu, giant white gloves and a black leotard with a white skeleton. She leads the children in the Scientist's Oath. Booth gives a thumbs up. The children love her. Good job, Brennan!