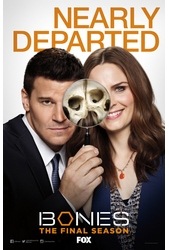 TV Info
---
Episode Premiere
September 23, 2010

Distributor
Fox TV

Genre
Drama, Crime

Show Period
2005 - now

Production Company
Far Field, Josephson Ent., Fox TV


Cast and Crew
---
Director
Ian Toynton
Screenwriter
Hart Hanson
Main Cast
Emily Deschanel as Dr. Temperance 'Bones' Brennan
David Boreanaz as Special Agent Seeley Booth
Michaela Conlin
T.J. Thyne
Tamara Taylor
John Francis Daley
Additional Cast
Patricia Belcher
Michael Grant Terry
Carla Gallo
Amir Assante
Synopsis
---
ACT 1
Now working at the Federal Coroner's Lab in Washington D.C., Cam is frustrated her team can't identify the skeleton of a small child. She later prepares to give an interview at CNB Studios about brain damage in veterans. Caroline Julian tries to convince her they really want to ask about Logan Bartlett, who the press speculates is the unidentified child. Since Cam can't confirm the identity of the child, she will end up looking bad.
Meanwhile, Brennan and Daisy are frustrated that they haven't made any major discoveries during their seven months in Maluku. Brennan is trying to fix the carburetor on their jeep when Daisy spies men with guns approaching them. Uh-oh. Per Brennan's suggestions, Daisy swallows her engagement ring.
In Afghanistan, Booth leads his team to capture two insurgents, who have apprehended a child. Booth and his team save the child. His grateful mother thinks this wouldn't have happened if her husband weren't "off fighting someone else's war." Before Booth can process this, his cell phone rings. It's Caroline Julian, imploring him to come home. Cam is in danger of losing her job.
Brennan subdues her attackers with a shovel and some well aimed kicks. Afterwards, she gets the same call from Caroline. Cam could lose everything. Caroline tells Brennan that Booth is already on his way but they need her help. Brennan tells Daisy they need to get home.
ACT 2
Cam and Caroline shudder as they watch her interview. When Cam tried to talk about brain damage in veterans, the interviewer posed questions about Logan Bartlett. Cam is concerned. She is good at her job but her anthropologist and etymologist are not up to par. Caroline reveals that everyone is coming back to help her.
Sweets plays the piano for a crowd, having grown quite a bit of facial hair. His phone rings. It's Caroline. Sweets is on sabbatical: what does she want? Caroline tells him that Booth is on his way back from Afghanistan and he has post-traumatic stress. Sweets decides to get reactivated to help his friend. Caroline's work is done.
As promised, Booth and Brennan meet at the Reflecting Pool. They share stories about their travels but Booth gets to the good stuff. Did Brennan meet anyone while she was away? Brennan didn't have any time. However, Booth fell in love with journalist Hannah Burley. They are a very serious couple.
At the FBI, Hodgins and Angela reunite with Sweets, Cam, Booth and Brennan. Caroline explains that Cam no longer works at the Jeffersonian and her superiors do not want her to talk about brain damage in veterans. So they are plotting to fire her over a case she cannot solve. Logan Bartlett is a two-year-old boy that disappeared three months ago from his mother's house. The media believes that Cam has the boy's body even though Cam can't confirm or deny it. Everyone agrees to help. Brennan needs an intern. Who is available? Vincent Nigel-Murray won a million dollars on Jeopardy and is on a trip around the world. Arastoo switched majors and is interning at another museum. Fisher checked into a clinic due to his depression. Clark Edison accepted a position in Chicago. Wendell is working in a repair shop. Cam admits she is angry with Brennan. She puts her own desires ahead of everything else and it all fell apart.
ACT 3
At the Diner, Booth has breakfast with Parker. His friends want to know if Booth killed anyone. Booth says they will talk about that when Parker is older. Will Booth go away again? Booth promises he won't.
Brennan goes in search of Wendell Bray. She finds him repairing a school bus. Wendell explains that when Brennan left, they shut down the program. Wendell lost his fellowship and is working to save for tuition. Brennan offers Wendell quite a bit of money to return as her intern.
Booth meets with Carrie and Trevor Bartlett. They split up last year and are devastated over the loss of their son, though it doesn't stop them from insulting each other. Carrie has custody of Logan. Trevor has an alibi and even Carrie vouches for his character.
At the Federal Coroner's Lab, Angela, Cam, Brennan and Wendell work with the remains of the child. They were found wrapped in a blanket in a shallow grave along the Potomac. The hands and feet were bound with twine. Brennan and Wendell determine the child is over three years old and Angela notes that the child is Asian.
At the FBI, Booth finishes questioning Trevor Bartlett. He doesn't think Trevor is a killer. Caroline Julian has made sure that Agent Corby is vacating Booth's office since Booth will be staying stateside. There is no reason the old team can't get back together. Booth isn't sure that Brennan will stay once they solve the case.
Daisy and Sweets walk along the street. Daisy confesses that she thought about Sweets everyday. She is crushed that he doesn't consider them engaged anymore. She no longer thinks her career is more important then their love. Sweets is seriously confused. He has been trying to get over her. He needs time to think. Daisy returns the ring.
At the Lab, Brennan determines that the child was malnourished. He was most likely an Asian immigrant. Hodgins can confirm that the child died at least sixteen weeks ago. This is not Logan Bartlett.
ACT 4
Booth and Brennan tell Caroline that the child is not Logan Bartlett. Caroline is impressed that they solved the case so quickly. Brennan corrects her: they haven't solved the case. They need to figure out who the child is and what happened to him.
Sweets reviews footage of the interview with Trevor Bartlett. Trevor is upset that Carrie, a recovering alcoholic, got custody of his son. Booth enters. He tells Sweets that the Logan Bartlett case is out of their hands. They should focus on the murder. Sweets asks for advice about Daisy. Booth tells him to move on. It worked for him.
At the Diner, Brennan scrutinizes the child's X-ray. Angela joins Brennan and Wendell. She misses Paris. Brennan has it: there is damage to the hyoid. It looks like a hole or a puncture. Wendell heads off to check the bones. Angela immediately asks about Booth. Brennan tells her that Booth fell in love while he was away. Angela comforts her friend but Brennan is happy for Booth. Angela has news of her own: she's pregnant. Brennan is thrilled. She's going to be an aunt!
Wendell shows the Squints a small puncture in the victim's hyoid. Hodgins found wooden splinters in the wound, possibly maple or ash. Brennan puts the pieces together: the child swallowed a toothpick and began to choke. He stopped breathing and someone tried to revive him, damaging the sternum. Brennan recalls that some Asian cultures bind the hands and feet as a burial ritual. This is not a murder.
ACT 5
Hodgins determines that the boy was wrapped in a polyester fabric that is not legal in the United States. However, it is very common in North Korea. The twine is an industrial embroidery thread. Cam realizes they are looking for an industrial sewing operation with a Korean connection.
Booth drives while Brennan reviews a list of sewing companies. Ipchun Industries is their next stop. Booth wonders if they are putting the team back together. Brennan admits that she would rather go back to Maluku, but she is the most important member of the group. She will put her desires aside and stay for the good of the group.
At the FBI, Daisy wonders if Sweets has made a decision. She is not going back to Maluku. Sweets doesn't want to be engaged anymore. Daisy is disappointed. Sweets will always be the one that got away. They say goodbye with a passionate makeout session.
Booth and Brennan converse with Patrick Park at Ipchun Industries. He employs a grandfather and granddaughter from North Korea. Kang Mi Cha had a small child but she sent him back to this father in South Korea. It seems like she regretted the decision.
Booth and Brennan speak with Kang Mi Cha and Kang Kyu Bok at their apartment. Booth asks where the child is and they reply that they sent him back to Korea. Meanwhile, Brennan inspects the child's wooden crib. She finds that the crib is made with sharp, wooden screws. She calls Booth over. They know what happened. Kang Mi Cha and Kang Kyu Bok cry. It was an accident.
ACT 6
At the Founding Fathers, the team learns that the family was so afraid of the authorities they buried the child themselves. They didn't want to get sent back to North Korea. Booth thinks Caroline will help the family. She may not even charge them. One case closed but the other case is still unsolved. Booth discovered that Trevor Bartlett bought a car three days after his son went missing. It's suspicious behavior.
At Dover Park, Booth, Brennan and Carrie Bartlett wait inside Booth's car. Carrie knows that Logan loved this park. Brennan spies Trevor carrying a small child. Carrie insists it's Logan though Trevor dyed his hair. Trevor spies Booth and runs. Booth takes him out while Brennan makes sure Logan reunites with his mother.
At the Diner, Angela tells Hodgins they aren't going back to Paris. She wants to have the baby in the States. Hodgins is thrilled. He has never been so happy. Angela wants to keep the news between them for a while.
Booth, Brennan and Caroline toast at the Founding Fathers. The team is back and better than ever. Brennan thanks Caroline. She got the team back together and made it so they would stay. Cam calls. She's at the Jeffersonian.
Cam unlocks the doors and everyone files in: Angela, Brennan, Booth, Daisy, Sweets, Wendell, Caroline and Hodgins. Brennan insisted the Jeffersonian reform a forensic unit and their wish has been granted. Cam thanks everyone for coming back to help her. They are her true friends. She turns on the lights. The group finds a giant mastodon exhibit right on the forensic platform. Welcome home.