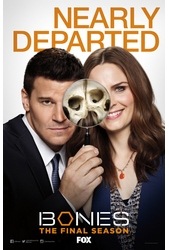 TV Info
---
Episode Premiere
May 16, 2007

Distributor
Fox TV

Genre
Drama, Crime

Show Period
2005 - now

Production Company
Far Field, Josephson Ent., Fox TV


Cast and Crew
---
Director
Tony Wharmby
Screenwriter
Hart Hanson
Main Cast
Emily Deschanel as Dr. Temperance 'Bones' Brennan
David Boreanaz as Special Agent Seeley Booth
Michaela Conlin
T.J. Thyne
Tamara Taylor
John Francis Daley
Additional Cast
Synopsis
---
Brennan and Booth work their way through a partially flooded foundation. A DC cop at the crime scene informs them that there was a foot pursuit the night before, and the suspect tossed a knife into the muck. The cops have been draining the sludge to try to recover the weapon, and in the process found a small highly decomposed skeleton hanging out of a grocery cart. Brennan identifies it as a female, and, based on the pelvic girdle and skull, probably pre-adolescent. It appears to have been dead for several months. There's a gunshot wound to the back of the head, approximately a .22 caliber. And the victim's hand is wrapped around a small stone with a message on it reading, "I LOVE YOU." A small pencil-type case with a shooting star design is found near the body. Booth orders an FBI forensics team to search for bullet fragments.
Back at the lab, Hodgins and Angela discuss their upcoming wedding, as Hodgins works on analyzing crime scene evidence: the "I love you" stone, some scraps of clothing, some filthy water, a collection of marble-sized "moon and stars" which were found in the pencil case, and a bunch of dead fairy shrimp that were found in the mud beneath the remains. Brennan finds a stress mark on the victim's vertebrae. She was looking up at something.
Brennan's father, Max Keenan shows up. Booth arrests Max, a fugitive who was charged with killing the Deputy Director of the FBI.
ACT ONE
Angela asks Brennan to be her maid of honor. She accepts. Hodgins asks Zack to be his best man, Zack isn't so sure.
Ausa Caroline Julian tells Booth that he can't keep Max locked up, because even though they know who he really is, according to his papers he's a law-abiding citizen. Max goes to Brennan's apartment to talk to her. He tells her that her brother Russ is hiding out as an auto mechanic. He also gives her an antique ring, which her grandmother used to wear. Booth and Caroline Julian search for Max's fingerprints in all the databases. They're nowhere to be found. They suspect that the Deputy Director (Kirby) wanted Max dead, and made him invisible before trying to kill him. They're getting a warrant for Max's DNA.
Back to the case, the FBI is still looking for the twenty-two caliber slug that injured the victim's skull. Angela's cranial reconstruction surprises everyone: it's an 80 year old woman, not the 10 year old girl they were expecting. Back at the lab, Zack has discovered that the victim's body in fact looks both like that of a young woman and an old woman. She had Werner's Syndrome, an aging disease. Angela finds a photo on a missing persons website that matches her sketch: Chelsea Cole, age 22. Brennan and Booth talk to Chelsea's mother, Cynthia. They learn that Chelsea used to love to go to Tuft's Grocery store-the same store that the grocery cart she was found in came from-to buy candy or cheap toys. A room full of star and planet drawings, reveals Chelsea's obsession with the stars. She thought they were signals from heaven so people could find their way home. Booth and Brennan learn that at one point Cynthia had alerted child services to the inappropriate behavior of a caretaker provided by the city to care for Chelsea while she was taking classes. Joe Mellon. Cynthia suspected that Joe Mellon might have been inappropriate with Chelsea, doing things like bathing her, which were not part of his job description. She had complained to child services, but when Chelsea disappeared the investigation disappeared too.
ACT 2
Booth and Brennan interview Joe Mellon. Joe insists that he didn't molest Chelsea. The incident Cynthia was worried about can be explained. Chelsea had gotten jam in her hair, and when he made her wash it out, Chlesea used her mom's shampoo. Why would Chelsea's mom want to blame him for the crime then, Booth asks? Joe says that he had crossed the line in another way. He suggested to Cynthia that Chelsea might need alternate care because Cynthia couldn't handle it all by herself.
At the FBI, Agent Charlie continues to look for DNA and fingerprint information on "Mr. X"-the name they use around the FBI for Max Keenan when Brennan is in the building. Booth tells Agent Charlie to talk to all arresting officers in Mr. X's criminal file: they need to get this guy! The twenty-twos found at the crime scene belong to a registered gun owner and sex offender, who lives smack-dab between the grocery store and the victim's home. Steve Brown, a handsome 23 year old, claims that the gun was stolen from him at the time it was used. Booth hypothesizes that Steve scooped Chelsea up, thinking was getting himself a little girl, and when he fond out she was an adult, he was angry and killed her.
Max and Brennan share a meal together at the diner. Booth comes in with a warrant to collect a DNA sample from Max. Meanwhile, Zack lays it on Hodgins that he's thinking about going to Iraq to serve at the request of the President, as a forensic anthropologist with the military. Also, he casually mentions, the hole in the skull is probably not from a bullet, but rather, from a drill.
ACT 3
Booth and Brennan learn that Chelsea had brain surgery when she was three, which required drilling into her skull to relieve pressure. Cynthia asks Booth if Joe Mellon told them that she had physically abused Chelsea because she grabbed her arm once. Brennan isn't suspicious of mom, because she doesn't believe a woman guilty of killing her daughter would keep reminders everywhere she looked. Brennan is fairly certain that Cynthia has AIDS or HIV because of the medication that she saw Cynthia taking.
Hodgins back at the lab, is determining whether the dead shrimp he found can be poisoned by feeding on decomposing flesh. He conducts a SPAM experiment and concludes that Chelsea was poisoned by an overdose of Navirapine-AIDS medicine.
Brennan and Booth confront Cynthia with this new information. She tells them that they don't understand....They arrest her.
ACT 4
Agent Charlie finds a DNA sample on record of someone that they think is Max. They check the DNA against the DNA that they know to be Max's: it's a match. Booth goes to arrest Max, but Max won't leave without putting up a fight. Meanwhile, Max has given Brennan a video, it's Ruth Keenan, Brennan's mother, talking to Brennan on the day of her sixteenth birthday. She reminds Brennan than she and her father love her, and she asks Brennan to forgive them. After viewing the tape, Brennan goes to talk to Cynthia with new understanding of the kinds of counterintuitive steps a mother might take to protect her child. Cynthia was dying of AIDS, and eventually tried experimental drugs to cope with her increasingly debilitating illness. But the new drugs only made her more sick. And Cynthia, Brennan understands, knew that her sick daughter would be left alone once Cynhia died-no foster parents would take in a child as ill as Chelsea. It was out of mercy that Cynthia gave Navirapine to Chelsea: he didn't want her daughter to be left alone to suffer. And then, as though Cynthia were getting punished, her experimental drugs started to work, and she started to get better.
Brennan and Booth attend Angela and Hodgins wedding, only to be left together at the altar, as Angela and Hodgins run off together to annul Angela's former and unexpectedly binding marriage to a man in Figi.