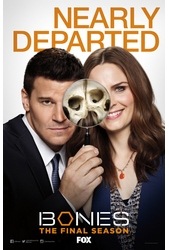 TV Info
---
Episode Premiere
April 04, 2007

Distributor
Fox TV

Genre
Drama, Crime

Show Period
2005 - now

Production Company
Far Field, Josephson Ent., Fox TV


Cast and Crew
---
Director
Jeff Woolnough
Screenwriter
Dean Widenmann
Main Cast
Emily Deschanel as Dr. Temperance 'Bones' Brennan
David Boreanaz as Special Agent Seeley Booth
Michaela Conlin
T.J. Thyne
Tamara Taylor
John Francis Daley
Additional Cast
Ryan O'Neal as Max Keenan / Father Toby Coulter
Dalia Phillips
Greg Baker
Phillip Rhys
Tom Everett
Bill Escudier
Jeff Witzke
Synopsis
---
TEASER
In Baltimore, Brennan and Booth arrive at concrete expanse. Booth has his mind on his toothache. They are told that a cadaver dog discovered a skull. Brennan has them cut out a large chunk of the concrete around the skeleton and ship it to the Jeffersonian.
At the Jeffersonian lab, Cam addresses Hodgins and Zack who've have the skeleton partly excavated. They confirm that it's a male, around 6ft tall. They also discover old gunshot and stabbing wounds that had healed. On the victims skull they find a hole and Cam tells Zack to excavate the entire skull first.
At a cemetery, Angela helps Brennan commemorate her mother's proper burial. It's been one year. Her father Max Keenan arrives. She calls the police on him and Max vanishes.
ACT ONE
At the lab, Brennan and Booth join Zack, who's discovered that the hole in the skull was a puncture wound from something like in ice pick. Booth has the FBI pull files on similar murders.
Brennan arrives at her home and is surprised by her father. He tells her to look at his police record before she tries to turn him in again. He exits after telling Brennan that he loves her.
At the FBI, Booth shows Brennan the file on their victim, Billy Ray McKenna who was involved in organized crime. He also shares a file on one of the victim's cronies, Hugh Kennedy, that likes to kill people with an ice pick. They work for a crime boss named Gallagher. Both Billy Ray and Kennedy went to jail years ago, but Kennedy got out early and was soon killed in a car accident while being pursued by a bounty hunter. All they were able to recover was his leg, the rest burned. Booth wants Brennan to make sure that they leg actually belonged to Kennedy.
At the lab, Brennan and Cam start inspecting the severed leg.
At the diner, Booth talks with Veleska Miller, the bounty hunter that last saw Kennedy. She doesn't give Booth any good info, but they do hit it off. Booth asks her to stay and eat with him. Then Brennan calls him and says that the leg was sawed off and that he should arrest Veleska. Before Booth hangs up, Veleska is out the door and gone.
ACT TWO
At the lab, Cam shares DNA evidence that the leg was indeed Kennedy's. Brennan notes that the saw used is most likely the same saw vets used to remove horns from heifers.
Angela and Zack show Cam a computer generated image of the cause of the hole in Billy Ray's skull. The ice pick was stabbed through the skull and the wiggled around, rendering her paralyzed. Then he was buried alive in wet concrete.
At the FBI, Brennan and Booth sit with Gallagher and his lawyer, Clark Lightner. They give up no information and Billy Ray and Kennedy except for the fact that they knew them.
At Brennan's home, her father comes to the door and she lets him in, but covertly calls Booth. Max knows and tells Booth to be careful of Kennedy if he's still out there and that's he's into model airplanes.
At a model plane park, Booth causes a ruckus by driving onto the runway to get all the people to stand so he can see who's got one leg. Brennan is on the phone and tells him to look for the one guy that doesn't chase him. Booth spots Kennedy.
At Kennedy's apartment building, Booth arrives to Kennedy's door and just before he knocks, Kennedy steps out of the shadows and knocks Booth out.
ACT THREE
At Kennedy's apartment, Booths wakes up rolled in a carpet and without his aching tooth. Kennedy packs a bag and takes off.
At the diner, Max joins Brennan who tells him that Booth has gone kissing. Max offers to help her.
Back at Kennedy's place, Gallagher and Lightner have arrived because they've been trying to track down Kennedy as well. Gallagher pistol-whips Booth, knocking him out.
At the lab, Cam suggests to the team that they try a little "gum-shoeing" in Booth place so that they can track him down. Hodgins lists off all of the different things he found on Billy Rays body and they conclude that we was killed in a taxi.
At a model plane park, Brennan questions a man with her father. At first he doesn't give up any info, but then Max presses him by stepping on his plane and the man gives up Kennedy's address in a flash.
Brennan and Max arrive at Kennedy's place and are greeted by the fierce Veleska who attacks both of them and nearly escapes before Max pins her down. Brennan finds Booths tooth and demands that Veleska tell her where Booth is.
We find Booth getting beaten by Gallagher and Lightner in a small airplane hanger.
ACT FOUR
At the lab, they confirm that it is Booth tooth.
Back at Kennedy's Brennan finds her father suffocating Veleska, just to keep her on her toes. Veleska explains that she knows Kennedy is alive and that she was there trying to catch him for the bail. She claims that when she arrived the apartment was empty. Max assumes that Booth must be with Gallagher.
At the lab, Zack and Hodgins find some sort of laminant on Billy Ray's body. They go through his tax return and find a receipt for a vacuum plating processor, which bring them to the airfield that Booth is being held hostage.
Brennan and Max raid the hanger and retrieve Booth. They catch Lightner and when Gallagher escapes out the back, the arriving SWAT teams corner him. Max might be trapped, but Brennan tells him to use her car to get away.
Later, at Brennan's home, Max writes her a letter and leaves her a small glass dolphin, her mother's favorite animal.