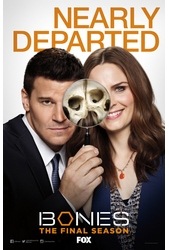 TV Info
---
Episode Premiere
March 28, 2007

Distributor
Fox TV

Genre
Drama, Crime

Show Period
2005 - now

Production Company
Far Field, Josephson Ent., Fox TV


Cast and Crew
---
Director
Scott Lautanen
Screenwriter
Lyla Oliver
Main Cast
Emily Deschanel as Dr. Temperance 'Bones' Brennan
David Boreanaz as Special Agent Seeley Booth
Michaela Conlin
T.J. Thyne
Tamara Taylor
John Francis Daley
Additional Cast
David Burke
George Coe
Stephen Fry as Dr. Gordon Wyatt
Wendy Braun
Johnny Lewis
Kelly Lohman
Wendy Way
Synopsis
---
TEASER
On the St. Agatha church grounds, Brennan and Booth are led to an old cemetery where a water main had burst and coffin have surfaced spilling out corpses. The bodies simply need to be ID'd and put back their proper place, but they find one skeleton that is out of place. Father Donlan, whom runs the church, says that all these bodies had been buried for at least 50 years and yet Brennan believes on of them was buried five years ago with no coffin. Father Sands, who works under father Donlan insists they look into it. Father Donlan is on edge. On site, Zack finds evidence of trauma to the frontal bone of the skull.
At the lab, Zack finds blood-pooling stains on the inside of the skull and Booth and Brennan argue about the validity of religion.
ACT ONE
After combing the crime scene, Hodgins is back at the lab with Cam explaining that someone broke the water main with a shovel, while trying to bury something or dig something up. He also finds that the victim had been buried for 3 years. Angela arrives with a composite of the victim.
At the church, Brennan and Booth question Father Donlan who gives up no information. Then Lorraine Bergen, the parish administrator arrives to whisk B&B away from Father Donlan. Inside they join Father Sands who is willing to help B&B in anyway they need. He explains that Father Donlan doesn't appreciate his modern methods of teaching, but he's brought a lot of people back to the church.
After a fight about religion, B&B head to the diner to meet with Booth psychologist, Dr. Gordon Wyatt. He suggests that they weren't arguing about religion, but something deeper under the surface.
At the church, Booth sits with Angela during a service and Father Sands allows them to pass out sketches of the victim in hopes that someone can ID him. One boy, James Levay, recognizes the man as Father McCourt. Others agree. Father McCourt is the man Father Sands replaced five years ago when he joined the church. Lorraine adds that he was a strange man that would disappear for days and return without any words of was he was.
At the lab, Zack has found after death injuries such as broken fingers and broken wrists. Hodgins found traces of gold in some of his fractures suggesting that jewelry was pulled of his corpse. They concluded that, there must have been a grave robber that was robbing the cemetery one night and was caught by Father McCourt, so he killed him and buried him. Cam also finds traces of a chemical in the soil that is toxic so everyone needs to get shots.
ACT TWO
B&B question Father Sands about who has access to the cemetery and he explains that that was Father Donlan's grounds. Sands then begins to complain about his stomach and Brennan thinks that he might have gotten infected by the toxic substance found in the soil at the cemetery.
At the lab, Hodgins and Angela search online auctions and pawn shop registries for the missing jewelry from the grave robberies. Cam enters and explains that the soil toxin is rare enough that they will be able to narrow down anyone who has been infected over the past few years.
At the FBI, B&B question Enzo, a member of the church who was infected by the rare toxin years ago. They also found that he was pawning jewelry from the cemetery. He claims that he didn't kill Father McCourt, he didn't have problems with him, and that he wasn't Father McCourt's type; too old. He tells them to talk to James Levay.
B&B sit with James and ask him about his relationship with Father McCourt. He explains that McCourt never touched him. When James' dad left McCourt was there for him and was the father he needed. When rumors flew, Father Donlan got in a huge fight with McCourt.
ACT THREE
B&B question Father Donlan who admits that he was strict with all of his priests. He also admits that many priests have come and gone under his watch, because they were weak, new school, priests.
At the lab, Zack has found an anomaly in McCourt's bones. They may have been diminished by a medical or genetic effect. Cam also finds traces of silver on McCourt's skull.
At the church, B&B ask Lorraine to show them a photo of one of the dead so that they can see what types of jewelry they were buried with. Then Brennan spot a silver chalice and she takes it to be examined at the lab.
At the lab, they confirm that the Chalice was used to bash in McCourt's skull after he was killed. Cam arrives to explain that he was poisoned.
B&B arrive at the church gym to find Father Sands coaching wrestling, a little close with some of the boys. They confront Sands about the fact that he and McCourt were in seminary together. Sands claims that he didn't know McCourt, but he seems thrown.
ACT FOUR
At the diner, B&B discuss the case and as they get into an argument, Dr. Wyatt arrives and sets them straight. After he leaves, B&B start to gel again and they remember that Father Sands has remained sick even after being treated for the toxin. Brennan suggests that maybe he is being poisoned with the same toxin found in McCourt's body.
At the lab, they test Sands blood and find out that he is being poisoned and it's the same person that poisoned McCourt.
B&B bring in Father Donlan. They present him with the rare poison used on Sands and McCourt, which is an extract from a plant on the church grounds, which he so thoroughly cares for. He confesses that he didn't kill him, but he knows who did.
Later, at the FBI, Lorraine confesses that she thought McCourt was molesting children, so she decided to poison him enough to be sick and stay at home. She didn't mean to kill him. She figured the same thing with Father Sands and so she poisoned him as well.