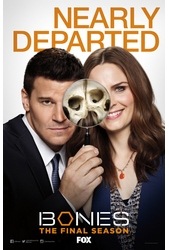 TV Info
---
Episode Premiere
February 07, 2007

Distributor
Fox TV

Genre
Drama, Crime

Show Period
2005 - now

Production Company
Far Field, Josephson Ent., Fox TV


Cast and Crew
---
Director
Allan Kroeker
Screenwriter
Scott A. Williams
Main Cast
Emily Deschanel as Dr. Temperance 'Bones' Brennan
David Boreanaz as Special Agent Seeley Booth
Michaela Conlin
T.J. Thyne
Tamara Taylor
John Francis Daley
Additional Cast
Stephen Fry as Dr. Gordon Wyatt
Eamonn Roche
Jami Miller
Kelly Kruger
John Maynard
John Eric Bentley
Alex Winter
Synopsis
---
TEASER
Brennan and Booth exit a diner while Booth's on the phone getting information on their next case. Although, Booth can't hear about their new case because of the ice-cream truck that is trailing them, playing its melody. Booth asks the ice-cream man to turn it off, but he refuses so Booth pops three rounds off into the clown-shaped speaker on top of the truck. The music stops, so does Brennan. She can't believe what Booth just did, but he got his information. Their next case is in the Florida Everglades.
Brennan drives through the Everglades with Booth on speakerphone, back in DC waiting to see his FBI appointed psychologist. He needs the psychologist to sign a release saying that he's fit for duty before he gets his gun and badge back. Brennan arrives at the scene of the crime to meet her new partner, Agent Sullivan, AKA Sully.Sully explains that they had to shoot a well-known local alligator because it had eaten someone. Brennan reaches inside the alligator's mouth to find a gold locket.
ACT ONE
At the lab, the gang inspects to alligator and inside the stomach they find a human foot.With Agent Booth, as he arrives at the Dr. Wyatt's home to get his release form signed. It's not going to be as easy as Booth thinks. Dr. Wyatt invites him inside for tea. Tea!
Back at the lab, they've extracted an almost complete skeleton from the alligator and have it aligned on the light table. Sully arrives to find out that the victim is a woman, late teens. As Brennan looks at the skull and a file, she determines that the victim is Judy Dowd, who was reported missing and had surgery to repair a cleft pallet at age two. This matches the skull.With Mr. Dowd, Brennan and Sully question him about the last time he saw his daughter. Mr. Dowd explains that she went on spring break with her friend Abby Sims.
Meanwhile, Booth tries to convince Dr. Wyatt that he's fit to return to the field, but Dr. Wyatt has other plans for him. While the Doc runs errands, Booth is to finish building him an outdoor grill. Booth doesn't know what to think.At the FBI, Brennan and Sully question Abby Sims. She tells them that she and Judy were doing the usual spring break stuff. She goes on saying that she went out with her one night, then blacked out and woke up alone in their hotel. She tells them that she has pictures of the night on her website.
At the lab, Hodgins found that Judy's blood/alcohol levels were high, but she wasn't on any drugs. With more information, Cam finds that Judy had bruising on her vaginal wall, which means she was most likely raped. From the pics on Abby's website they see that Judy was involved in Hottie-Student-Body.com (HSB), a website that gets college girls drunk and then photos them nude.
At Dr. Wyatt's home, Booth is halfway done with the grill when Dr. Wyatt presses him about the roles women play in his life. Booth is not comfortable with this.
At the lab, Zack finds a stab wound on the scapula. This means that she was probably killed, then fed to the alligator. Hogdins and Angela pull up video footage from HSB and we see Judy with Monte Gold, the creator of HSB. They've got their suspect.
ACT TWO
Brennan and Sully track down Monte Gold at a nightclub and when approached he puts his producer, Lloyd, on them. He tell them that they've got permits to shoot. Brennan explains that they're there about the murder of Judy Dowd and Monte demands that Lloyd get Judy off the HSB website immediately.
In the HSB bus, Brennan joins Lloyd as he deletes Judy from the website. Monte comes on board and kicks Brennan off the bus. As Brennan steps off the bus, she is bombarded by Isaac, a religious man that follows the HSB bus to warn girls of what they are doing. Lloyd comes out and shows Brennan and Sully the wavier that Judy signed and the camera boy, Eddie, says he remembers her because they were teasing her about kissing the bouncer at the club they were filming at.
Late night, Booth is still at Dr. Wyatt's home and demands that he sign the wavier. Dr. Wyatt brings Booth to discuss that fact that he was holding onto the murderer, Howard Epps' arm, before he fell to his death. Booth doesn't think that has anything to do with him shooting the clown. The Doc begs to differ.
At the lab, Brennan sits with Zack and Angela as they tell her that they found gold foil in her stomach from a 100 proof schnapps called Goldenrod that has gold flakes in it. Brennan gets a call from Sully saying that the club bouncer is has an alibi of leading a boat tour in the everglades when Judy went missing.
ACT THREE
Brennan and Sully arrive to the HSB offices with warrant to search their bus. Inside the bus they find bottles of Goldenrod and she tells Sully to look for a ribbed bolt that would have been used to stab Judy. Brennan gets a call from Hodgins explaining the exact place where Judy was killed, due to the saw grass and fresh asphalt that he found on her shoes.At the diner, Angela is approached by Judy's father for answers about his daughter's murder. He asks if Monte Gold killed his daughter and Angela tells him that she can't discuss the case, but she doesn't say Monte wasn't the killer. Mr. Dowd misreads that and exits.
Brennan and Sully head out of the bus and question Eddie, the cameraman and bus driver. They ask him about the route they took that night and he cracks and tells them that Judy was on the bus with them, but they didn't kill her. He says she and Monte had sex and then she wanted off the bus, so he let her out. Lloyd comes up and chimes in that he even went back in his car to look for her later that night, but she was gone.With Booth as he continues with the grill and chats with Dr. Wyatt about Booth's small rebellions; the socks and belt buckles. Dr. Wyatt suggests that he end them.We join Brennan and Sully tracking down Monte Gold, when they find his car with the door open and a puddle of blood below. They find his body a few yards away. He's dead.
ACT FOUR
Brennan and Sully question the religious man, Isaac, about Monte's death, but he swears it wasn't him. Angela calls and tells them that she thinks Mr. Dowd is the killer.Now Mr. Dowd is being questioned and he confesses.
At the lab, Brennan further inspects Judy's body as Hodgins' show them possible items used in the stabbing of Judy, including the stick shift from a car the is missing the end knob. With this, they decide that Judy could have been impaled in someone's stick shift. Sully remembers that Isaac had a stick shift that was missing the knob.Brennan and Sully arrive to where Isaac has been pulled over by local police. They inspect the car and find traces of blood on his shifter. Case closed.
At the FBI, Brennan and Sully say their goodbyes as partners, but it quickly turns into hellos as friends and he asks her to dinner.We join Booth at Dr. Wyatt's house, as his finishes the grill. Dr. Wyatt tells him that after reviewing the file on Epps' death, Booth should have nothing to feel guilty about. Doc continues to press Booth asking whether or not he killed Epps or if he was just there when he died. Booth uncomfortably responds that he doesn't know. Dr. Wyatt is happy with this response, being that Booth is always trying to control things and he signs Booth's release.