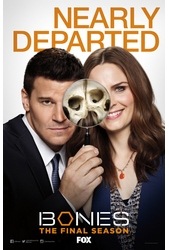 TV Info
---
Episode Premiere
February 01, 2006

Distributor
Fox TV

Genre
Drama, Crime

Show Period
2005 - now

Production Company
Far Field, Josephson Ent., Fox TV


Cast and Crew
---
Director
Dwight Little
Screenwriter
Noah Hawley
Main Cast
Emily Deschanel as Dr. Temperance 'Bones' Brennan
David Boreanaz as Special Agent Seeley Booth
Michaela Conlin
T.J. Thyne
Tamara Taylor
John Francis Daley
Additional Cast
Marc Jablon
Anna Shemeikka
Jake Cherry
Zeljko Ivanek
Benjamin Parrillo
John M. Jackson
Synopsis
---
An urgent Booth shows up on the set of the morning TV show, "Wake Up, DC!" to find Brennan , awkwardly navigating through a promo of her upcoming book, "Bred in the Bone." He whisks her off to the crime scene where a body was found in a burning car. A child was kidnapped and may still be alive.They bring the body back to the lab where they analyze the remains: female, pelvic bone indicating giving birth 5 to 8 years ago, molars pulled and replaced with gold dentures --They should be looking at Eastern European immigrants going back 10 years. Suddenly, Zack recovers something lodged in the victim's larynx.
They are interrupted by an agent - Samantha Pickering,- who has been assigned to do a security review on the squints team for the State Department, making sure none of them are a security risk.
Angela reconstructs the victim's face and compares it to those in the immigration database. They find a match to - Polina Rozalina Semov, who immigrated to the U.S. in '94 with her sister Maria. She married Carl Decker, had one 8 year old boy, Donovan, and separated from Carl 3 months ago. Booth says that chances are, Carl is the kidnapper.
Brennan and Booth go to Carl Decker's house and spot two men covertly parked in a pickup. He sees one of them take a picture and goes after them -- smashing their window and yanking one of them out of the truck. Suddenly, all three men draw guns on each other with Brennan in the fray...Turns out, they're U.S. Marshals.
Deputy Director Cullen tells Booth that Decker is being watched because he's under a Federal witness protection program. He's scheduled to appear before a Grand Jury in 2 days. Carl's about to blow the whistle on KBC systems for knowingly sending defective armor to Iraq. The Justice Dept. believes him. Decker thinks he's in danger from the company, but doesn't yet know what has happened to his wife and son. The Justice Dept. doesn't want him to know because it might stop him from testifying. Brennan says Decker should know. But Justice Dept.argues that KBC is responsible for 30 deaths, and that's more important. This upsets Brennan and Booth. Back at the lab, Zack reports that it's an ear they found stuck in Polina's larynx. Maybe she bit it off of one of her attackers...
Booth speaks with Maria Semov, Polina's sister. She says that when Polina and Carl separated, she and Donovan came to stay with her. Polina suspected Carl was having an affair because she found credit card receipts from a hotel. He wouldn't talk about it, so she left him. Angela is detained with Agent Pickering in her security review. There is a laundry list of things in Angela's file that would seem unbefitting to the institution, but to Angela, there's a rhyme and reason to it all.
We cut to where Booth speaks with KBC's CEO, Trent Seward, and his lawyer - Sharon Pomeroy. Seward paints Decker as a disgruntled employee. He himself served in Vietnam and would never risk the lives of soldiers with defective armor. He dismisses Carl Decker's allegations as false and tells Booth he should look for the kidnapper elsewhere.
Booth tells Brennan that he got the surveillance tapes from the motel where Decker was secretly staying. There might be something there. Meanwhile, Zack and Brennan assess the possible conditions surrounding Polina's death -bone imprints point to torture, electrocution leading to multiple seizures; her body was burned post mortem. Booth postulates, perhaps tortured to find out where her husband was.
At the Jeffersonian, Samantha Pickering recruits her next victim. Hodgins puts up a fight until he realizes Samantha won't interview him. They've got all they need to label him: harmless. This upsets Hodgins more than he cares to admit. Angela helps Booth search for Decker in the motel surveillance tapes using her Mass Recognition Program. They see him meet an unknown man. -- who Booth discovers to be Asst. US Attorney Ken Weeks, assigned to Decker's case. Weeks reports that Decker took off when he couldn't talk to his son Donovan.
Back at the Med-Lab, Zack answers Pickering's questions adroitly, like an automaton. Suddenly, he figures out what kind of current it would take to cause a seizure of Polina's magnitude and concludes it had to come from a generator. Booth and Brennan track a freaked out Decker to KBC Systems -- a gun pointed to Seward's head, demanding his son be released. Tensions run high as Decker is talked into surrendering. Carl Decker accuses them of taking away his son's best chance (to live).
Pickering interviews Goodman, who has raised a red flag with the department by being "friends" with an eco-terrorist. Goodman is amused by his unconventional relationship to his friend while Pickering is not.
Booth, Brennan, Cullen, Weeks and Decker meet together. Decker insists Seward will do anything to stop him from testifying, including killing his wife and kidnapping his son. Weeks says the best way to take down Seward is to testify against him. Decker says they'll kill his son if he does that. Decker tells Booth the only way he will testify is if his son were present in court. Booth learns a code word from Decker to Donovan. He is going after the boy .
From the ear wax in the ear, Hodgins was able to find a pollen specific to South Africa along with traces of automotive grade asbestos. Brennan tells Booth they're looking for a one-eared South African. Booth says companies use South African "security consultants" as mercenaries. At his desk, Booth opens a package with a note inside -- it's Donovan's finger with a note that reads, "Back off."
The race to save missing Donovan is on. They need to get key info from that finger ASAP. Brennan attests that the blood saturation levels in the finger were high -- he was still alive when they cut it off. The squints team up and gather whatever data they can: finger was cut with a hatchet on a wooden surface... Asbestos from a brake pad, leaded gasoline, a mechanic's bench, the generator: it all means they're looking for an abandoned gas station or mechanic shop that's off the grid.
Booth zeroes in on the area where Polina was taken by tracing the location of her cell phone. It's an area of 75 square miles with 6 abandoned gas stations. At one of the stations, they use FLIR imagery to locate 3 adults in the structure. Donovan is with them.
SWAT team gears up with Booth at the head. He's going for the kid. They ram into the abandoned gas station, bullets flying, taking out the mercenaries as Booth goes to Donovan. He saves him and reunites the boy with his father. They'll let the courts figure out who is responsible for the kidnapping, but at least for today, they saved Donovan's life.