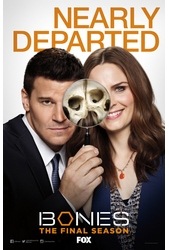 TV Info
---
Episode Premiere
November 08, 2005

Distributor
Fox TV

Genre
Drama, Crime

Show Period
2005 - now

Production Company
Far Field, Josephson Ent., Fox TV


Cast and Crew
---
Director
Jesus Salvador Trevino
Screenwriter
Steve Blackman, Greg Ball
Main Cast
Emily Deschanel as Dr. Temperance 'Bones' Brennan
David Boreanaz as Special Agent Seeley Booth
Michaela Conlin
T.J. Thyne
Tamara Taylor
John Francis Daley
Additional Cast
Michelle Anne Johnson
Ryan Churchill
Kirsten Severson
Tiffany O'Hara
Paul Butcher
Evan Ellingson
Synopsis
---
Dr. Temperance Brennan is giving a lecture to a group of anthropology students when Special Agent Seeley Booth shows up -- a six-year-old boy named Charlie Sanders has gone missing near a local mall and now someone has reported seeing human remains in an adjacent field. Booth needs Brennan's help to locate the remains and then determine if they are in fact those of their missing six-year-old.
Brennan, Booth, Zack and an army of searchers descend on this field. Using a thermal imager, Zack combs the landscape until he comes across a small, decomposed rib-cage teeming with bugs. It looks like they've found Charlie.
Back in the lab, Brennan places the age of the victim between six and ten years old based on epiphyseal fusion. Zack indicates the victim died as a result of blunt force trauma and Hodgins determines he's only been dead between thirty-six and forty-eight hours. Brennan also points out the victim's clothes were found intact away from the body indicating he was likely sexually assaulted before he was killed. Angela struggles emotionally to complete a sketch of the victim that bears a striking resemblance to Charlie's "Missing Child" poster. "He's so small. That's all," she tells Brennan. Based on all this information, Brennan informs Booth this is Charlie Sanders and they are probably looking for a pedophile.
Booth pays a visit to Charlie's mother, Margaret Sanders, who is being comforted by her neighbor, Ellie Nelson. Booth learns Margaret has two other foster sons, Shawn and David Cook, but Charlie was her only biological child. Margaret confirms that on the day Charlie disappeared he went to the park with his brothers. Just then, Ellie's son, Skyler, arrives with Shawn and David in tow. Margaret introduces them to Booth who bonds with the boys over a video game. As Booth leaves, he learns Charlie didn't disappear from the park as they originally thought, but from the local mall.
Meanwhile, Goodman assembles Brennan, Angela, Hodgins and Zack to inform them of a banquet the Jeffersonian is holding to thank its patrons. He explains that attendance is not optional, but Hodgins is defiant as he snaps a rubber band on his wrist, he's not going.
Brennan oversees Zack, who like Angela, is having trouble working on such "small" remains. Brennan advises him to pull back emotionally from the case, to not refer to the victim by name and to focus on the details. When Zack starts to focus, he notes greenstick fractures on ribs four, five, six and seven and that the sternum is snapped transversely from the tip to the xiphoid. He believes these injuries were caused by a blunt object striking the victim's chest. Brennan instructs Zack to smell the victim's mouth where he detects something other than the typical smell of decomposition.
Hodgins tests Charlie's jaw in a vapor chamber filled with methyl oxide while Angela tries to get to the bottom of his rubber band snapping. Hodgins confirms it's an anger-management technique but won't say why going to this banquet upsets him so much. As a bluish residue forms on Charlie's teeth, all Hodgins will confirm is that the chemical they're dealing with is a halogen.
Booth assembles Brennan and Angela to begin poring over surveillance footage from the mall. They quickly spot David and then Charlie but the image of Charlie's abductor is blocked from view. Brennan confronts Angela and asks her if she's thinking of leaving the Jeffersonian. Angela confides to her that this job is difficult for her and she's not sure what she's going to do - just needs some time.
Brennan returns to her work where she tells Booth she found some abnormalities on Charlie's bones (similar to scoliosis) that are indicative of a hereditary genetic defect passed from mother to child called hypophosphatemia. When Booth and Brennan confront Margaret with this information, they learn that she is not Charlie's biological mother as she claimed. Margaret tells them she took Charlie to save him from the foster system after his mother died of a drug overdose, but that doesn't mean she had anything to do with his abduction and death. Brennan goes off on Booth when she learns he arrested Margaret for kidnapping, but Booth claims he had no choice. Brennan wants Booth to let her go so she, Shawn and David can continue to be a family but Booth says that's not going to happen.
As Angela continues to work on isolating the image of Charlie's abductor in the surveillance footage, she learns from Zack that Hodgins' house is more like an estate - the guy is rich. Hearing this, Booth speculates he might be from the family by the same name behind the Cantilever Group. This organization is the single biggest donor to the Jeffersonian. Angela realizes this is the reason Hodgins doesn't want to go to the banquet. If he goes, he will be outed by his family's rich friends and his life at the Jeffersonian will be forever changed.
Hodgins informs Brennan he's identified the chemical in Charlie's mouth as an extremely high concentration of fluoride just as news comes in that Angela's isolated a reflection of Charlie's abductor. The face they've been waiting to see turns out to be none other than Charlie's foster brother, Shawn. When Booth tries to question Shawn about what happened, the boy shuts down. It's not until Brennan realizes that the injury to Charlie's body was not caused by blunt force but by compression and that Shawn didn't weigh enough to be the killer, that Booth agrees to let her talk with him. Brennan draws upon her own experience as a child in the foster system to get Shawn to open up. In the end, he breaks down and whispers the name of Charlie's killer in Brennan's ear.
With this information in hand, Brennan accompanies Booth to the Nelson home where they arrest Mr. Nelson for Charlie's sexual assault and murder. The fluoride found in Charlie's mouth was from an insecticide Mr. Nelson used in his trade as an exterminator. The pain of this whole event is only lessened when Booth arranges for the kidnapping charges against Margaret to be dropped. Brennan is heartened to see her reunited with Shawn and David - a family once again.